15 Essentials For Puppies & New Puppy Owners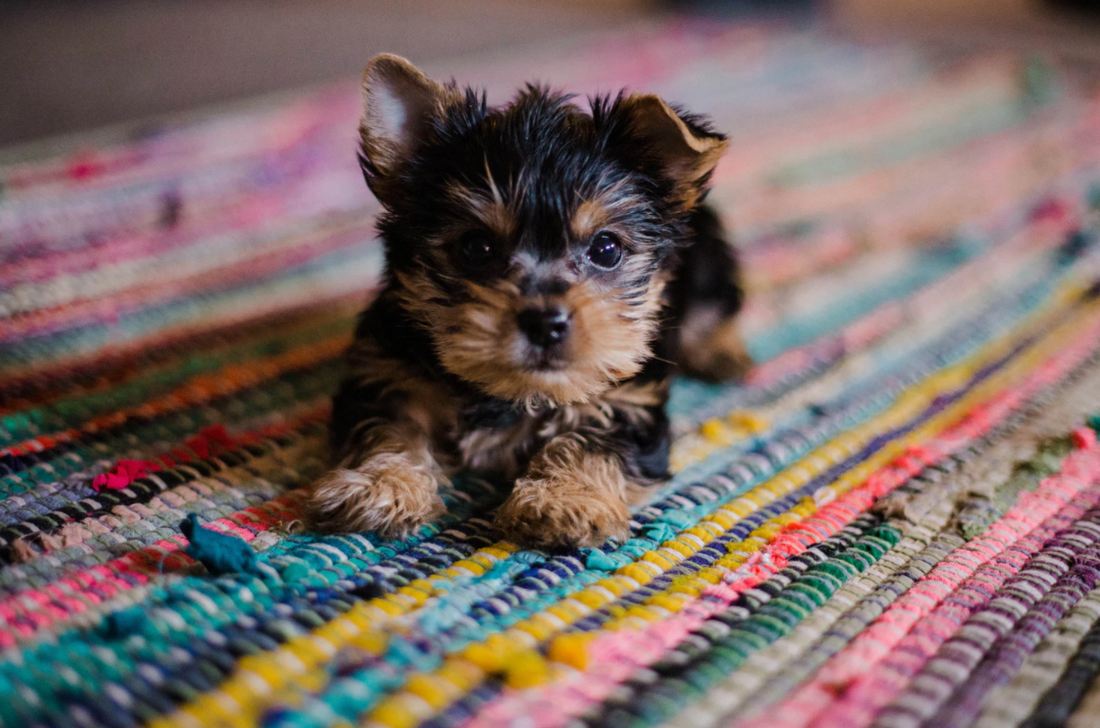 Are you a new puppy owner or soon-to-be puppy owner? We've shared numerous tips on how to introduce a new puppy to your home, but what about the gear you need? Do you have a new puppy checklist? Do you have the puppy essentials?
In this blog post, we share some of the basics and essentials that pet parents need to care for a puppy. The puppy essentials included in this blog post are commonly found at your local pet store or other popular pet stores like Petco.
1. Diningware
Obviously, your puppy isn't going to need a knife and spoon, but in order for them to meet their basic needs of food and water, you're going to need a water bowl (or fountain) and a food bowl. If your new puppy ends up being a fast eater, you can consider a slow feeder then.
Pro-tip: Having at least two bowls each (water bowl and food bowl) is a good idea so that when you need to wash their bowls, you don't disrupt their eating routine. Wash one set while they feast on the other.
2. Puppy Treats For Training
With the energy levels of puppies and puppyhood bringing about unpredictable waves of unwanted behavior, positive association with treats and new experiences can help your puppy grow up to be confident and well-adjusted as opposed to discipline training. Make sure you're well-stocked on puppy treats to encourage your new pup with positive reinforcement!
3. Puppy Playpen
Puppy playpens and exercise pens make it easy on puppy parents in moments they need to quickly step away. For example, it's 5 PM and it's time to start making dinner but you want to keep your pup out of harm's way.
You can add toys, treats, and bedding in the case of puppy sleep. If your puppy is still potty training, pick up some potty pads.
4. Potty Puppy Pads
Young puppies might have a period of time of adjusting to their new home, and with patience and training, your dog will be better equipped to wait to go outside for their potty breaks. Until then, you may need to use puppy pads (or pee pads) in or near their puppy crate or other confined area that's puppy safe.
5. Toys, toys, toys!
Squeaky toys, chew toys, tug toys, stimulation and puzzle toys, and more! This is usually at the top of everyone's checklist of things to get for their new puppy because of specific needs. If your puppy doesn't get enough mental and physical stimulation, their development is at risk.
6. Baby Gates
Baby gates are a great way to keep your puppy out of trouble and keep your puppy safe. For puppies specifically, you might consider putting baby gates up at the top and bottom of your long flight of stairs to avoid the risk of your puppy falling and injuring themselves.
7. Dog Harness
It's common for new dog owners to default to dog collars for walking their puppy, but the truth is, you should be going for a walking accessory that doesn't apply pressure around the neck; especially if they're a puppy because of how high-energy they are. There are lightweight harnesses available that make walking easier from the very beginning. By using a harness, your puppy's life is less likely to be subjected to common horrors as using a collar (an adjustable collar even) in the long-term can negatively impact your pup's neck.
(Image: @alfie.stormageddon_darklord on Instagram)
8. New House Cleaner
An important thing to remember is that common household cleaners usually contain a harmful chemicals. It's time to try new things! When you shop, find the best option for natural household cleaners. Keep a close eye on your dog when you're cleaning, making sure they're not walking on wet surfaces that they would later lick off their paws.
9. Comfy Bed
You don't want your pup sleeping on the hard floor their first night in their new home - or any night really - so invest in a comfy bed for your fur baby! Make it even cozier by picking up some plush toys for them to snuggle up with. Anything for the new furry family member!
10. Grooming Products
Puppy care also calls for grooming! You don't reach for human products when it comes to bath time. Instead, there are dog products available on the market like dog toothbrushes that you can use. Here's a quick list of grooming essentials.
Toothbrush

Nail clippers

Dog shampoo

Flea comb
11. Poop Bags
You're now on dog dooty! When going for walks with your dog, if your pup chooses public spaces to poop, it's up to you as the dog owner to clean it up. We recommend starting with our poop bag dispenser and dispenser bags.
12. Good Dog Food
When it comes to new pets, the dog breed can be indicative of what kind of diet your pup should have. Pet owners are encouraged to seek out professional advise from a veterinarian for advice on the best puppy food for their pup.
13. Kennel
Depending on the pet owner, a kennel may or may not be part of your puppy essentials list. It all comes down to if the pet owner feels the need for crate training or puppy training aided by the use of a crate.
14. Emergency Contact List
It's always a good idea to have an emergency contact list for yourself and for others that may be looking after your puppy. Be sure to include the phone number for your family members, pet insurance company, veterinarian, and vet office. Include an emergency vet phone number if separate from the main vet line.
15. Your Phone Camera
Now that you've got this starting checklist for new puppy owners, you're well on your way to a beautiful life with your new best friend. Don't forget to document the memories along the way. Pull out your phone camera during playtime, walks, puppy class, etc. Enjoy the JOYRIDE!
This is just a sampling of tips and informational posts we offer at Joyride Harness. You can find more content including tips and tricks and how-tos for caring for your dog on our blog in this section.
Share this post