See The Joyride Harness In Action: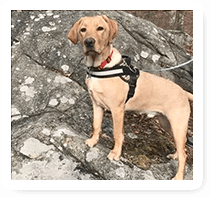 Making life much easier for everyone!
ANGIE W.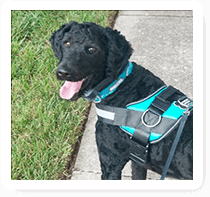 Best Harness Ever!
DANA D.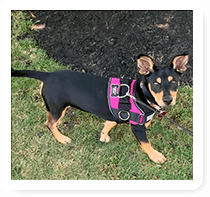 No more wrestling with our puppy!
BRIAN B.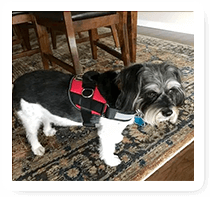 My girl LOVES this harness!
ASHLEY C.
Red Plaid Dog Harness Additional Information
Are you looking for a Red Plaid Dog Harness to celebrate Christmas, or simply because you love the color red? You will love this Joyride Red Plaid Dog Harness featuring a classic buffalo check pattern. The black and vibrant red material is a great gender-neutral harness option that will look great on any pup!
At Joyride Harness, our goal is to make the best dog gear. We do this by designing harnesses that are as durable as they are stylish. Thanks to heavy-duty materials, this Red Plaid Dog Harness can be the last you ever need to buy for your fur baby (that is unless you want more patterns to match your wardrobe!). We specially designed our buffalo plaid harness to withstand strong pullers while maintaining a comfortable fit. We also lined the interior with soft fleece to prevent chafing on even the most sensitive dogs.. 
Gone are the days of struggling to put on and take off your dog's harness. Our easy-on, easy-off red buffalo plaid harness is super simple to use and goes on in mere seconds. All you need to do is slide it on, make adjustments for a good fit, and close the buckle. It's as easy to use as putting on a seat belt. 
The Joyride Red Plaid Dog Harness is the best solution for dogs that pull, thanks to our revolutionary ride-ring attachments. When you attach your leash to one of the side rings, if your dog tries to pull, they will not be able to go forward. Instead, they will be redirected to face you. This way, you can train your dog that pulling gets them nowhere. You can easily train your dog not to pull with the help of a Joyride Harness and some gentle guidance. 
Red Plaid Dog Harness Features 
-Multiple points of adjustment to fit all dogs
-Available in many sizes from XS to XXL
-Added reflective material for increased nighttime visibility
-Effective side ring attachment eliminates pulling
If you like the Joyride Red Plaid Dog Harness, you might also like our Black and White Plaid Harness, Fall Plaid Harness, and Orange Plaid Harness!