See The Joyride Harness In Action: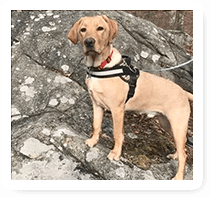 Making life much easier for everyone!
ANGIE W.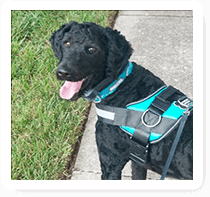 Best Harness Ever!
DANA D.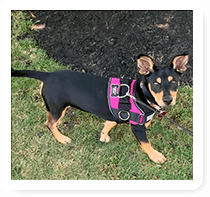 No more wrestling with our puppy!
BRIAN B.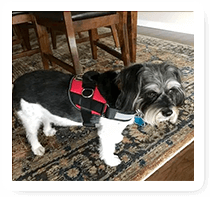 My girl LOVES this harness!
ASHLEY C.
Star Pink Dog Harness
Stop your dog from pulling in a stylish way! Our Star Pink dog harness is a bright addition to your furbaby's wardrobe for any day of the week. Heavy duty yet comfortable, this pink harness for dogs does not put style over substance: we designed these no-pull harnesses with high-quality durable materials that are made to last. The best part? We added a lightweight fleece-style padding that will help keep your pup cool and comfortable. 
Did you know that it's better to walk heavy pullers on a harness rather than a collar to protect their neck from possible injury? Harnesses also give you better control over your dog, especially if they are still learning how to heel. While some dog training tools are boring and ugly, our wide range of colors and patterns, such as this star dog harness, ensure that your pup can always stand out from the crowd. 
Our Star Pink harness is also perfect for puppies! You can put your puppy in a harness the day you bring them home (8 weeks and older). With our wide size range, even the smallest puppies can get started in a cute, pink Joyride harness. It is also better to start training your puppy on a harness vs a collar because it makes it easier to control your new puppy and also reduces the risk of injury.
Star Pink Dog Harness Features
-Heavy Duty materials and soft fleece for durability and comfort
-3 leash attachment points for ultimate dog walking control
-Ultra-reflective material drastically increases nighttime visibility
Buying a star pink harness for your new dog? Don't forget a matching pink dog seat belt tether and a poop bag dispenser! 
For other pink dog harness options, also check out or pink camo dog harness!
Confused on what size to pick? Use our sizing guide below:
For size 'XS', dogs should weigh between 5-9 lbs and have a chest size of 12-17". Suitable breeds include Chihuahuas, Yorkies, Pomeranians, and Small Puppies.
For size 'S', choose this for dogs weighing 10-19 lbs, chest 17-22". This fits Mini Schnauzers, Shih Tzu, Bichon Frise, and Maltese.
Size 'M' is ideal for dogs weighing 20-40 lbs with a chest size of 23-28". This includes breeds like Pugs, French Bulldogs, and Corgis.
Size 'L' is for dogs weighing 40-60 lbs, chest size 28-33", fitting breeds like Australian Shepherds, Basset Hounds, and Standard Poodles.
For size 'XL', select this for dogs weighing 60-85 lbs, with a chest size of 33-38". Breeds like Labs, German Shepherds, and Golden Retrievers fit into this size.
Lastly, size 'XXL' is for dogs weighing 85-140 lbs, chest size 38-44". Breeds in this category include Rottweilers, Tibetan Mastiffs, and Bullmastiffs.