When Can I Take My Puppy For a Walk?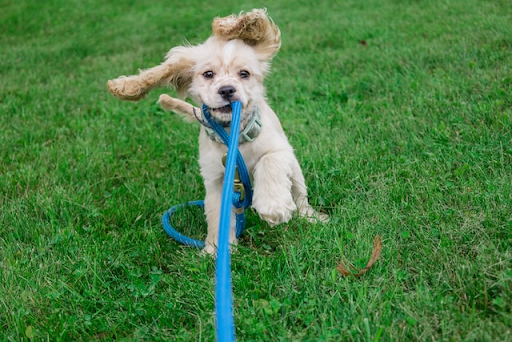 Bringing home a new puppy is one of the most exciting times in your life! You probably can't wait to take your new baby to explore your neighborhood and meet new friends! 
If you're a new puppy parent, you may be asking, "when can i take my puppy for a walk?" Keep reading to learn when it's safe for your puppy to leave your home, as well as helpful tips for keeping your puppy safe.              
When You Can Walk Your Puppy
Socialization is an important step of puppy rearing. For many people and their fur babies, this means going for walks outside the home and meeting new people. 
The world can be a scary place for a little pup, which is why exposing your puppy to new environments, sights, sounds, and smells is important. The key is doing it safely! 
Most animal professionals strongly recommend waiting until your puppy has started its shot schedule before going on walks in public. Most puppies receive their first vaccinations around six to eight weeks, with additional rounds roughly every two to four weeks. 
The American Veterinary Society of Animal Behavior (AVSAB) stresses the importance of early socialization and believes that puppies should be exposed to a variety of stimuli at a young age prior to completing their full vaccination schedule. They should, however, have at least their first set.  
But why wait? If your pup hasn't had any vaccines and is in areas with other unvaccinated dogs, it increases the risk of your puppy catching parvovirus or distemper. Both of these are serious illnesses and could potentially be fatal. 
This is not to say your puppy can never go outside! Your puppy can begin exploring outside in a safe environment when you bring him or her home at eight weeks old. You just want to ensure the area is clean and free from unvaccinated dogs. 
As your puppy grows, you can take them out and about to explore the world (such as walks around town and in pet-friendly stores), it's just best to not let them walk around in public areas. You can hold your puppy, keep him in a carrier, or use a dog stroller! This way, your baby gets important socialization without added risks. 
How Often Can I Walk My Puppy?     
Your puppy needs exercise, but is there such a thing as too much exercise? Now that you know when you can start walking your puppy, let's take a look at how often you can walk your puppy!
While you might not think that there's such a thing as too much exercise for your puppy, many veterinarians, breeders, and trainers agree that too much exercise can be a bad thing. For instance, The People's Dispensary for Sick Animals (PDSA) says that overexercising puppies can put them at risk of joint and bone damage. 
While every puppy's exercise needs will vary depending on breed and energy level, the general guideline for how often you can walk your puppy is five minutes per month old. This means that a three-month-old puppy should get about a fifteen minute walk at a time. 
This guideline doesn't take into account potty breaks and play time, though! High energy breeds will especially need lots of playtime. Pay attention to your own puppy and adjust their exercise accordingly. 
Tips for Walking a Puppy
Here are some tips and tricks to make walking your puppy easier!
1. Practice leash walking early 
Even before you ever take your puppy for a "real" walk, you can acclimate them to a leash while in your home. This will make it easier when it comes time to hit the neighborhood! And will make training easier.
2. Introduce a harness early      
It's safer to walk a dog on a harness versus a collar. Some puppies can be afraid of new gear, so it's best to introduce different gear to your puppy while they're still young. Joyride Harness is available in sizes XS to XXL and can fit puppies as small as 4 lbs!
3. Walk at your puppy's pace
Some puppies will be excited to walk right away, while some puppies will be a little more shy. Walk at your puppy's pace and let them explore the world while you exercise. Allow them to stop and smell the roses, so to speak! 
4. Make it fun
Walking your puppy should be fun, as well as a learning experience and form of exercise. Make sure you keep it positive with lots of treats and praise to encourage your puppy. 
5. Be patient
Remember that your puppy is just a baby and is still learning! Take things as slow as you have to. Remember that the more work you put in now, the better your puppy will be as an adult!
The Best Harness for Puppies
When it comes to walking puppies, you want a harness that is both comfortable and secure. The last thing you want is for your baby to get loose! 
At Joyride Harness, comfort and safety are at the forefront of everything we do. Our harnesses are durable yet lightweight enough for a puppy. All of our harnesses are lined with fleece to make sure they're comfy for all dogs, but especially puppies. 
If you just welcomed home a new puppy or will be bringing one home soon, you can find all the puppy exercise gear you need at Joyride Harness! From harnesses and leashes to poop bags and seat belts, we are your puppy headquarters. 

Don't forget to check out our blog for more puppy tips and tricks! And follow us on Instagram @JoyrideHarness to see cute puppy photos!
Share this post