Turmeric Health Benefits For Dogs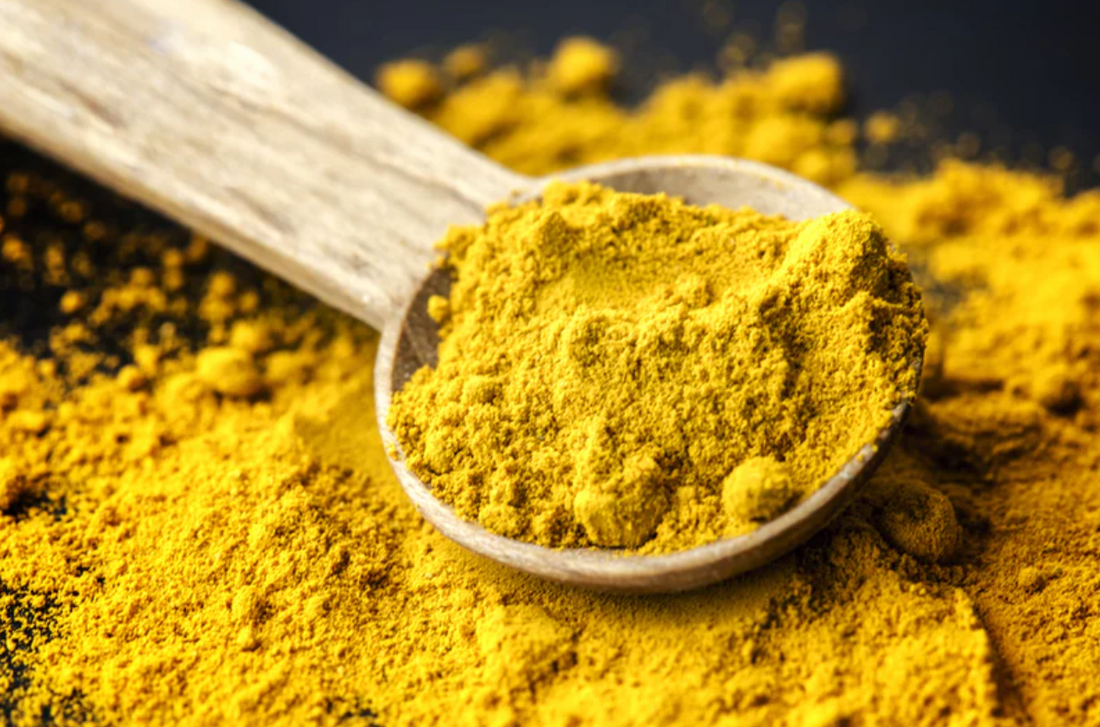 Health trends come and go, but turmeric is forever. Who would have thought that a simple spice that can be found in your home could pack so many benefits?
What's turmeric?
Turmeric is a spice that is commonly used in India as a spice and medicinal herb. You're likely to find it used in curry meals which is why the dish has it's yellow color. Turmeric has been used for ages, but it wasn't until about 6 years ago that science started backing it up as an incredibly beneficial substance.
If you dig into databases on NCBI, you will find research on the health benefits of turmeric not as a whole but due to the compounds found in turmeric. Compounds of turmeric are called curcuminoids, and out of all that fall under this umbrella, the most important is curcumin. According to the Journal of Natural Science, Biology, and Medicine [?], "Curcumin has been used extensively in ayurvedic medicine for centuries, as it is nontoxic and has a variety of therapeutic properties including antioxidant, analgesic, anti-inflammatory, antiseptic activity, and anticarcinogenic activity."
How does this apply to dogs?
DISCLAIMER: We do want to note that you should always consult your veterinarian when it comes to your dog's health, so please keep that in mind as you're soaking up the information that follows.
There are a number of health ailments that dogs potentially face just like any other furbaby. With turmeric's benefits, here's how it can help your doggo.
Fight Chronic Inflammation
Chronic inflammation is a the leading cause of issues like dental diseases, digestive diseases, arthritis, allergies and more. Turmeric acts as an anti-inflammatory agent when introduced and studies show that it even excels in effectiveness when compared to ibuprofen.
"If your dog is exposed to viruses or bacteria, acute inflammation will release white blood cells to the body tissues and start the healing process. But chronic inflammation – the kind of low-grade inflammation that stays for weeks, months and even years – is the real culprit behind most degenerative and inflammatory health issues in your dog." - Dogs Naturally Magazine
This makes turmeric ideal for dogs who suffer from arthritis issues. When it comes to pain from arthritis, it relieves stiffness as well as ibuprofen in this particular case but without the annoyance of possible gastrointestinal side effects.
Cancer Prevention
This ties into the culprit that is inflammation, but according to Dog Naturally Magazine who has covered turmeric use on dogs, "Nearly 1/3 of the studies done on turmeric are cancer research … and the results are very promising. It's been shown to kill cancer cells and prevent more from growing."
Reviewing different sources online, it seems like there are many resources available for treating your dog with turmeric by means of a paste made from the spice. Our favorite article that walks through the different methods can be found at Certapet.com.
Because dogs are not cookie cutter when it comes to preferences, they may be particular about how the turmeric paste turns out. Certapet.com offers numerous recipes for you to try out to find the paste that works best for your doggo!
Have you tried this method before? Share with us your experience and let us know what natural methods work for you and your furbaby!
Share this post