Top 10 Halloween Costume Ideas For Dogs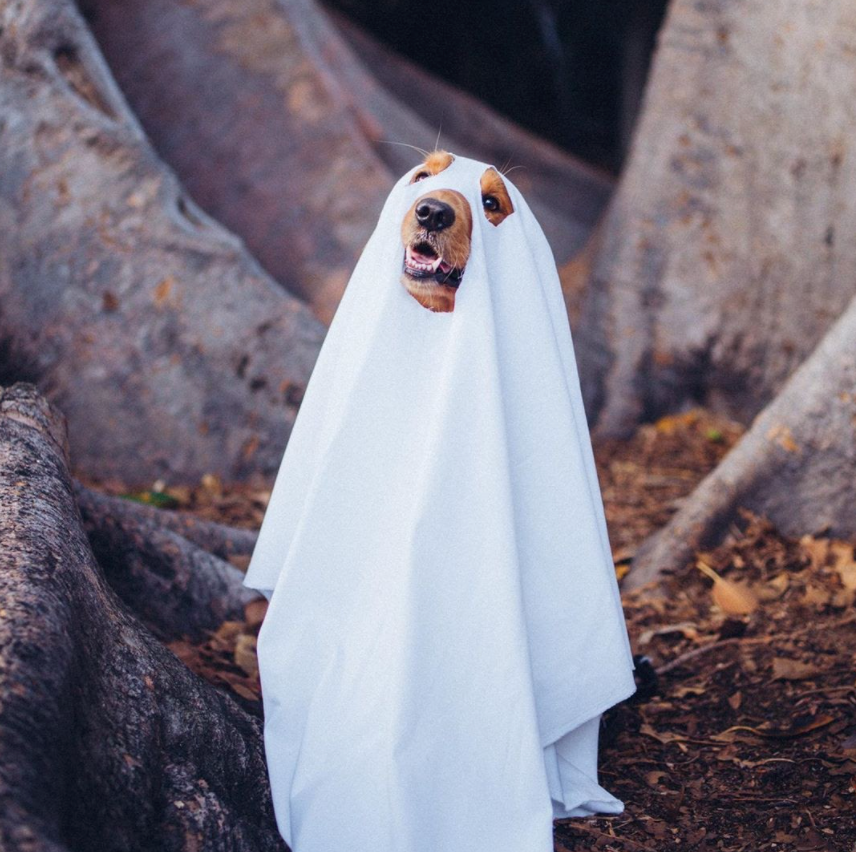 Goodbye, September! Hello, Spooky Season! That's right, folks. October is here and the
Halloween costume
preparations have begun. Yes, even
pet costumes
.
Even though the coronavirus pandemic has put a stop to many activities and festivities in 2020, there's one thing it can't take away: Halloween fun.
Halloween isn't
just
about trick-or-treating for candy. Sure, it's a fun experience that celebrates the fun of Halloween, but it's not the
soul
of Halloween. You can get dressed up in a snazzy
Halloween costume
, stock up on your favorite Halloween movies,
and
divide and conquer the candy bowl.
Pro-tip
: Need to continue trick-or-treating for the kids? There are
pumpkin

shaped Easter eggs online (Amazon) you can use to hide candy throughout the yard. Whenever your kids find one, ask them Trick? And have them shout Treat!
While your dog or other fur babies cannot enjoy the goodness of chocolate treats, they
can
partake in dressing up in
pup
Halloween costumes
as a family! In this blog post, we round up some of our favorite
pet Halloween costumes
for dogs. Maybe you'll find the perfect
costume
for your dog forever friend!
#1 | For the Slasher Horror Movie Lovers
One, two, Doggy's coming for you....
We love a good horror movie especially this time of year. This
dog Halloween costume
is based on Wes Craven's
A Nightmare on Elm Street
and it's antagonist widely known as Freddy Krueger. (Credit: @
pupperazzidogspallc
)
Just kidding. There's nothing
basic
to see here especially with this
pooch
. We love a good, simplistic
Halloween costume
and
an excuse to have our dogs wear hats or a fund
headpiece
. You can never go wrong as a witch for Halloween! (Credit: @
nichole_lynnxo
)
The Child, also known as Baby Yoda, has taken the internet by storm in 2019 and 2020 winning hearts of every Disney+
The Mandalorian
viewer and bystanders that see the cuteness on social media. We love this
costume
idea for
small dogs
! (Credit: @
mooniemermaid
)
#4 | For the Love & Appreciation of Doctors and Nurses!
You know what would be such a cute idea? Dressing up your dog in a solid
outfit
and sending photos in thank you cards to hospitals, thanking them for all their work during the coronavirus pandemic. There are plenty of career type
pet Halloween costumes
online to pick from! (Credit: @
madame_wouf_wouf
)
#5 | For Your Knight in Shining Armor!
Our
pups
save the day, every day! Now, who's ready to sit at the round table with treats? (Credit: @
mr._eli_the_poodle
)
#6 | For the Quick & Creative!
If you grew up in the 90s and early 2000s, you'll recognize this. Beanie Babies. What more to love that will be when you dress your
large dog
up as a giant Beanie Baby! Small
pooch
? Then you'll have a mini Beanie Baby when it comes to your
furry friend
. (Credit: @
abra.kadabi
)
#7 | For the Classic Halloween Lover!
Boo! Did we scare you? Don't worry. It's only a loveable
pup
under some cut up sheets. It's not a ghost! But we do love the classic ghost
costume
...especially as a
dog Halloween costume
. (Credit: @
chewypolo
)
#8 | For the Forever Young at Heart!
We're well beyond our teen years and absolutely love the Disney movies we grew up on. We were tickled pink when we saw this out of this world
dog costume
for Buzz Lightyear from Pixar's Toy Story! (Credit: @
itsmochithepom
)
#9 | For the Storybook Lovers!
My...what big eyes you have! We love this simple and effective
dog costume
idea based on the Big Bad Wolf from Little Red Riding Hood especially for those Husky fur babies. It's the
perfect way
to embrace those stories you grew up on. (Credit: @
natcvpm
)
#10 | For those Who Love a Good Giggle!
We just had to include this one. We love the
headpiece
. With hair inspired by Poppy from the movie Trolls, this fur baby's owner posted to Instagram calling it "The Instagram Troll". Too funny! (Credit: @
nala_littlebean
)
What are you dressing your dog up as for Halloween? Share your Halloween photos with us on Instagram tagging
@joyrideharness
!
What you've just read is a sampling of blog posts we offer at Joyride
Harness
. We cover current events, informational posts, interviews, and more! You can find more content including tips and tricks and how-tos for caring for your dog on our blog at
this section
. Feel free to leave a comment with tips you're looking for!
Share this post