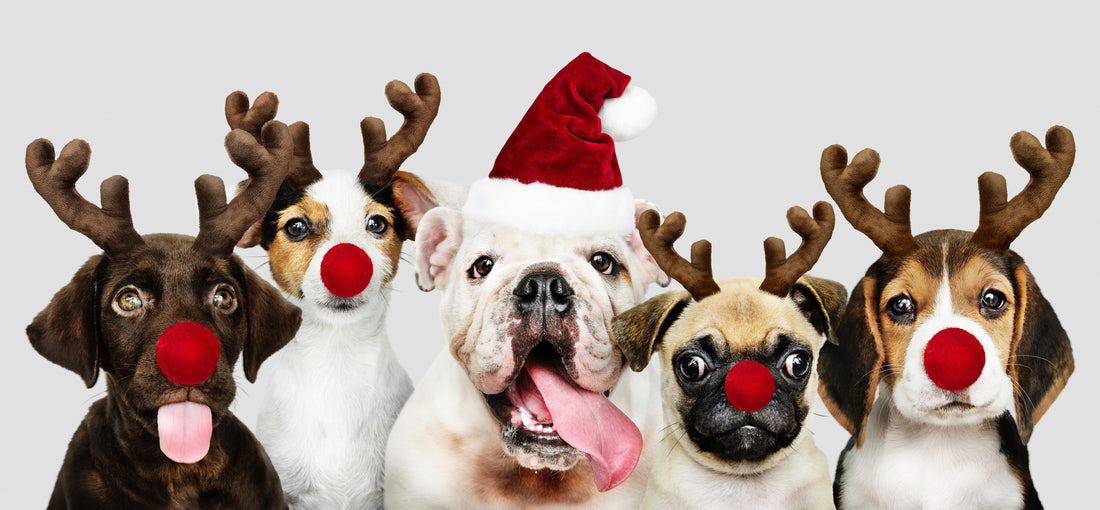 It's the most wonderful time of the year.
Christmas trees are out.
Stockings are hung by the fireplace.
Dogs are going crazy over their new chew toys or wondering what that big box is under the big, decorated stick in the living room.
It may or may not be a squirrel.
Now that pet owners are in the holiday spirit, we can count on each other to go out and put a dent in our wallets to make sure our furbabies, too, showcase their festiveness. From doggo sweaters to Santa photos, we never know what the internet will present us but we're going to guess there will be a lot of mobile devices flashed to our friends paired with an "Oh my goodness! Look at this!"
We're lookin' at you. You totally know what we're talking about!
To save you some time in your internet perusing (as well as your friends subjected to viewing), we've rounded up 10 of our favorite Christmas Doggo photos found in the digi-land of Instagram.
10. Bennie the Goldie may look like he's up to no good, but we are 200% certain he's on the nice list and Santa didn't have to check twice. (via
@puffinandbennie
)
9. Nacho is always taking Christmas photos with his h00man. This year he got to dress up as Max from The Grinch! Find the shoot at their profile! (via
@nachoterror
)

8. Pretty much the only present you need in life: Me (via
@darby2263
)
7. You really thought that Santa was the only one checking the Naughty/Nice list? "Well, Santa. Carol gave only one biscuit treat to Rover on March 3rd this year. Let's not forget." (via
@tuva.the.basset
)
6. Thumbelina is the one stuffing your stockings with coal. You've been warned. (via
@bubblebeccapugs
)
5. Not all angels go on top of a Christmas tree. ;) (via
@balto_the_samoyed
)
3. Waking up on Christmas morning like…. (via
@thatlittleluna
)
2. Puppy's first Christmas. (via
@debbie_spring
)
1. We out here bringin' joy to the world! (via
@missyminzi
)
In case you missed it, we started up a submission form for YOU to submit the story of you and your doggo. We're getting ready for the new year and would love to hear about your best friend! CLICK HERE to get started.
Share this post