The Best Dog Harness For Short-legged Dogs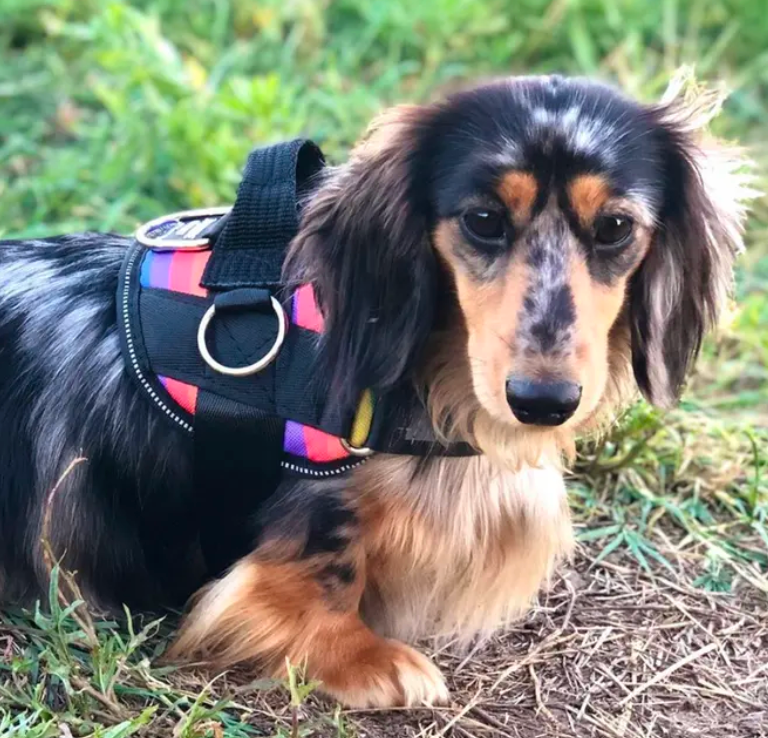 Shopping for dogs with oddly-shaped bodies can be a struggle for dog owners, especially when it comes to dog harnesses. Short-legged dogs in particular deal with sizing issues, harness components that don't rest in the right spots on their bodies, and more.
But with Joyride Harness, it's easy to accommodate your short-legged forever friend.
The harness's design has two straps: one that rests across your dog's chest and the other clipping beneath their front legs. On the first wear, you'll put the harness on your fur baby, adjust the straps to fit their bodies, and boom!
You and your pup are ready to go for walks. Better yet, you're putting the joy back into your walks with Joyride Harness. Because why?
This harness has all the features you and your shorty pup need in one.
Also known as the All-In-One Joyride Harness, this harness is known to change the way you and your dog walk together. Here's a breakdown of what you can expect with this harness.
The harness is made from durable, quality materials

Making it machine-wash safe!

There's no pressure around the dog's neck, minimizing the risks of tracheal collapse

Secure buckle

Better control of pullers (no-pull dog harness)

Works great with 2-in-1 Leash & Seatbelt Combo for car rides

Three rings for different leash and seatbelt attachment points

Can still be worn with a dog collar

Lightweight but with plenty of padding

Breathable mesh for long walks

Reflective straps and stitching for night visibility
What do other short-legged dog owners say about Joyride Harness? Here's the proof in the pudding.
⭐️⭐️⭐️⭐️⭐️ The Quality Is Amazing
"I really do love this harness. It is SO simple to put on, which is huge for me because in the past I've always struggled a little bit with harnesses. The quality is amazing and the colors are very vibrant. I love the reflective strip and the handle. I have a little escape artist dachshund and the Joyride Harness really makes me feel a lot more comfortable with her being secure. I had a couple of issues with the fit for my extremely short-legged baby, but when I reached out to the company they not only responded with advice that worked, they were super helpful with other recommendations to keep my pup safe. It felt like they actually cared about my concerns...not your average company!" - Heather C.
⭐️⭐️⭐️⭐️⭐️
Stays in Place for Our Active Puppy
"XS for a puppy (12 weeks) Scottish Terrier.  This is easy to put on and doesn't bother Tay's sensitive snout during the in/off process. It also stays in place for our active puppy with short legs. All the other harnesses we tried would move and she would end up with a leg stuck or lopsided." - Cherie C.
⭐️⭐️⭐️⭐️⭐️ Gives Me Ease of Mind
"I love this harness for my little short-legged corgi! It's perfect and gives me ease of mind that he won't escape from it on a walk. I love the handle on the back to easily place my dog in and out of the car so he doesn't have to make such a tall jump. The lime green color is so fun too!" - Jessica R.
⭐️⭐️⭐️⭐️⭐️ Does Not Restrict Her Shoulders
"We got Annie's new harness in time for our beach vacation. She is a Cardigan Welsh Corgi, and so has short legs. Her old harness seemed to hinder her gait, but this one does not restrict her shoulders any. The handle is very useful in helping her into and out of our SUV. This seems to be perfect for her." - Angelia G.
This dog harness is perfect for all sorts of dogs: rescue dogs, agility dogs, guide dogs, watchdogs, dogs that might run after a squirrel, and you need a handle to hold them back. The design of the dog harness relies on a proper fit or barely snug fit to ensure the dog's comfort and restrict them from making a great escape.
For more doggie photos and pup-related fun, follow us on Instagram at @joyrideharness. And for a more detailed blog post about finding the best size dog harness for your pup, check out this blog post!
Share this post