The Best Dog Harness For Overweight Dogs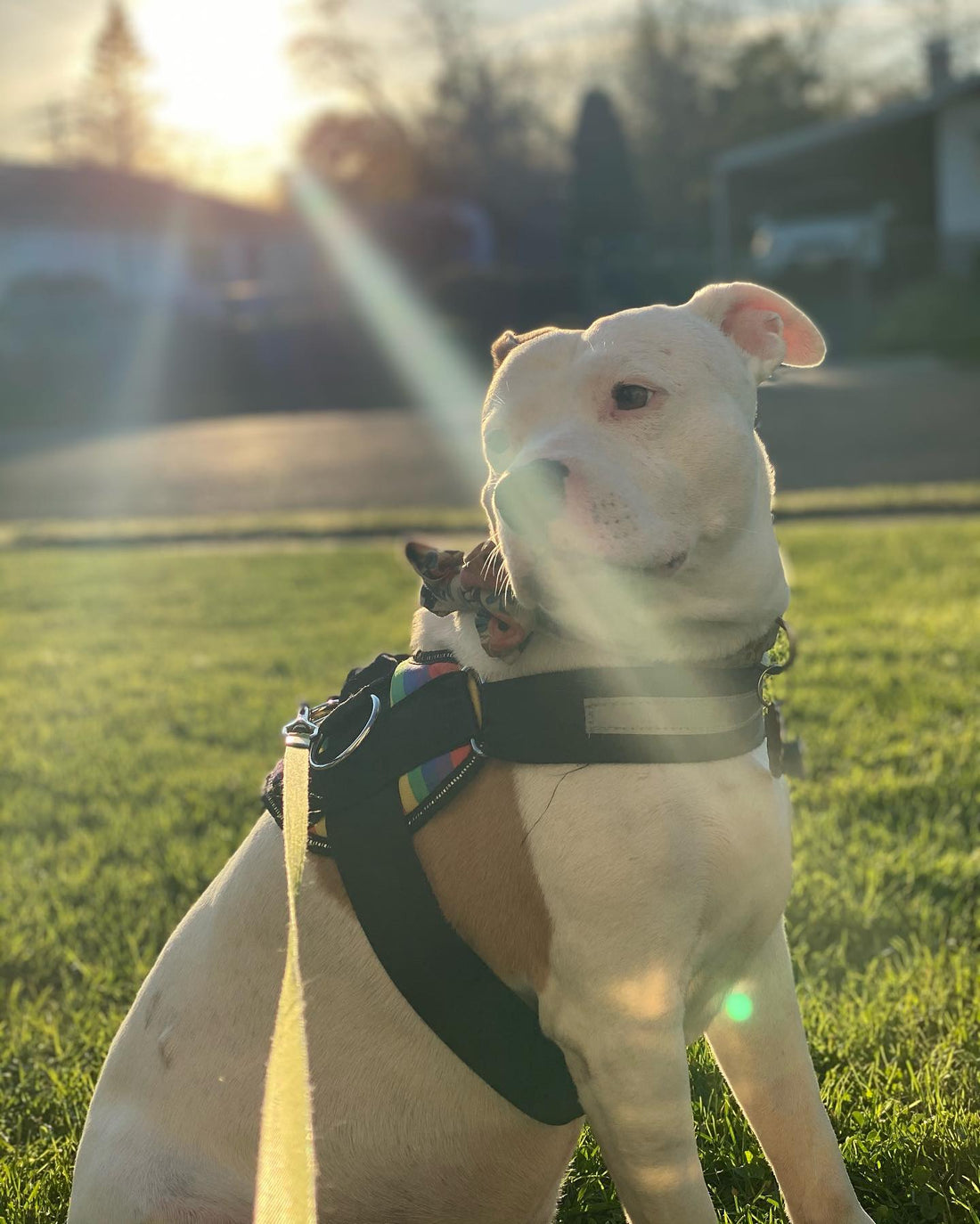 So your dog recently stepped on the scale and you said "wow!" What do you do next?
It's so easy to spoil your dog and sometimes, as a result, they put on extra pounds. While it might seem fine to let your dog indulge, you want to make sure that they're getting the amount of exercise needed to stay healthy. 
Other times, dog parents don't realize the severity of their dog's weight until the veterinarian says, "Hey, your pup needs to lose __ pounds. They're overweight."
When you get past the point (of what seems like) no return, it's hard to find the walking gear that fits your pooch to help them walk it off. 
A lot of it has to do with the design of harnesses and where straps cross, attach, etc. And when you put it on your dog, the clasps don't reach each other and the straps aren't long enough for your big fur baby.
That's not the case with Joyride Harness.
Joyride Harness does have straps to it but not as many as other harnesses. The first strap rests across your dog's chest and the second strap goes underneath your dog, behind their front legs. Both of these straps are expandable and sizes start at extra-small, going up to 2XL.
The more you walk your dog and they get back to their average weight, you can tighten these straps for a more secure fit.
This harness has all the features you and your overweight dog needs in one.
Also known as the All-In-One Joyride Harness, this harness is known to change the way you and your dog walk together. Here's a breakdown of what you can expect with this harness.
The harness is made from durable, quality materials

Making it machine-wash safe!

There's no pressure around the dog's neck, minimizing the risks of tracheal collapse

Secure buckle

Better control of pullers (no-pull dog harness)

Works great with 2-in-1 Leash & Seatbelt Combo for car rides

Three rings for different leash and seatbelt attachment points

Can still be worn with a dog collar

Lightweight but with plenty of padding

Breathable mesh for long walks

Reflective straps and stitching for night visibility
What do dog owners with chonky fur babies say about Joyride Harness? Here's the proof in the pudding.
⭐️⭐️⭐️⭐️⭐️ It goes on quickly & easily
"I can juuuust get my finger between Buddy's tummy and the bottom of his 20-40 lb harness. He's overweight at 34 lbs but we're working on that. He loves it. His legs can run, walk and sniff, walk unencumbered, it doesn't slip from side to side on his back, and it goes on quickly and easily! 👍 Will buy another when I get the puppy. 🐶😄" - Fran F.
⭐️⭐️⭐️⭐️⭐️ Only harness that's comfortable
Maggie has a weight problem. Her medium is a little small this week, we are ordering a large for her fat days. Don't most women have two wardrobes? This is the only harness we have ever been able to walk comfortably. Just recommended it to my friend Gina who is placing an order today. - Linda D.
⭐️⭐️⭐️⭐️⭐️ Glad we got it for our Bruno!
We have a very senior, very obese Basset Hound. He loves to be walked daily, but struggles with a collar/leash due to his size. He absolutely loves his harness, is a lot more at ease, and can ambulate better with your product. So glad we got it for our Bruno! - Michele G.
⭐️⭐️⭐️⭐️⭐️ Caved and ordered one, happy I did
I have a min pin who is overweight. I didn't want to continue using a leash and collar and had been looking everywhere for a harness. The ones I found and purchased at the pet store, Wal Mart all had to be returned... one size was too small, the next size would be too large and no way to adjust. When I saw your harness that I could adjust I was so excited, but I'll confess still a little uneasy about purchasing it and having to return it. I finally caved and ordered one... and I was very happy I did. Thank you. - Judy F.
⭐️⭐️⭐️⭐️⭐️ Adaptable, very happy with it
Lucy is a mixed breed and has a large body and a smaller head. This was our fourth harness [first time with Joyride], she could either slide them over her head somehow or would start making choking noises. The saddle is well made and sturdy- she wears it further back than most would because of a fatty deposit under her front leg. The front piece is adaptable enough to reach around and it sits at the top of her legs, not across her throat. We are very happy with it. - Margaret F.
This dog harness is perfect for all sorts of dogs: rescue dogs, agility dogs, guide dogs, watchdogs, dogs that might run after a squirrel, and you need a handle to hold them back. The design of the dog harness relies on a proper fit or barely snug fit to ensure the dog's comfort and restrict them from making a great escape.
For more doggie photos and pup-related fun, follow us on Instagram at @joyrideharness. And for a more detailed blog post about finding the best size dog harness for your pup, check out this blog post!
Share this post