The Best Dog Harness for Akitas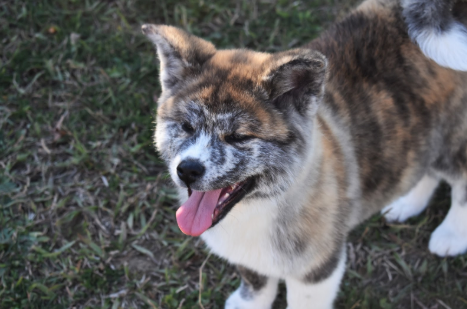 Akitas are a large dog breed that originated from the mountain regions of northern Japan. There are two variations of Akita in existence: Akita Inu (or Japanese Akita) and simply Akita (or American Akita).
These dogs are known to have a dense coat and a burliness to them. They're independent, docile yet protective, alert, and friendly. Such noble dogs have found homes with various Joyride Harness customers who decided to use the dog harness for their Akita. 
We've rounded up customer submitted reviews of the Joyride Harness for this specific breed! Take a look!
Laura M. - ⭐⭐⭐⭐⭐/5
Size/Color: XX-Large (XXL) - Blue
"My boys are big dogs so I need a good harness to be able to grab them or hook a leash to them without a fuss.   Plus that harness must be able to withstand them getting excited and try to run after other dogs. I have had harnesses break because Franklin (Akita/Chow) is so strong with pulling so hard.  Joyride brand so far has been the best harness for my boys yet. Thank you."
Renee M. - ⭐⭐⭐⭐⭐/5
Size/Color: Large (L) - Black
"Very good quality design and material. It paid for itself on the first walk. A neighbor dog had gotten loose and charged my overprotective Akita, I was able to hold her in check without the strangling of a collar. This works, you won't regret it!"
Jamie M. - ⭐⭐⭐⭐⭐/5
Size/Color: XX-Large (XXL) - Purple
"Great Harness. For a 120 pd Akita. Who would of thought?"
Jean M. - ⭐⭐⭐⭐⭐/5
Size/Color: XX-Large (XXL) - Red
"I love this harness.!! My akita Ruger is 125 lbs, almost 5 years old.
So much energy and strength, it was a struggle walking him. This harness gives me more pull control, and walking him is no longer a worry."
Cheryl T. - ⭐⭐⭐⭐⭐/5
Size/Color: N/A - Purple and Orange
"Super easy to take on and off. Bright colors make it easy to see my dogs when we are at the park. Super comfortable for both Yuji and Keiko. They just walk up and put their heads in and wait to be snapped in. We always get compliments on how nice they look."
These are just a few of our customers' submitted reviews. You can view all submitted reviews by checking out this page. You'll find a healthy combination of honest reviews! We also have more blog posts that round up reviews based on different dog types for your convenience.
Additionally, if you have sizing questions you can always reach our team through the contact form on our website if the sizing charts provided on this page do not suffice! You'll find two charts available for sizing reference based on weight and girth measurements.
Want more? Feel free to follow us on Instagram at @joyrideharness and take a look at more furbaby photos! New to Joyride Harness and need some help picking the right size for your doggo? We have a detailed informational blog post that you can check out: Click Here To View
Share this post