The Best Dog Harness for a St. Bernard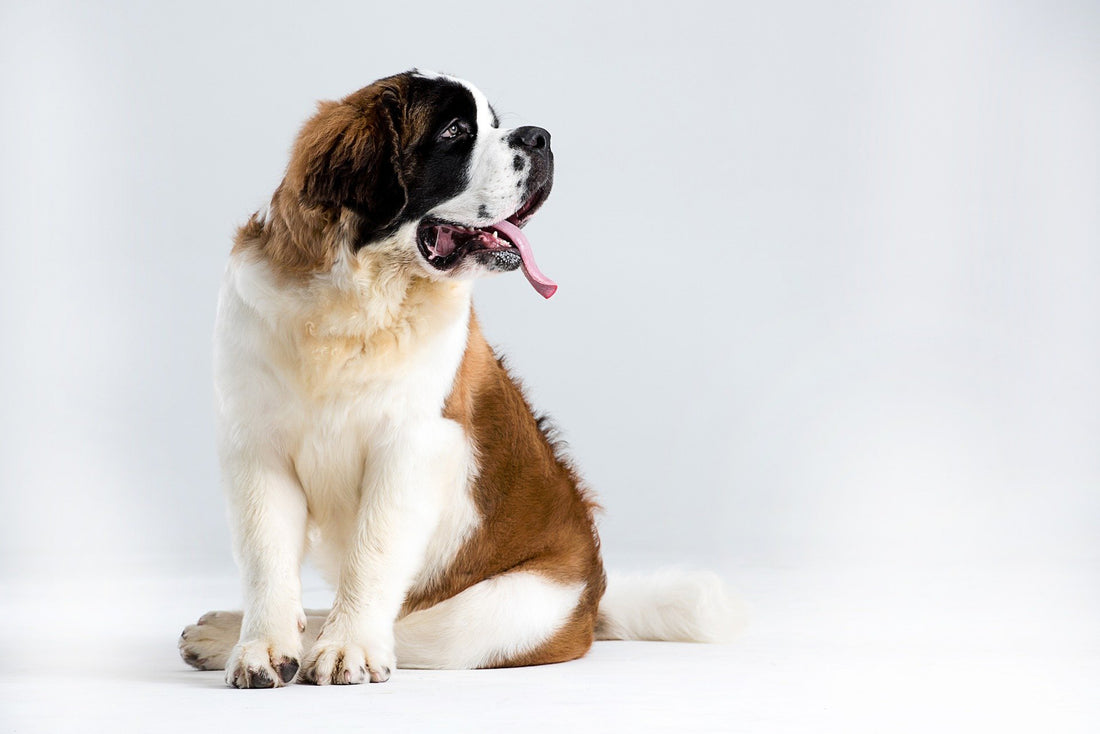 The Best Harness for a Saint Bernard
Saint Bernard's are certainly an unforgettable breed. Many of us may have met this dog when we were kids, sitting in front of the tv with snacks, watching one of several movies about Beethoven the dog. Or maybe we're most familiar with them high up on mountains with a little cask around their necks saving the day. We may even best recognize the Saint Bernard breed as Nan, who watched over the Darling children before they were whisked away to Neverland in Peter Pan.
Whatever the case, St. Bernard is an iconic breed, and these dogs are as lovable as they are big. If you have the fortune of having a Saint Bernard in your life, you probably want to give them the best life possible, including when it comes to exercise. Keep reading to learn more about this majestic breed and how to find the best Saint Bernard harness for your pooch.  
A Noble History of St. Bernard's
Known for their brown and white coloring, large size, and tendency to drool, this Swiss breed is characterized as a gentle giant. But what's the history behind this life-saving nanny dog?
As it turns out, St. Bernards' origins are directly tied to their snowy rescue stereotype.
It all begins in a place, unsurprisingly, called the Great St. Bernard Pass. Nestled in the Western Alps between Switzerland and Italy, this route is 49 miles long, 8,000 feet above sea level, and nearly always snow-covered.
While it's treacherous, the Pass is also the easiest way to cross the Alps - so you can imagine how hard the other routes would be. So there is a long history of travelers, including both Julius Caesar and Napoleon with their troops, making their way across the miles of snowy terrain.
Between 1660 and 1670, the monks that lived and worked at the Great St. Bernard Hospice in the Pass received their first dogs. These were the descendants of Asiatic mastiff-style dogs that the Romans had used as their watchdogs. While these early Saint Bernards looked slightly different in that they were smaller with longer tails, they still sported brown and white fur.
During their time as the main rescuers of the snowy terrain, these dogs would go out alone in small groups to find lost travelers. Once they found someone who needed help, one would lie on the traveler like a big blanket while the other would return to the monks.
The Best Saint Bernard Harnesses
Saint Bernard's have fairly moderate exercise requirements. While most Saint Bernard's are now companions not patrolling the Swiss Alps, they still need exercise. For most adults, one or two long daily walks should be enough to keep them happy.
For many pet parents, walking their dog on a harness is preferred. While it'd be easy to think that these wonderful Saint Bernard's might be too big for dog harnesses, that's simply not so! At Joyride Harness, our inclusive size range ensures that even gentle giants can find a safe, easy-to-use, and comfortable dog harness.
Because St. Bernard's are very large dogs, it's important to choose a harness that fits them properly and is made of durable materials. If you are still training your gentle giant not to pull, a specially designed no-pull harness is best to keep both you and your pup safe on walks. If your dog is older, you will want your St. Bernard's harness to have a handle and be able to support them as they age. 
The larger a dog is, the more power they have, and the more important it is that you're able to keep them from pulling or darting. Additionally, they can put that bigger force into pulling against their neck and throat if wearing a collar, leading to damage. Both of these things can be avoided with a proper Saint Bernard harness.
Joyride Harness for Saint Bernard's 
Joyride Harnesses have a unique design and fit that means they go on in just two seconds. Plus, they fit more comfortably than standard dog harnesses. This will allow gearing up your Saint Bernard to be far less stressful for both you and your pup.
These durable harnesses have adjustable straps that allow for a secure and safe fit even for the broadest of dogs. They include several leash attachment points and an EZ grip handle, allowing for better control, which even for the gentlest of giants is important on walks. Additionally, they have a reflective strip that adds that little extra bit of safety and peace of mind.
To properly measure your St. Bernard for a harness, you will want to follow our size chart. You can measure by weight or by girth (chest measurement). While you may assume your Saint Bernard may automatically need our largest size (XXL), we always recommend using the size chart first for a proper fit. 
Joyride Saint Bernard Harness Reviews
While we think Joyride Harness is the best option for Saint Bernard's, you don't have to take our word for it. If you're shopping for a new St. Bernard harness, you want honest feedback straight from the horse's mouth. 
To make your hunt for the perfect Saint Bernard Harness easier, we've rounded up some reviews where St. Bernard owners have shared what they love about Joyride Harness!
⭐⭐⭐⭐⭐ Erin D.
I love these harnesses!!!! I have two St. Bernard's and this harness is the only one that can withstand their pulling. I never have to worry about them breaking the ring when I walk them. Keep up the great work!! I would recommend this harness to anyone with a dog.
⭐⭐⭐⭐⭐ Lalita H.
I bought this harness for my 3 dogs, a 5 month old Great Dane. 4 yr old St. Bernard and a 3 yr old Pit bull. None of my dogs had problems pulling. I just wanted the harness for their comfort. I was so surprised when I took the harness out of the box. They all came as if they knew there was something for them. When I put the harness on them and adjusted them. They all got happy. I'm not kidding they love wearing their harness. They walk with such pride.
My Great Dane puppy was always very easy to train. He loves to please me. Since I got the harness I notice he is even more willing to work hard and get everything right. I teach my dogs a lot of tricks just to have fun with them. Just wearing the harness has made a difference.  I don't know what it is. But I will highly recommend this hardness. My dogs love them. And they look nice too.
⭐⭐⭐⭐⭐ Kayla R.
Zeva is a happy pupper
Love it ! I have two very large dogs, english mastiff/ great pyrenees and a St. Bernard mix and they love these. They are easy on and off and the handle on the back is great for swimming.
⭐⭐⭐⭐⭐ Carolyn W. 
The harness is awesome! Very easy to put on and take off. Definitely helps with a large dog that pulls.
⭐⭐⭐⭐⭐ Kim A.
Helps my senior St. Bernard on the stairs
Good. We use it just to give our 11 year old St. Bernard some extra support on stairs.
Choosing a St. Bernard is inviting a lot of dog into your home, but they are a loyal, gentle, and friendly breed who get along wonderfully with children - all traits they come by honestly. And having the right St. Bernard harness can help both train them when they're young and support them when they're older.
If you think your Saint Bernard can benefit from a Joyride Harness, you can shop our website or reach out to us with any questions you may have. Not ready to take the plunge? You can read more product reviews from customers with all kinds of dogs. 
If your Saint Bernard is rocking a Joyride Harness, be sure to tag us on Instagram @JoyrideHarness! We love sharing customer photos and all kinds of pup-related fun. 
Share this post