The Best Dog Harness For A Day At The Beach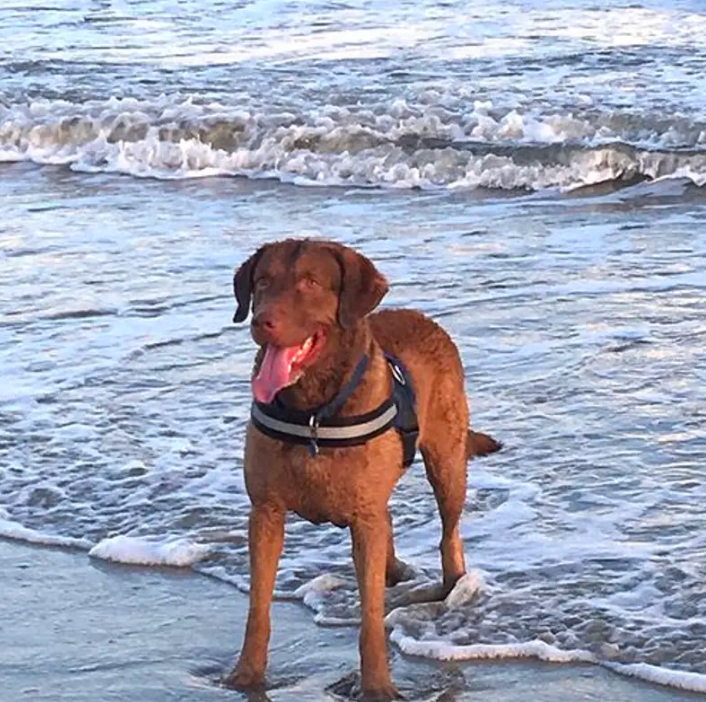 Summertime fun is here! You and your pup are ready to hit the beach. 
Or are you?
You might not be as ready as you think you are. You're packing up the beach bag and loading up the trunk of your car with the summer essentials. What kind of gear are you bringing for your dog?
There are plenty of collars and harnesses out there, but none so much as beneficial during the summertime as Joyride Harness. Why?
The harness is made from lightweight materials. If your dog decides to go for a swim, the harness won't be weighed down. Other harness materials may absorb more water depending on the materials used.

Joyride Harnesses all have a handle that's on the back center of the harness. It's perfect if you need to pull your dog out of the water or pull them into safety.

The harness is also machine-wash safe. It can withstand saltwater and freshwater. When you're home, toss it in a normal cycle and air dry.
What are the other benefits of this harness?
The harness is made from durable, quality materials

Making it machine-wash safe!

There's no pressure around the dog's neck, minimizing the risks of tracheal collapse

Secure buckle

Better control of pullers (no-pull dog harness)

Works great with 2-in-1 Leash & Seatbelt Combo for car rides

Three rings for different leash and seatbelt attachment points

Can still be worn with a dog collar

Lightweight but with plenty of padding

Breathable mesh for long walks

Reflective straps and stitching for night visibility
What are other dog owners saying about
Joyride Harness
and their experience at the beach? Take a look at these customer-submitted reviews.
⭐️⭐️⭐️⭐️⭐️ Easy To Use
"I love the fact that I'm not "strangling" my dog like traditional neck collars do. My schnauzer loves it too. It's easy to put on, just slips over his head. It's true to its size. It's comfortable enough to be able to disconnect the leash and let him just run around in the harness while at the beach. I will never use anything else." - Christopher L.
⭐️⭐️⭐️⭐️⭐️ Life Saver
"Took my Bernedoodle puppy to the beach for the first time and wanted to have a harness for all the walks on the beach. It was great to have this. The handle came in handy way more often than I expected. Would highly recommend." - Ellen D.
⭐️⭐️⭐️⭐️⭐️ Great Harness!
"My dog has a skinny long neck and large chest so it's been hard finding a harness that fits him properly and doesn't bunch up. I got the XL size for him and it's great! Slips over him so fast and the clip is heavy-duty as is the handle on the top for extra control when needed. It also seems like it will irritate him less when we can go to the beach again, as his other harnesses with more straps and buckles would rub on his skin and give him a rash with the saltwater. Highly recommend this harness - already have done so with a couple of co-workers who just got dogs." - Stephanie T.
⭐️⭐️⭐️⭐️⭐️ Apollo Loves It
"Apollo loves his harness. Tries to put it on when I take it off. He spent all day yesterday at the beach jumping in waves. It held up great. Came home and washed it. Looks like new." - Liann J.
This dog harness is perfect for all sorts of dogs: rescue dogs, agility dogs, guide dogs, watchdogs, dogs that might run after a squirrel, and you need a handle to hold them back. The design of the dog harness relies on a proper fit or barely snug fit to ensure the dog's comfort and restrict them from making a great escape.
For more doggie photos and pup-related fun, follow us on Instagram at @joyrideharness. And for a more detailed blog post about finding the best size dog harness for your pup, check out this blog post!
Share this post