Star Trek Actor Patrick Stewart Forced to Rehome Foster Dog Because of UK Restrictions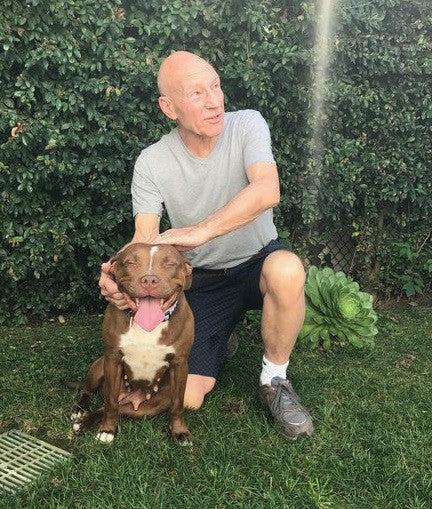 Stories circulate online constantly and recently, we've seen a spike in the sharing of Patrick Stewart adopting the Pitbull he was fostering. With a number of us being Trekkies, or fans of Star Trek, we were elated to read this heartwarming story.
Unfortunately, there were updates that would follow back in 2017 that have been missed. We learned that Patrick Stewart and his wife Sunny adopted their foster Pitbull Ginger Gurl, and from there they started looking into how they could bring her to their home in the United Kingdom.
In a post from Sunny Ozell, she explained, "We split our time between Brooklyn and the UK, and without question the best home for her would have been our place in the English countryside. We imagined Ginger running through the fields, going for evening walks with her down the lanes, and taking her to our little local village pub where dogs are welcome. We knew where her bed would go in our room, and what spot on the couch she would almost certainly claim as her own. We couldn't wait for her to see her first snow."
When looking into what it would take to bring Ginger Gurl to the English countryside, they were faced with the need to rehome her due to breed restrictions.
The well-loved couple was blindsided by this.
The post continued on, "We learned about the UK's antiquated and tragic breed-specific legislation that includes 'pit bulls'. The legislation itself is opaque, draconian, and truly hard to decipher. There aren't many times when I'm comfortable leveraging the 'Pstew Card', but this was absolutely an instance where I wanted to pull out all the stops. We called the British Consulate and we called the RSPCA. We spoke with every expert we could, and as it became clear that there in fact was no 'clear' answer, we realized we just couldn't take any risk with Ginger's life. I could go into more detail about how we came to this decision, but the short version is that we chose to do what was best for Ginger."
Following this unfortunate circumstance they all faced, Patrick Stewart vocalized his dissatisfaction with the legislation they were up against with the Press Association at London's Animal Hero Awards that year:
"I understand why it was put in place, but it doesn't address what the real issues are about the possibility of dangerous dogs. In most cases, and certainly in the case of pit bulls, it is not the dog that is the problem, it is always the owner."
It's uncertain where Ginger Gurl is now, but it's safe to assume she's in good hands as Patrick Stewart and Sunny Ozell recruited the help of Ginger's rescuer Lesley of Wags and Walks. That, and we've gathered the couple does weekly check-ins with Ginger and hopes to remain in her life one way or another. #AdoptDontShop #EndBSL
Share this post