Safety Tips for Walking Your Dog in Winter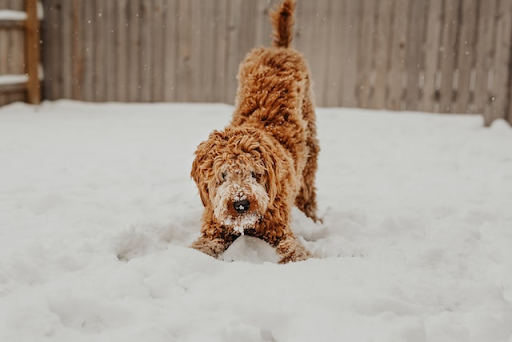 There's nothing more idyllic than walking in a winter wonderland, especially if you have your best friend by your side. But how safe is it to take your dog for walks in winter? Can your pup still get all the exercise he needs?
Colder temperatures, less daylight, and ice all pose possible hazards for humans and their dogs living in cold areas. The good news is it's ok to walk your dog outside in the winter as long as you take the necessary precautions. 
Keep reading to learn more about how to keep your fur baby safe, comfortable, and healthy on cold-weather walks in winter.
How Cold is Too Cold for Dog Walking?
First, is there ever a time when it's too cold to walk your dog in winter?
Most healthy dogs can walk for 30 mins when the temperature is above 20 degrees Fahrenheit. Smaller dogs may only be able to tolerate the cold for 15-20 minute walks. For even colder weather, it will depend on the dog and how acclimated they are to colder temperatures. 
Dogs who are used to the cold tend to tolerate it better for longer periods. For example, a Siberian Husky will probably love staying outside because they are built for the cold. Italian Greyhounds? Not so much. If you move your dog from Southern California to Maine, expect your pup to be cold. 
Pay attention to your dog's body language when playing or walking your dog in the snow. They may be having too much fun to tell you they're cold. 
You should always consult your vet if you have any questions about taking your dog outside in winter. Still, these five tips are a great starting point for outdoor winter adventures! 
1. Stay Visible 
With winter comes fewer daylight hours, so you will likely spend more time walking in the dark. You and your pup need to stay visible, especially if you are walking near roadways! 
Don't wear dark clothing when out and about at night. Additionally, consider wearing a headlamp, reflective vest, and at least one article of high-viz clothing. 
Make sure your fur baby is visible, too! At Joyride Harness, we believe visibility is an important part of safety, which is why every model Joyride Harness has reflective fabric sewn onto the harness. Our Joyride Harness 2.0 model even glows in the dark for extra visibility! You can attach a dog tag light to your dog's collar, leash, harness, or clothing for added light. 
2. Stay Warm 
When walking your dog in the snow, you and your pup must stay warm to avoid hypothermia, frostbite, and the other dangers of cold temperatures. Just as you choose a warm jacket and a hat for yourself, choose a warm jacket or sweater for your dog!
Some dogs don't necessarily need jackets due to their coat type; however, many dogs have shorter fur that cannot withstand cold temperatures and wick away moisture. 
Dog jackets serve many purposes. For instance, a windbreaker can help cut the winter chill, while a puffer jacket might repel water and add insulation. When choosing a coat or sweater, prioritize your dog's needs first, then pick something fashionable! 
Joyride Harnesses have multiple adjustment points, so it's easy to readjust your harness to fit over a coat or sweater.
3. Protect Their Feet
The only thing that looks sillier than a dog in a sweater is a dog in boots. Even though it's easy to overlook dog footwear as a silly accessory, they are an essential part of protecting your dog when walking in snow.
When you walk your dog in winter, their feet are subjected to snow, ice, salt, and other potential chemicals. All of these elements can dry out paws and make your dog cold faster. Boots add an important layer of protection. 
If your dog doesn't tolerate boots when walking in the snow, you can try a paw wax, like Musher's Secret, which can act as a barrier. After walking, apply a moisturizing paw palm to the paw pads to avoid dry, cracked paws. 
4. Clean Paws & Belly
Even if the weather isn't dreadfully cold, always wipe your dog's paws and belly when they come in from a walk. Use a warm wet washcloth and a towel to dry, or a pre-moistened pet wipe for convenience. 
This will remove salt or ice-melt chemicals from your dog's paws and belly before he licks them or they stain your couch. When giving them a thorough wipe-down, you can check your dog for any signs of frostbite or other concerns. 
5. Keep a Tight Leash 
In addition to limiting your walks, using a leash when walking your dog in the snow is also advisable. Even dogs with a great recall can wander off in the snow, slip on ice, or get in trouble. If you're hiking near a lake, don't allow your dog to wander out far on the ice, as you never know how solid it is. 
Find More Tips from Joyride!
An informed pet parent is a happy pet parent! For more tips on how to take care of your fur baby, be sure to check out our blog. You can also follow us on Instagram @JoyrideHarness. We love sharing cute photos of our canine customers wearing their Joyride gear! 
Share this post