REVIEWS: Best XL Dog Harness For the Big Dogs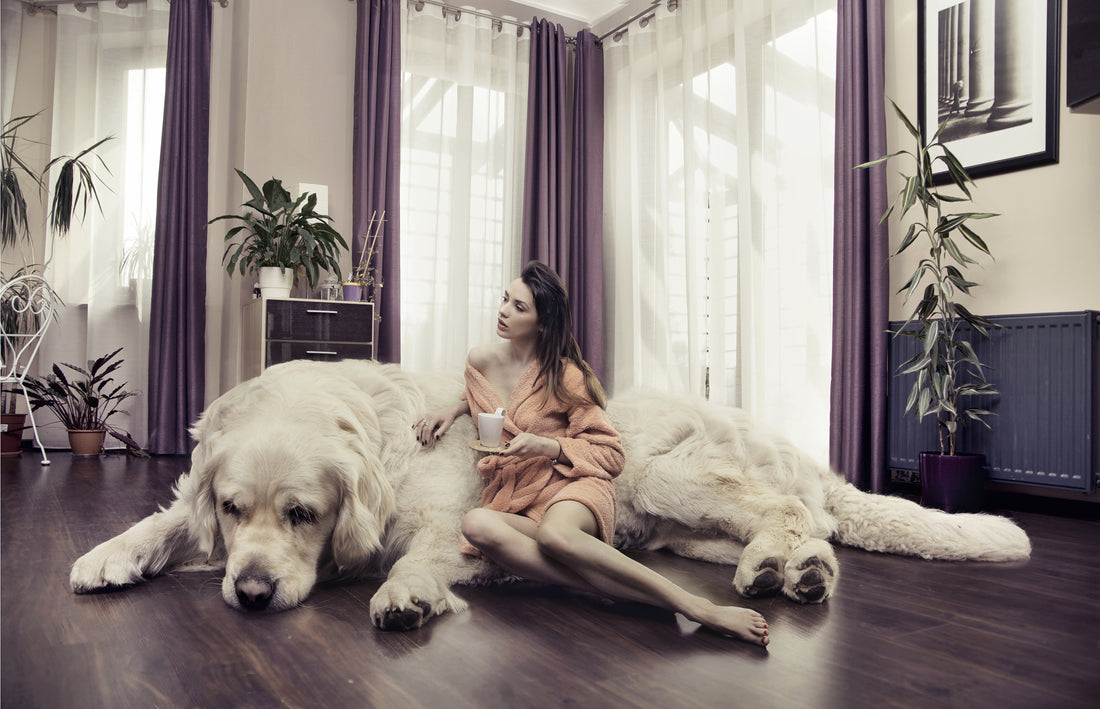 If you follow us on social media, you'll see a variety of dogs ranging from the itty bitty committee to the large and in charge. You've probably found yourself here though because you are the dog parent of a fur baby that's considered part of the large and in charge. 
Oh boy. Those larger fur babies really know how to walk you when you should be walking together. Enter the Joyride Harness. 
Created to work against pulling, Joyride Harnesses are great dog harnesses for the big dogs. Of the larger breeds our customers shop for, they lean towards either a size XL or size XXL (2XL) harness. 
Instead of having to comb through our social pages to find posts of big or large dogs wearing the harness, we've rounded up a slew of customer submitted reviews so you can see how the harness is working out for dog parents in similar size situations. 
Take a look!
Jim Y. - ⭐⭐⭐⭐⭐/5
Size/Color: XXL (2XL) - Black and Rose Red
"Love these harnesses.  I have two bullmastiff weighing 126 and 135 pounds who used to pull me around.  Now I can walk them with complete confidence that I have them in control. No more of them walking me by pulling me along."
Lynn H. - ⭐⭐⭐⭐⭐/5
Size/Color: L & XXL (2XL) - Orange & Black
"We have a mastiff and pit bull. They can both tug when they want something. These are well built, sturdy and have a great handle to help when you need extra control.  Super easy to put on the dogs!"
Sadie L. - ⭐⭐⭐⭐⭐/5
Size/Color: XL or XXL (2XL) - Green
"Great fit, great quality, and awesome simplicity! I've dealt with different harnesses in the past...strap here, strap there, now it's upside down, whoops the dog got out of it. Ugh...I'd given up on harnesses until this one caught my eye. No more straps to fiddle with, no more parts fitting your dog uncomfortably, no more escapees. This harness is it. I have 2 dogs, both very large in the chest. The one is around 80 pounds, and the other 95. This fits them both very well with a tiny adjustment. For the larger one, the 2XL fit like a glove. For my smaller pup I did have to adjust the belly strap just a tad. I couldn't be happier with this harness. It goes on your dog just as easily as a regular collar. I've kept their leash hooked onto whichever side I'm walking them on. The no-pull design works like a charm as long as you utilize the side rings before moving onto the center ring. The side rings teach them that each time they pull forward, they get spun around to face you. Great concept! Thank you joyride!!!"
Bryan A. - ⭐⭐⭐⭐⭐/5
Size/Color: XXL (2XL) - Green
****Okay, so maybe this isn't a doggo but it's too good not to share!!****
"We have a pot bellied pig named Bella.  Her neck shape is not like a dog's so we ordered a 2XL size.  Bella took to the harness right away, and now gets very excited when we bring the leash out for her evening walk.  A pig doesn't pull you on a walk like a dog does, but the harness helps in keeping her focused on the walk, and safe from possible attacks."
These are just a few of our customers' submitted reviews. You can view all submitted reviews by checking out this page. You'll find a healthy combination of honest reviews! We also have more blog posts that round up reviews based on different dog types for your convenience.
Additionally, if you have sizing questions you can always reach our team through the contact form on our website if the sizing charts provided on this page do not suffice! You'll find two charts available for sizing reference based on weight and girth measurements.
Want more? Feel free to follow us on Instagram at @joyrideharness and take a look at more furbaby photos! New to Joyride Harness and need some help picking the right size for your doggo? We have a detailed informational blog post that you can check out: Click Here To View
Share this post