REVIEW: Best Dog Harness For Chows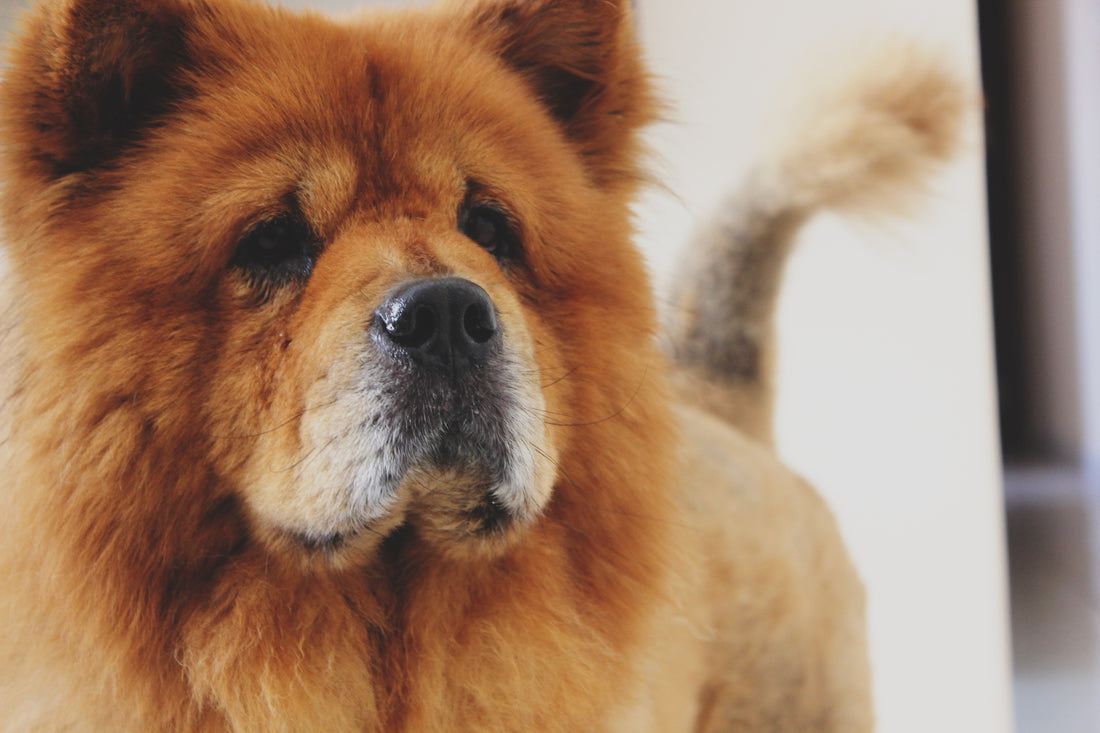 An unusual but alarmingly adorable breed, the Chow-Chow originated from northern China. It was there that they were referred to as Songshi-Quan with the meaning of puffy-lion dog. Accurate! 
These dogs grow to large sizes and need to be socialized at an early age as their hunting instincts may get the best of them, but they are known to be housebroken easily with owners even noting that they are clean dogs. 
Chow-Chows are also known to be strong-willed and loyal to their owner, showing hesitation and reservations towards strangers until properly introduced by the owner. When it comes to walking, adult Chows may need up to 60 minutes of exercise each day! So what should you consider for walks for these cuties?
Enter the Joyride Harness.
We've rounded up a number of customer submitted reviews from Chow dog parents who use the harness. Take a look and see if it might be the right fit for your Chow!
Susie S. - ⭐⭐⭐⭐⭐/5
Size/Color: N/A - Blue
"Love the pug harness for my ChowChow Moses!  Moses can be stubborn and the pug harness works great in changing his mind in a comfortable gentle way....I live my Moe and I love pug harness!"
Julie B. - ⭐⭐⭐⭐⭐/5
Size/Color: XXL - Black
"I was worried about the fit for my 11 yr old chow. This harness was easy to put on him which is important since he has arthritis. The fit was perfect even with his all of his fur 🦁"
Ann M. - ⭐⭐⭐⭐⭐/5
Size/Color: N/A - Purple
"I received the harnesses that I ordered, and I am very happy with your product .My chow chows are adapting to them, and even though we haven't had a lot of practice with them yet, I've noticed a big difference, especially with my young chow chow. My older dog figured it out right away. I like the ease of putting them on and taking them off. Thank you so much."
Cynthia B. - ⭐⭐⭐⭐⭐/5
Size/Color: XL - Orange
"Tucker is a mixed breed. We think a mix of Shepherd, Chow, Lab, who knows? I chose to get this harness to make it easier for my husband to get  a harness on and off. Us older folks sometimes have a hard time getting down and up off our knees. This harness removes that problem. Tucker took to it right away. I like the construction of the harness, the padding, metal rings, the adjustable front reflector strap and under chest strap, and the handle. The handle was a major plus. It gives my husband and I extra holding power when Tucker decides to be unsocial while walking. Thank you for the color choices also. Tucker's fur color matches the dead growth in the fields. With a orange collar and orange harness we can find him on his free run.  I have recommended to several people I know and don't know. People who love their dogs will love this harness. Cynthia Bushinski and Tucker"
These are just a few of our customers' submitted reviews. You can view all submitted reviews by checking out this page. You'll find a healthy combination of honest reviews! We also have more blog posts that round up reviews based on different dog types for your convenience.
Additionally, if you have sizing questions you can always reach our team through the contact form on our website if the sizing charts provided on this page do not suffice! You'll find two charts available for sizing reference based on weight and girth measurements.
Want more? Feel free to follow us on Instagram at @joyrideharness and take a look at more furbaby photos! New to Joyride Harness and need some help picking the right size for your doggo? We have a detailed informational blog post that you can check out: Click Here To View
Share this post