Pups in the Pumpkin Patch: A Must-Do in October!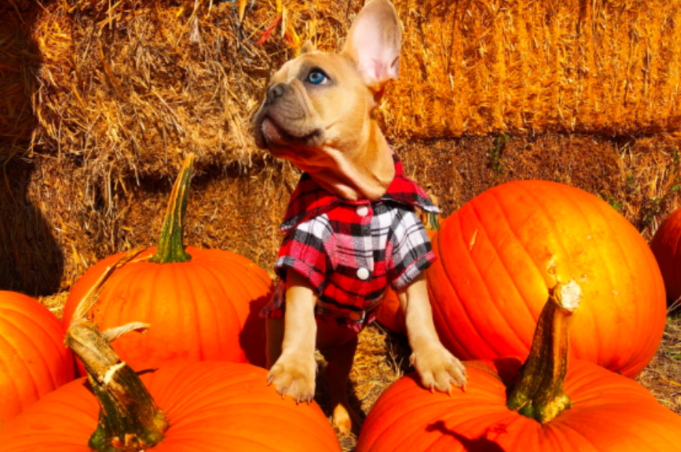 It's October, and you know what that means - pumpkin patches, colorful leaves, and lots of fun! But did you know that you can also bring your furry friend along for the adventure?
Today, we're going to discuss how to plan a visit to a dog-friendly pumpkin patch. So put on your Joyride harness, grab your leash, and let's get started!
Picking the Perfect Pumpkin Patch

First things first, you'll want to find a pumpkin patch that welcomes dogs. Not all pumpkin patches do, so it's important to do a little research. You can look on the internet or call in advance to find out if your nearby pumpkin patch allows dogs.
Dog-friendly pumpkin patches often go beyond welcoming dogs– they often have special activities and treats, too! Look around to find the patch that sounds like the most fun for you and your furry friend.
Packing for the Adventure
Now that you've found the perfect pumpkin patch, it's time to get ready for your outing. Here's what you need:
Leash and Harness: Make sure your dog has a comfortable leash and harness. It's essential to keep your furry friend safe and under control while you explore. You want to make sure that the harness meets all of your dog's needs.

Water and a Bowl: Staying hydrated is crucial, so bring some water for both you and your dog. Don't forget a bowl for your pup to drink from! The pumpkin patch might have water available, but it's better to be safe than sorry.

Poop Bags: It's important to clean up after your dog. Be a responsible pet parent and bring poop bags to pick up any messes.

Treats and Toys: Bring your dog's favorite treats and toys to keep them happy and entertained. It's a great way to reward them for good behavior! 

Comfortable Shoes: This one's for you, pet parent! You'll be walking around a lot, so wear comfy shoes that you don't mind getting a little muddy. 
Safety First
Safety is super important when you're at the pumpkin patch with your furry friend. Here are a few tips to keep in mind:
Keep Your Dog on a Leash: Even if your dog is well-behaved, it's best to keep them on a leash at all times. There might be lots of exciting things at the pumpkin patch, and you don't want your dog to get too carried away. 

Watch for Signs: Look out for any signs or rules posted at the pumpkin patch. They might have specific guidelines for pets and their people.

Be Mindful of Other Visitors: Not everyone might be a dog lover, so be considerate of other visitors. Keep your dog from jumping on other guests or getting too close if they seem uncomfortable. 

Ask Before Approaching: Always ask other pet parents if it's okay for your dogs to say hello. Some dogs might be shy or not feel like making new friends that day. When your dog meets another pup, make sure they stay calm and friendly. Keep an eye on their body language to ensure they're getting along.
Exploring the Pumpkin Patch
Now comes the fun part - exploring the pumpkin patch with your dog! Here are some activities you can do together:
Picking Pumpkins: Wander through the rows of pumpkins and let your dog sniff around. Maybe your dog will help you pick the perfect pumpkin!

Photo Time: Get your camera ready and take some adorable photos with your dog amidst the pumpkins. These pictures will be great memories to look back on.

Pet-Friendly Activities: Some pumpkin patches offer pet-friendly activities like hayrides or corn mazes. Check with the staff to see if there's anything special for pups and their people.

Pumpkin Treats: Pumpkin is one of the healthiest treats a dog can have! Pumpkins help dogs have shiny fur and healthy skin. Even dogs who sometimes have tummy troubles can usually eat pumpkin. See if the pumpkin patch has any pumpkin-based dog treats, or let your dog pick out a small pumpkin to snack on at home.
Sniffing Out Fun
As the day ends, you'll have a perfect pumpkin, lots of cute photos on your camera, and a happy, tired pup. You did it! You had a fantastic time at the dog-friendly pumpkin patch and made unforgettable memories together.
When you spend time with your dog, every time of year is a special time of year. Taking them on a fun adventure at a pumpkin patch is a wonderful way to celebrate the season. At Joyride, we don't just make the best dog harness ever– we also love to share fun ideas and tips for taking care of your best friend.
If you're looking for more fun ideas to do with your dog, check out the Joyride blog and our reviews to see just how much fun your dog can have in a Joyride!
Share this post