Police Dog Who Recovered From Life Threatening Injuries Amazes Audiences on Britain's Got Talent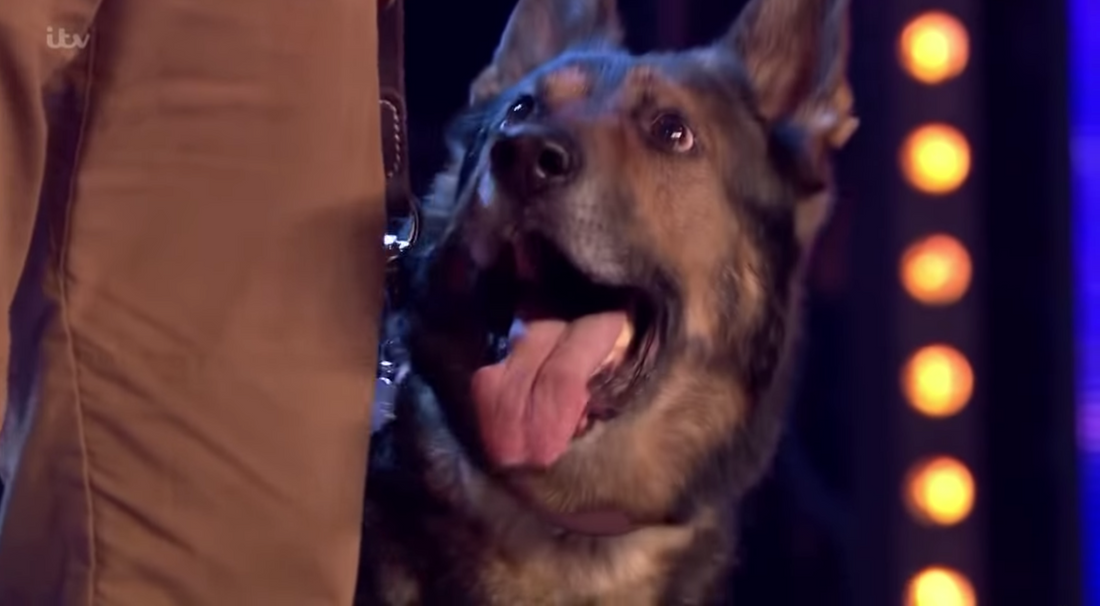 There are good doggos and then there are the good doggos that blow our minds.
Take Finn the German Shepherd for example. This nine year old good boy pushed through a life threatening road bump in his journey on this earth. Finn recovered from a stab wound that could have been the end. Fast forward and next thing you know, Finn is on a stage before an audience bringing famous star judge Simon Cowell to tears on Britain's Got Talent.
In 2016, Finn and his lifelong human and police partner Dave Wardell were tracking down an armed suspect. Finn experienced severe stab wounds when protecting Dave from the 10 inch blade wielded by the assailant.
Dave rushed Finn to the hospital and learned that while one of his lungs was indeed punctured, his heart was safe from the blow of the attack. A successful surgery it was that saved Finn's life leading him into retirement with his human Dave and his family.
(Police Dog Finn and PC Dave Wardell via The Kennel Club UK)
On Britain's Got Talent, Dave brought Finn to show some magic skills and bring awareness to animal rights. Their cause? Finn's Law - a campaign to call on the government to bring harsher consequences upon those who hurt animals. Dave told Finn's story before the audience and judges in between a couple mind reading tricks. He of course had Finn's assistance!
Simon Cowell was amazed and was even brought to tears hearing about Finn's injury and seeing photos from post-surgery recovery.
We've never seen anything like this, folks! But you won't believe it until you watch. Warning: You might need a sleeve or tissues.
(Image Stills via Tony Patrony)
According to SWNS, "Since the attack, a campaign and a petition has launched calling for police dogs and horses to be given the same protection as officers in the UK – with the moniker 'Finn's law', similar to the US Federal Law Enforcement Animal Protection. The petition, created by David Burstow, has already hit nearly 70,000 signatures."
Share this post