October 2023 Free Desktop & Mobile Wallpaper For Dog Lovers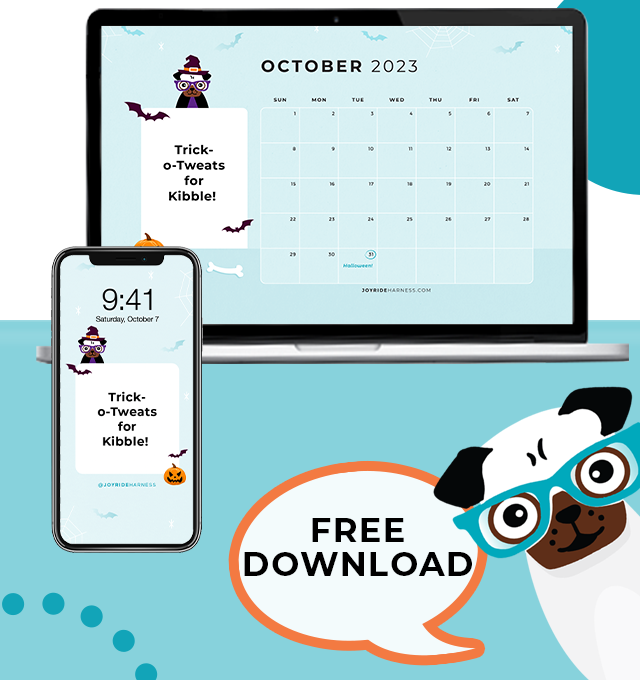 Brr... it's getting pretty chilly, isn't it?
And just like you, believe that your fur baby is getting cold too.
So here are some tips to keep your dogs warm in the winter.
#1 Prepare a Cozy Space to Sleep
Grab a soft bed and thick blanket to provide warmth for your pup. If you don't that, place their beds in the warmest place in the house.
#2 Extra Clothing Before Going on Walks.
You might want to slip a sweater on them before you head out for a walk. But collars and most harnesses are frustrating to handle with extra fabric. But don't worry!
Joyride Harness's easy on and off design makes it easy for you to secure your fur baby for walks. It even has adjustable straps so you can give more room for comfort if the sweaters or jackets are thick. (You're Welcome!)
#3 Check and Protect The Paws
Pay a little extra attention to your pup's paws. Dangerous objects can hide under the snow. So when you're home after a walk, check paws for cuts and wipe away frost or snow.
AND make sure to moisturize your dog's paws to avoid cracking and drying.
With this simple tips you can ensure your pup will be cozy and snug all winter long!
Before you go… We've got a treat to share with you!
Every month we share with our email subscribers a free digital download. We've got new desktop and mobile wallpapers here for you with this special reminder: 
"Trick-o-Tweats for Kibble"
How To Set The Wallpaper as Your Desktop Background
Below you will find instructions for setting the wallpaper as your background depending on which type of desktop device you're using.

How to Set Up (Mac Users):
1. Download this file: Click Here.
2. Save the file to Pictures folder on you Mac.
3. Click the Apple Menu and select System Preferences. 
4. Go to Desktop & Screensaver. 
5. In the left panel, go to Folders > Pictures. 
6. Select the downloaded image. 
OR
1. Download this file: Click Here.
2. Save the file to a preferred folder.
3. Open the folder and right click on the downloaded file.
4. Select Set Desktop Wallpaper.
How to Set Up (PC/Windows Users):
1. Download this file: Click Here.
2. Click the Windows icon on the bottom of the screen.
3. Select Settings > Personalization.
4. Click on Background.
5. Set the dropdown to Picture and click Browse below the images that appear.
6. Select the downloaded file.
---
We hope you enjoy your new digital download! More on the way from Joyride Harness.
P.S.  Say hello and see adorable dog photos and videos every day by following us on Instagram , Facebook and YouTube! 🐶 
Share this post