"Live, Laugh, Love" But For Dogs | Home Decor For Dog Lovers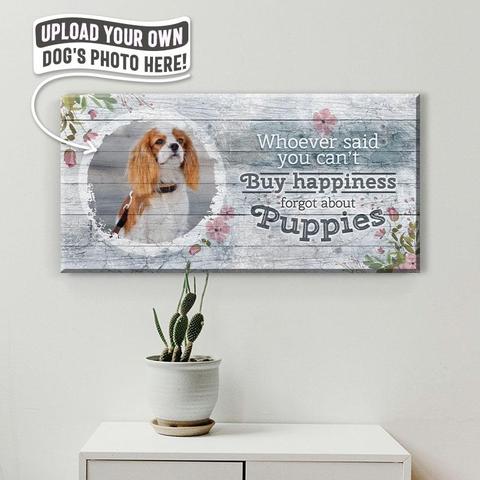 Woof & Watson is one of the newest dog store brands to surface online and is 100% for dog lovers in the galaxy. When you're making a home with a fur baby in the family, sometimes you want to add things to include them. It's easy to get family photos, but there are other ways you can show some love and appreciation for your dog in the family, too!
One of our favorite things on the Woof & Watson site right now is their Wall Art section. There are a range of different canvas wall art styles featured that can be customized to have the face of your fur baby (or fur babies)! 
When you find a style you like, it's so easy to get set up with your order. This customization feature allows you to pick what size you want (10"x20", 15"x30", or 20"x40") and upload your own photo of your dog(s).
Here are some of our favorite designs they have right now.
STYLE #1 | "If all else fails, hug your dog."
Your dog is ready to welcome that next hug. We love how this style places the picture of puppers in the center of the 'O' in dog. CLICK HERE
STYLE #2 | "All you need is love and a dog."
That's our favorite take on the beloved song from The Beatles. A good motto to keep in mind! CLICK HERE
STYLE #3 | "Dogs are not our whole life, but they make our lives whole."
It's so true. There's something about the companionship and connection we have with our dogs that makes things feel more complete even when things are stressful. They bring joy to our lives that can't be matched. CLICK HERE
These are just a few of the canvas wall art decor options that Woof & Watson has available on their site! If you're ready to spruce up your living space and add some more dog love to the comforts of your own home, you can visit Woof & Watson online. Click here to see the full list of options that are available. 
Share this post