June 2022 Free Desktop & Mobile Wallpaper For Dog Lovers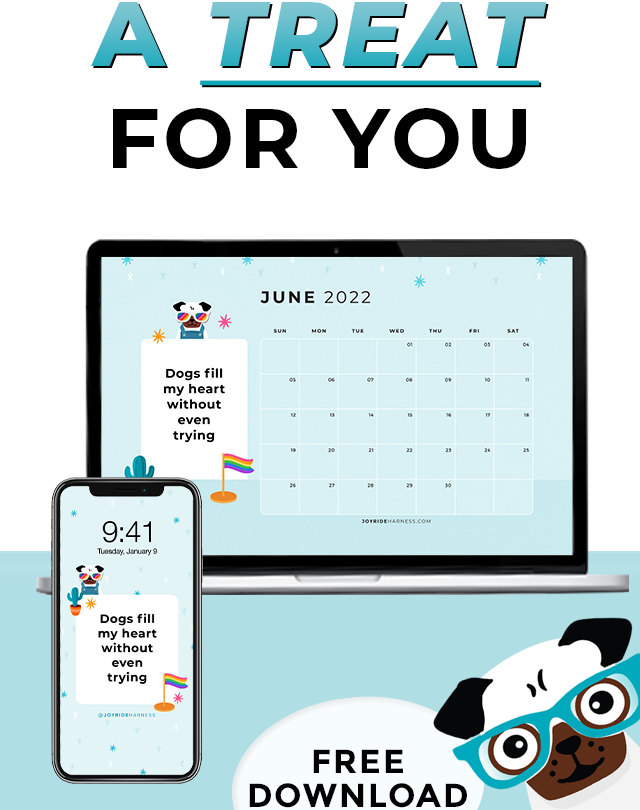 Are you in that summer vacation state of mind? Before you take off, we've got something special for you!
The Joyride Harness created a new wallpaper for both your desktop and mobile devices. This wallpaper is perfect for the month of June.
On it, is a quote of gratitude for dogs and we're sure it rings true for you. This quote is a loving acknowledgment of the fur babies that keep the sun shining.
It reads…
Dogs fill my heart without even trying.
It's so true. Dogs know how to take presence in the room, and when they do, it's comforting. Your fur baby has been there for you countless times. And even for the dogs that aren't your own, they bring you joy without knowing them for more than a minute.
Take this wallpaper and set it up as a reminder of the good in your life. And to be proud of the life you've created for yourself and your pooch by remembering that good.
How to Set the Wallpaper as Your Desktop Background
Below you will find instructions for setting the wallpaper as your background depending on which type of desktop device you're using.
How to Set Up (Mac Users):
Download this file:

Click Here

Save the file to Pictures folder on your Mac.

Click the Apple Menu  and select System Preferences.

Go to Desktop & Screensaver.

In the left panel, go to Folders > Pictures.

Select the downloaded image.

Look at the wallpaper and repeat the affirmation aloud 3 times daily.
OR
Download this file:

Click Here

Save the file to a preferred folder.

Open the folder and right click on the downloaded file.

Select Set Desktop Wallpaper.

Look at the wallpaper and repeat the affirmation aloud 3 times daily.
How to Set Up (PC/Windows Users):
Download this file:

Click Here

Click the Windows icon on the bottom of the screen.

Select Settings > Personalization.

Click on Background.

Set the dropdown to Picture and click Browse beneath the images that appear.

Select the downloaded file.

Look at the wallpaper and repeat the affirmation aloud 3 times daily.
Photo Challenge: A lot is happening on our social media profiles! We love to repost and share your fur babies with everyone. After you set your wallpaper up, take a photo of your dog with it and post on social tagging @joyrideharness and #JoyrideHarness.
We hope you enjoy your new digital download! More on the way from Joyride Harness.
Here's what you missed…
Joyride Harness is overjoyed to announce the opening of its first pop-up location in Southern California. Not only is it the first pop-up but it is the first brick and mortar for Joyride Harness. 
A big victory for dogs cruising around the area because this pop-up is loaded with excitement for you and your fur baby.
When you walk into the Joyride Harness pop-up, you might find your fur baby's next new walking accessory. Because not only do we have customer favorites in the store, but we also have designs and products that haven't been released on our website yet! 
This is a great chance for you to bring your fur baby in, try some harnesses on in the doggy dressing room, and walk away with a Joyride your pooch will love.
Spin the wheel while you're there for a chance to take home free prizes! And snap a photo of your pup on the red carpet.
WHEN
This popup is open all May and June 2022! 
Monday and Tuesday visits are by appointment only. 
Wednesday Hours: 3 PM to 7 PM
Thursday thru Sunday Hours: 12 PM to 6:30 PM
WHERE
The Joyride Harness pop-up is located at 7451 Melrose Ave.
⭐️⭐️⭐️⭐️⭐️ Janet R.
"This harness is so simple to put on and adjust for a perfect fit. I had trouble finding a harness for my big chested pittie until I found this one. Sturdy material and Kobe looks so handsome wearing it."
⭐️⭐️⭐️⭐️⭐️ Linda S
.
"I am very pleased with the purple harness I purchased. I also have the red Buffalo check one for my other pit bull.  They are so easy and quick to put on and fit very well. I have great control while walking them and they are comfortable on my dogs. Thank you for your efficient and speedy service."
For more doggie photos and pup-related fun, follow us on Instagram at @joyrideharness. And for a more detailed blog post about finding the best size dog harness for your pup, check out this blog post!
Share this post