July 2022 Free Desktop & Mobile Wallpaper For Dog Lovers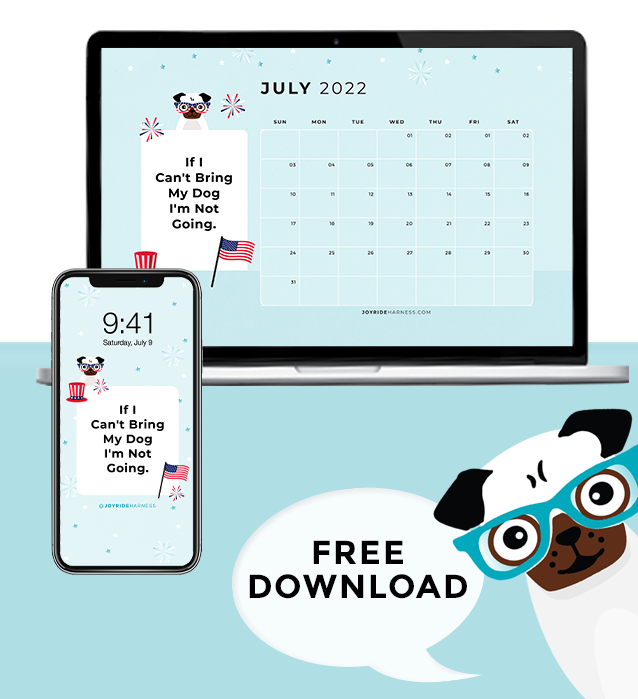 July has you in the summer mood and dripped in red, white, and blue. Up the 4th of July celebrations with matching accessories from head-to-toe…to your phone.
The Joyride Harness created a new wallpaper for both your desktop and mobile devices. This wallpaper is perfect for the month of July.
If I Can't Bring My Dog, I'm Not Going
Ain't that the truth?
How to Set the Wallpaper as Your Desktop Background
Below you will find instructions for setting the wallpaper as your background depending on which type of desktop device you're using.
How to Set Up (Mac Users):
Download this file:

Click Here

Save the file to Pictures folder on your Mac.

Click the Apple Menu  and select System Preferences.

Go to Desktop & Screensaver.

In the left panel, go to Folders > Pictures.

Select the downloaded image.

Look at the wallpaper and repeat the affirmation aloud 3 times daily.
OR
Download this file:

Click Here

Save the file to a preferred folder.

Open the folder and right click on the downloaded file.

Select Set Desktop Wallpaper.

Look at the wallpaper and repeat the affirmation aloud 3 times daily.
How to Set Up (PC/Windows Users):
Download this file:

Click Here

Click the Windows icon on the bottom of the screen.

Select Settings > Personalization.

Click on Background.

Set the dropdown to Picture and click Browse beneath the images that appear.

Select the downloaded file.

Look at the wallpaper and repeat the affirmation aloud 3 times daily.
Photo Challenge: A lot is happening on our social media profiles! We love to repost and share your fur babies with everyone. After you set your wallpaper up, take a photo of your dog with it and post on social tagging @joyrideharness and #JoyrideHarness.
We hope you enjoy your new digital download! More on the way from Joyride Harness.
Here's what you missed…
We recently released matching collars and bow ties to go with Joyride Harness designs. It's the first of patterned collars and bow ties to be made available online after being showcased at the Los Angeles Joyride Harness Pop-up store this past month.
It's a cute way to jazz up your dog's walking accessories, but what is it about Joyride Harness that makes the walks so JOYful? Here's what customers have been saying as of late.
⭐️⭐️⭐️⭐️⭐️ Karen A.
"We love the Joyride harness, leash & safety seatbelt. I believe we have found our forever harness! It's very easy to put on and take off, lovely colors, functional handle on the back of the harness and halfway down on the leash so you don't have to bend all the way down if you have a small/medium dog to make any behavior corrections. We have a 7 month 20 lbs. Pembroke Welsh Corgi, and we purchased the medium. Lots of room for easy adjusting as he grows. We are using the adjustable safety seatbelt for him, and it works great to keep him put while driving. We might be able to use the seatbelt attachment on his leash when he is full size. Thank you Joyride for making a harness that works nicely for our Corgi."
⭐️⭐️⭐️⭐️⭐️ Shalon B.
"I recently bought a new harness and with a Lab (BB) thought I would include the lifetime guarantee and I am so glad I did. We were not even 1 month in to having the new harness when my BB slipped it off and chewed through he strap. Joyride made it so easy to reach out to them and were quick to send out a new harness. This was definitely worth the money and would recommend not only the warranty but this company to anyone that needs a harness for your pups! We also got one for our other dog as well!"
For more doggie photos and pup-related fun, follow us on Instagram at @joyrideharness. And for a more detailed blog post about finding the best size dog harness for your pup, check out this blog post!
Share this post