Joyride Harness Pop-up Store Opens in Los Angeles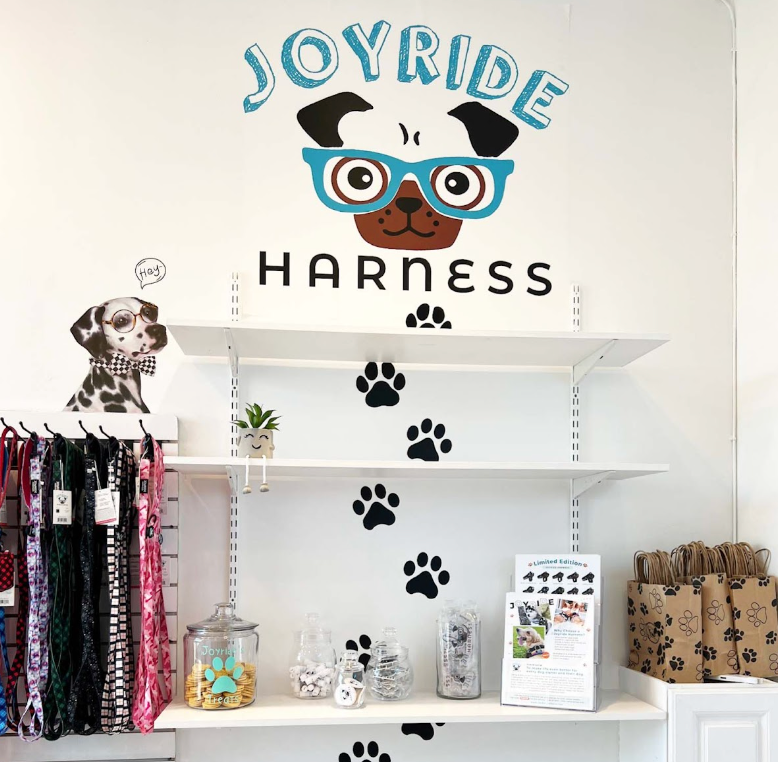 Los Angeles, California – Joyride Harness is overjoyed to announce the opening of its first pop-up location in Southern California. Not only is it the first pop-up but it is the first brick and mortar for Joyride Harness. 
A big victory for dogs cruising around the area because this pop-up is loaded with excitement for you and your fur baby.
You're Invited!
WHO
Joyride Harness is a family-owned dog harness and accessory business based in Los Angeles. Being a dog parent is one of the best things in life and we, at Joyride Harness, understand this because we are dog parents too!
Our relationship with our dogs is important and there's no better way to bond and make our relationships better than with something we do with our dogs daily: Go for a walk.
Our passion for our dogs and helping other dog parents helped us create Joyride Harness and we look forward to meeting you and your fur baby.
WHAT
When you walk into the Joyride Harness pop-up, you might find your fur baby's next new walking accessory. Because not only do we have customer favorites in the store, but we also have designs and products that haven't been released on our website yet! 
And the Joyride Harness isn't a dog harness to pass up. Why?
This harness has all the features you and your pup needs.
Also known as the All-In-One Joyride Harness, this harness is known to change the way you and your dog walk together. Here's a breakdown of what you can expect with this harness.
The harness is made from durable, quality materials

Making it machine-wash safe!

There's no pressure around the dog's neck, minimizing the risks of tracheal collapse

Secure buckle

Better control of pullers (no-pull dog harness)

Works great with 2-in-1 Leash & Seatbelt Combo for car rides

Three rings for different leash and seatbelt attachment points

Can still be worn with a dog collar

Lightweight but with plenty of padding

Breathable mesh for long walks

Reflective straps and stitching for night visibility
This is a great chance for you to bring your fur baby in, try some harnesses on in the doggy dressing room, and walk away with a Joyride your pooch will love.
Spin the wheel while you're there for a chance to take home free prizes! And snap a photo of your pup on the red carpet.
WHEN
This popup is open all May and June 2022! 
Monday and Tuesday visits are by appointment only. 
Weekday Hours: 3 PM to 7 PM
Weekend Hours: 12 PM to 6:30 PM
WHERE
The Joyride Harness pop-up is located at 7451 Melrose Ave.
WHY
Get a chance to see Joyride Harness up close and personal! This is the only physical location for Joyride Harness right now. 
For more doggie photos and pup-related fun, follow us on Instagram at @joyrideharness. And for a more detailed blog post about finding the best size dog harness for your pup, check out this blog post!
Share this post