Joyride Harness Makes Live Debut on Dawn's Corner 'Great Day Houston'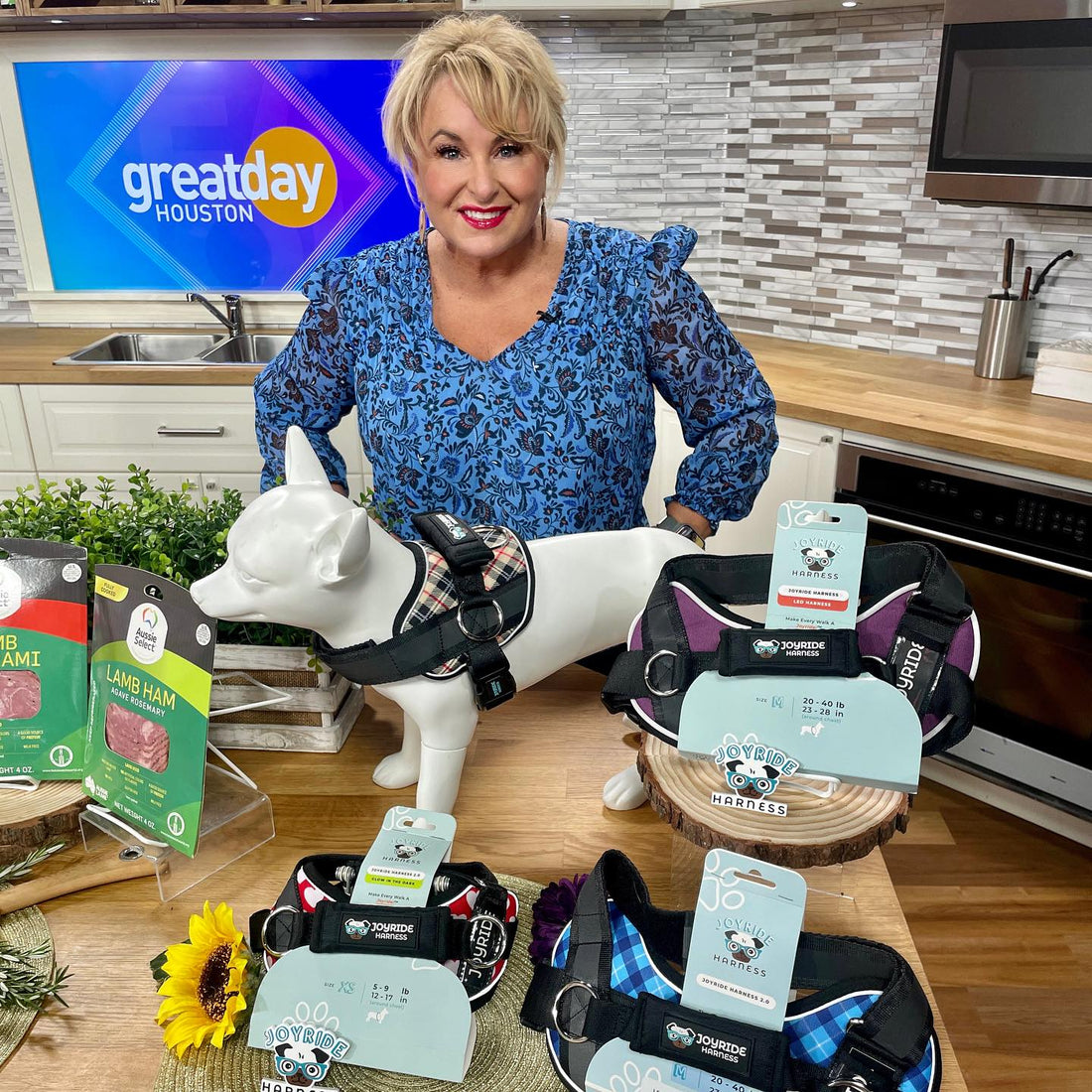 Recently, Joyride Harness was featured on Great Day Houston!
Host Deborah Duncan and Lifestyle Advisor Dawn McCarthy showcased our harness as part of their "Products With A Purpose" at Dawn's corner segment.
Deborah opened by saying "With the tighter squeeze on your dollar nowadays, it's nice when you can buy something and benefit others all at the same time from people to pets."
Followed by Dawn, who just visited Super Zoo in Las Vegas, shared products that we can get and give at the same time. 
There were so many products featured and Joyride Harness was one of them! 
As a fellow dog mom, Dawn mentioned that "People don't understand that sometimes it's very difficult being one (dog parent) , but new people don't have control over their dogs."
She also emphasized that Joyride Harness is "really easy to slip on your dog because it just goes over the heads" compared to a complicated harness. 
She added "They've (Joyride Harness) got probably some of the highest quality in a harness I've ever seen."  importance of a comfortable and safe harness for dog parents.
Lastly, Dawn mentioned that "I really loved this for Dog Parents, if you really want your dog protected when they're in the car"  and that Joyride Harness for its blend of functionality and comfort, making it easy to use for your furry babies.
In addition, Dawn mentioned that Joyride Harness have donated over $200,000 of harnesses to dog shelters "to help other fur kids" as Dawn says it.
Paw It Forward
At Joyride Harness, we're not just a brand; we're dog parents too. We know how important it is to have a strong connection with our furry family members.
Our mission is to make life better for dogs. When you buy from us, a portion of the proceeds goes to feed and care for dogs in need. 
Joyride Harness is proud to provide opportunities to enhance the quality of living for dogs through the PAW IT FORWARD INITIATIVE!
So far we have... 
Want to Paw It Forward with us? Learn more about it here.
---
This Fall, its time to upgrade your dog's harness find the perfect style and add your favorite harness here. 
You can watch Dawn's Corner from Great Day Houston here: Watch The Full Segment
You can also read Dawn's detailed reviews of the products here: Products That Give Back This Fall
Share this post