'Isle of Dogs': A Dystopian Movie About Man's Best Friend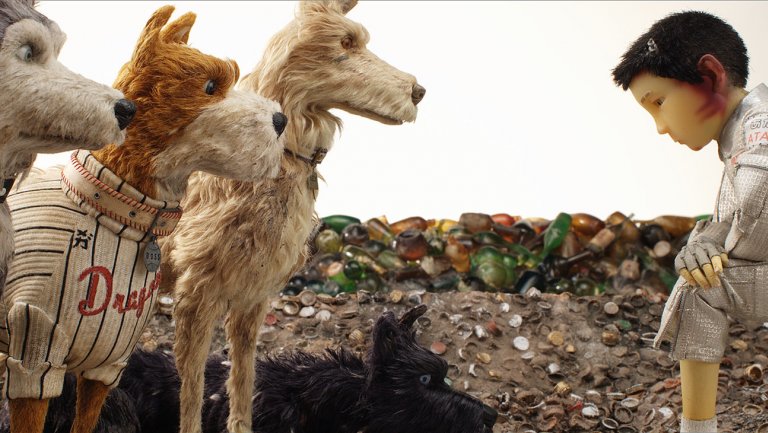 2018 was a great year for dogs in film, and how perfect that is considering it was the Chinese Year of the Dog. We were given films like Show Dogs, Dog Days, Benji, and Alpha, but the most striking film to come on top was Wes Anderson's Isle of Dogs.
When the trailer for Isle of Dogs first dropped, fans of the director and his other stop motion film Fantastic Mr. Fox were over the moon in their excitement. Both films feature all-star casts and visionary work in the detail put into the stop motion effects.
Even though the stop motion animation and dog storyline may give off the impression to some that this is a children's movie, it's not. Not in the slightest. Wes Anderson has a whimsical way of painting the world his stories are set in, and the delivery of the subject matter is geared more towards adult. This one in particular zones in on a Japanese society about 20 years in the future.
In a world that may appear to be successful and all figured out for the humans, it's a dystopian nightmare for dogs as they are afflicted by a dog flu that cannot be treated. This unfortunate circumstance pushes politicians to take action by banning dogs to Trash Island and it becomes a power struggle between groups to reverse the action.
As the film continues - just as the trailer first showed us - a little boy's dog is sent to Trash Island, so he flies there to begin his search with every intention of bringing his dog home. Instead of finding his dog, he finds a squad of dogs making their living on the island. From there, the adventure becomes an exhilarating roller coaster ride.
When watching this film, you immediately take a liking to the dogs that have teamed up. OK. So maybe we're stating the obvious, because of course you're going to like dogs, but there's more to it. You'll take a liking to the dogs because of the voices associated with them. We're talking names like Bryan Cranston (Breaking Bad), Jeff Goldblum (Independence Day, The Fly, Jurassic Park), Bill Murray (Ghostbusters, Zombieland, Scrooged), and more!
The voice acting, the storyline, and the art design in the stop motion work really ties together to present to us a perfectly packaged film for dog lovers. It packs originality with emotion, adventure, and diplomacy.
Haven't seen this film yet? Watch it on VOD or purchase at your nearest physical media store and let us know…. Which dog in the film is your favorite dog? #JoyrideHarness
Share this post