How to Travel With Your Dog: Everything You Need to Know About Dog-Friendly Travel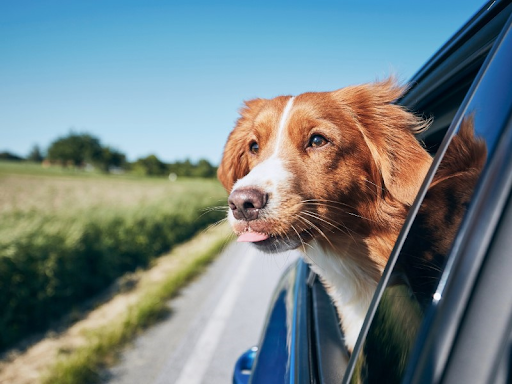 Embarking on a journey with your furry best friend can be an exhilarating experience. But figuring out how to travel with a dog can sometimes be a bit daunting. Don't worry–we've got you covered!
In this guide, we aim to simplify the process for you, offering tips and insights that cover every aspect of dog-friendly travel. From packing essentials to choosing the right destination, we are here to ensure that traveling with dogs becomes a breeze for you. With this guide by your side, you'll be more than prepared to embark on an adventure of a lifetime with your canine companion beside you. 
Step 1: Preparing For Your Dog-Friendly Trip 
Before you hit the road, make a comprehensive plan that caters to your dog's needs. Tailoring your trip to suit your dog's personality, health status, and dietary requirements can lessen the stress, making it a happier experience. 
Understanding Your Dog's Needs
Every dog is unique, and understanding your dog's individual needs is the first step in planning a successful trip. Consider factors such as their personality, health status, and age to determine the kind of activities they can enjoy. If your dog is shy around strangers, for instance, it's probably best to avoid a giant festival. A secluded beach vacation, however, may be the perfect fit.
Also, be mindful of their dietary requirements to prevent any health issues during the journey. If your dog is used to eating a raw or fresh food diet, be sure to pack a cooler with enough ice to keep it at an appropriate temperature. Pack more dog dog food than you think you might need. In the event that you do run out, you never know what your access will be while away from home. For dogs with sensitive tummies, a sunny food change won't be fun for anyone. 
Additionally, there are several essential documents and items you need to have at hand when traveling with dogs. Be sure to bring up-to-date vaccination records, which some accommodations or destinations might require. Additionally, have your dog microchipped and equipped with an identification tag that contains your contact information.
Packing Checklist
How often do you forget your own items when packing? Do you make a list or hope for the best? When traveling with your dog, we recommend creating a well-prepared packing checklist to ensure a smooth and enjoyable trip. 
Here are some items you shouldn't forget:
Food and Water

: Stock up on enough dog food and water to cater to your pet's nutritional needs throughout the journey.

Leash and Harness

: A sturdy leash and harness are vital for your dog's safety during walks and outings. Consider the comfortable and secure options available at Joyride Harness for a hassle-free travel experience.

Portable Dog Bed or Crate

: Bringing along a portable dog bed or crate that suits their size will provide a comfortable resting place for your dog.

First-Aid Kit: Equip yourself with a first-aid kit containing essential items like bandages, antiseptics, and a thermometer to handle any minor emergencies.
Toys and Treats

: To keep your dog entertained and happy, pack their favorite toys and treats, especially for long journeys.
Remember, the key to successful dog-friendly travel is to keep your pet comfortable and happy, so pack wisely to cater to their needs and preferences.
Step 2: Choosing the Right Dog-Friendly Destination
When it comes to figuring out how to travel with a dog, selecting the right destination is paramount. Your choice of destination can significantly influence the overall experience of traveling with dogs. Ideally, you want to choose places that are not only beautiful but also welcoming to your four-legged friend. Dog-Friendly Destinations
Your furry companion deserves to enjoy the trip just as much as you do. Consider destinations known for their dog-friendly beaches, parks, and trails where your dog can run freely and enjoy nature. Researching beforehand can help you find places that offer the perfect blend of fun and safety for your pet.
After pinpointing the perfect destination, the next step is to find accommodations that are welcoming to pets. It's essential to choose places that not only allow dogs but also provide amenities to make their stay comfortable.
Researching Accommodations
Finding the right place to stay is a critical aspect of dog-friendly travel. Ensure to research and choose accommodations that have clear pet policies and offer amenities like dog parks, pet-friendly rooms, and nearby veterinary services. It's also a good idea to have a list of nearby veterinary clinics, just in case of emergencies.
Some destinations and accommodations are more pet-friendly than others, so we always recommend researching ahead of time so you're not disappointed! 
Step 3: Traveling to the Destination
Once you've settled on your destination, here's the next question to consider: how are you getting there? Whether you are traveling by car or taking a flight, here are some tips to make the journey smoother for your canine companion.
Traveling by Car
A road trip with your dog can be a fun and bonding experience. To make the journey safe and comfortable, consider using a reliable harness from Joyride Harness to secure your dog during the drive. It's also essential to take regular breaks for bathroom and exercise stops to let your dog stretch their legs and get some fresh air. Keeping your dog entertained with toys and treats can also help in making the car journey enjoyable for them.
If your dog is anxious in the car or frequently gets car sick, speak with your veterinarian in advance, as they may be able to give you something to relax your dog or help with nausea. If this is your dog's first time going for a long car trip, it's always a good idea to take a few "test trips" leading up to the road trip. The more comfortable your dog is in the car, the less stressful your journey will be! 
As you prepare for the road trip, you might also be considering the option of traveling by air. Air travel with dogs requires a different set of preparations to ensure a smooth experience. 
Traveling by Air
So, how can you travel with your dog via air? Flying with your dog involves a bit more preparation compared to car travel. First, it's important to familiarize yourself with the airline's pet travel policy to understand the requirements and restrictions. Most airlines have restrictions regarding the size of the dog and the type of carrier. Usually, the dog must be able to fit comfortably under your seat to fly in the cabin. Larger dogs will more likely than not be required to fly in cargo, which will also require specific requirements. 
Whether in cabin or cargo, preparing your dog for the flight involves getting a suitable carrier and ensuring your dog is comfortable and secure in it. You don't want your dog's first time in the carrier to be the day you're flying. 
Additionally, plan your airport time wisely to allow for bathroom breaks and a little walk before the flight. Remember, a calm and well-prepared approach can help ease your dog's anxiety during air travel.
Step 4: Enjoying the Destination
Reaching your destination is just the beginning of your adventure! Now, it's time to explore and enjoy all the wonderful activities that the place has to offer, with your dog by your side. From exploring new places to dining out, here is how you can make the most of your dog-friendly travel experience.
Exploring New Places
Discovering new places is one of the joys of traveling, and it becomes even more special when you have your dog with you. When venturing out, always keep your dog on a leash to ensure their safety and to respect the local environment and regulations. Moreover, be mindful of the surroundings and encourage your dog to socialize with other dogs, but always under supervision to prevent any unwanted incidents.
Dining with Your Dog
After a day of exploration, you might want to grab a bite to eat. But how do you manage dining out while ensuring your dog's comfort? 
Finding dog-friendly restaurants can enhance your travel experience significantly. Many places now offer outdoor seating options where dogs are welcome. Always carry a portable water bowl and some snacks for your dog to keep them hydrated and satisfied while you enjoy your meal. Remember, keeping your dog calm and well-behaved in public places is essential, so be prepared with toys or treats to keep them entertained.
Bonus Tip: Ensure Your Dog's Health and Safety While Traveling 
Ensuring your dog's health and safety should be a priority throughout your trip. A healthy dog is a happy traveler, and taking some precautionary measures can prevent potential health issues. 
Keeping Your Dog Healthy
Maintaining your dog's health during the trip involves regular hydration and proper nutrition. Always have fresh water available, especially during hot weather, to prevent dehydration. Additionally, stick to your dog's regular diet to avoid any stomach upsets. It's also wise to carry preventive medications to protect your dog from parasites and diseases that might be prevalent in the area you are visiting.
Emergency Preparedness
Unfortunately, even with all the precautions, emergencies can happen. Being prepared to handle any health emergencies can make a significant difference in ensuring your dog's safety when traveling. 
It's important to familiarize yourself with the signs of distress or illness in dogs to act promptly if needed. Always have the contact information of the nearest veterinary clinic at your destination. In case of an emergency, having a first-aid kit handy can be a lifesaver until you reach professional help.
Keep Your Dog Safe While Traveling with Joyride Harness 
Now that you know how to travel with your dog, what are you waiting for? Traveling with dogs can be a rewarding and enriching experience, allowing you to create beautiful memories with your furry companion. A significant aspect of dog safety during travel we must note is choosing the right harness. 
Joyride Harness stands out regarding safety and reliability at home and on the go. Not only does it provide a secure and virtually escape-proof harness that keeps your dog safe during walks in new and unfamiliar areas, but it also adds an extra layer of car safety. When paired with our dog seat belt, it ensures that your dog remains safe and secure during car journeys, preventing any unfortunate mishaps and giving you peace of mind.
We hope this guide assists you in planning a pleasant and memorable journey with your dog. Feel free to share this blog post with other dog enthusiasts, encouraging them to explore the world safely and joyfully with their furry friends!
Share this post