How to Prep For Flying With Your Dog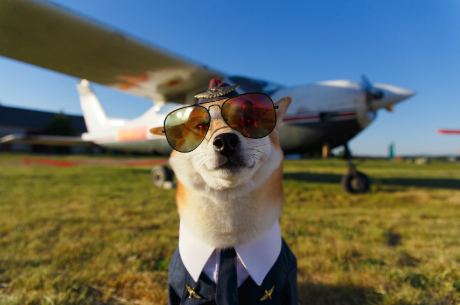 Frequent flyer or new to flying, it's never a walk in the park when it comes to getting ready to fly with your dog. You want it to go as smoothly as possible. In order for it to be such, you have to prepare before the trip and take the steps to make your dog comfortable during the trip. 
Here's a quick overview of things you'll need to do in it's recommended order:
Research

Contact & Booking

Examination

Logistics
RESEARCH
When you're searching for flights, keep in mind the duration of the trip. Connecting flights may be cheaper options but they may cause more stress for your dog. Try to keep to flights that are non-stop. Also, if you can avoid the busiest times of the day or year, you minimize risk of mishaps with your dog. 
If your dog is traveling in cargo, consider the temperature. If you're traveling from a warm climate, early morning or late evening flights are less risky as the temperatures aren't in their highs. On the flip side, if you're traveling from a cool climate, look for flights in the middle of the day as the temperature will be warmer then.
CONTACT & BOOKING
Don't assume you can book online for your dog especially since you can't buy a seat for your dog. Because airlines only allow a few dogs on board for each flight, call the airlines as soon as possible to make sure there's space available for both you and your dog. That means holding off booking your own ticket as well. (Note: There may be additional fees each way for your dog.)
EXAMINATION
Bring your dog to the vet for a quick health check. You'll need to obtain a health certificate that notes they're up to date on immunizations and are fit for traveling by air. These certificates are only clear for 30 days so depending on the duration of your trip, another vet visit may be in order.
LOGISTICS
International travelers should strongly consider hiring an agency or consultant for importation laws with dogs in the picture. Because other countries have tedious processes, doing this may save you the time and stress. 
Not all dogs will be allowed to board the airplane. Typically, if your dog can fit in a carrier and be stowed beneath the seat in front of you, you can bring your dog on board. This doesn't mean squish your dog in a carrier though. There's got to be room for them to stand up and move around. Reach out to your airline for carrier dimensions. If your dog can't fit, you'll need to consider your dog being checked in with cargo. 
If you do, wait as long as possible to check your dog in so that there's no lengthy wait time in the terminal. Make sure the carrier has some sort of photo of your dog attached and a small container of dog food that way airline employees can feed your dog in unexpected circumstances such as delays.
Should I sedate my dog?
It's advised against. We've mentioned sedatives in previous posts for circumstances like fireworks during the New Year and things like that, but when it comes to air travel, it's a whole different ballpark. Sedatives combined with altitude changes can increase the risk of heart and respiratory issues. 
I've landed. What now?
Pick up your dog from baggage claim ASAP if your dog isn't traveling with you on board. In both situations (travel by cargo or on board), your dog needs to stretch their legs. Take them for a walk! Once that's all said and done, you're ready to enjoy your trip with your fur baby.
Want more tips on how to care for your dog? We've got all the info at the Tips & Tricks section of our blog. CLICK HERE to check them out!
Share this post