How to Keep Your Dog's Coat Shiny & Healthy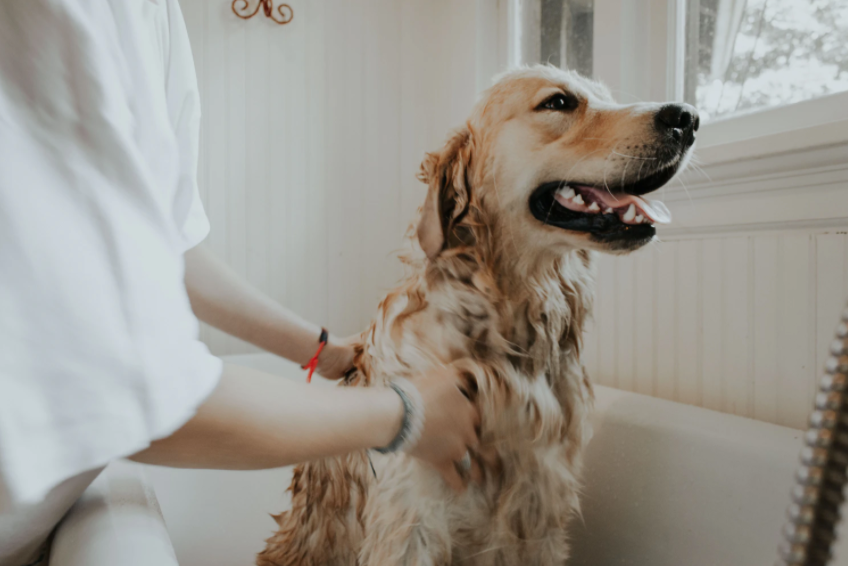 Keeping your dog's coat healthy is not just for aesthetic reasons. Not at all. The state of your dog's coat is connected to their nutrition, and when their coat is dull it is because of anything from nutritional deficiencies, parasites, collection of dubris, etc. It's important to keep those natural oils distributed and to keep a close eye on the state of your dog's fur coat so you can spot any issues such as the aforementioned.
There's a lot that goes into keeping your dog's coat shiny and healthy. We've rounded up some tips for you on how to care for your dog's coat so you can see them thriving in their wonderful dog years. 
Tips For Maintaining a Dog's Coat
BRUSH DAILY
To brush your dog's fur coat regularly is beneficial to their health. It stimulates proper circulation for your dog while removing any dead cells, resulting in a healthier, shinier coat. When you're brushing your dog's coat, try different brushes and try brushing in different directions: in the direction the hair grows and opposite of the direction the hair grows. This will yield the most efficient results and benefits.
BATHE YOUR DOG WITH SHAMPOO
Use dog specific shampoos and look into the frequency of which your dog's breed should be bathed. Once you know the frequency, maintain the consistency of that schedule. Dogs can be prone to ticks and fleas and there are dedicated shampoos to resolve those problems. Other various shampoos can target odor, tangles, and oil replenishment. 
USE A FAST-DRYING TOWEL
There are towels on the market that can speed up dry-time for when your dog is out of the bath. A wet dog around the house can get messy after all! Look into efficient absorbing towels that you can dedicate to your dog's bath time and it'll save on the household towels you need for yourself and around the house.
GIVE YOUR DOG THE RIGHT NUTRITION HE OR SHE NEEDS
If your dog is lacking the right nutrients, it'll reflect through their coat through things like dullness. Look into foods and supplements that contain omega-3 and omega-6 fatty acids. You'd be surprised what methods are out there to provide your dog this sort of nutrition!
PAY ATTENTION TO ALLERGIES
If your dog has allergies, you'll want to consult with a trusted local veterinarian on the matter. They can provide the right recommendations to treat any itchiness or ailments showing through your dog's coat. 
These tips are great starting points for any fur baby owner out there looking to keep their dog's coat healthy and shiny! A healthy and shiny good coat is a reflection of their health, and when in good health, that's a happier doggo for certain. 
This is just a sampling of tips and informational posts we offer at Joyride Harness. You can find more content including tips and tricks and how-tos for caring for your dog on our blog at
this section
. Feel free to leave a comment with tips you're looking for!
Share this post