How to Keep Your Dog Stress-Free On Halloween Weekend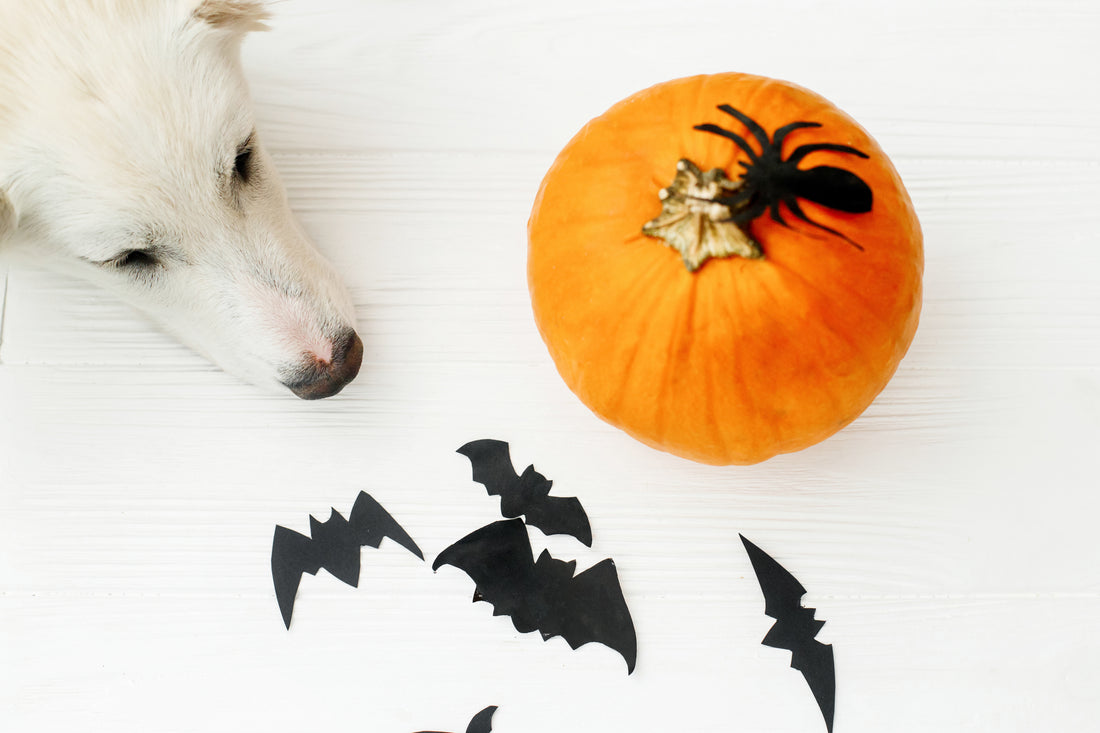 Disclaimer: This blog post may include affiliate links that Joyride Harness may earn a commission off of when you click the links at no additional cost to you.
*Knock-knock*
Who's there?
Trick-or-treaters!
On Halloween weekend, your dog is going to experience either a lot of excitement or a lot of anxiety over the unexpected (kind of) guests. Either way, the more people in the equation, the more likely you're going to have a stressed dog on your hands.
How can you prepare?
Stress-Free Halloween For Anxious Dogs
How can you create a safe space for your dog?
First thing's first: It's important to understand what type of anxiety your dog is experiencing. What's causing the dog anxiety? The answer isn't to crate every time dog anxiety affects your fur baby's safe space. You may need to look into prescription medications, try an anxiety wrap, or utilize pheromone diffusers to calm your dog.
For Halloween weekend, however, you want solutions now.
Here are a few!
CBD Supplements & Treats
CBD supplements and treats are a great, holistic option for pain management. It being a cannabis compound with medical benefits, it offers relief with conditions including inflammation, pain, anxiety, seizures, spasms, and other health conditions.
Is CBD approved by the Food and Drug Administration? No, it has not been approved. CBD can't be legally recommended by veterinarian's either. But the benefits known make up a list.
That list includes:
Preventing irritable bowl syndrome (IBS) as well as restore healthy organisms in the gut

Reducing and suppressing inflammatory autoimmune phenotypes

CBD oil can help senior dogs protect brain cells from dying out

An increased appetite to cancel out lack of appetite and nausea

Pain and ache relief

Fighting off seizures (helping epileptic dogs)

Reduces anxiety and is good for the heart

Alleviating symptoms of separation anxiety
Joyride Harness's CBD Brand Recommendation
Joyride Harness is a proud affiliate of Penelope's Bloom and we're sharing 20% OFF your first order with them. Help your fur baby live a comfortable life with the aid of these CBD treats, tinctures, and more. 
To take 20% OFF, you'll need the code below.
Code: UGCGXYCFZZ
You can view their full catalog through our affiliate link now! CLICK HERE to get started.
Create a Safe Place For Them to "Escape"
Your dog may want to soothe themself or just get away from all the commotion. Make sure their bed or kennel is prepared with their favorite toys, bedding, treats, water nearby, and more. 
Stress-Free Halloween For Excited Dogs
What if your dog isn't afraid of strangers? They just want in on the action. Here are a few ways to keep their excitement where it's at and not escalate it to stress!
Sit Outside
If your dog is sensitive to doorbells and knocking, eliminate the need for it and sit outside with the candy bowl. Sitting at the front door will make it so that trick-or-treaters don't have to knock on the door.
If your dog is joining you, make sure they are leashed! Click Here to Gear Up
Schedule a Play Date
Make it a dog's evening with your fur baby and their fellow pup friends! The playtime can keep them distracted and ultimately burn out excess energy so that they slip into slumber with no problems.
Turn On A Movie
Grab your remote and turn your TV on. Bump the volume to a medium (or reasonable level) that drowns out the commotion coming from outside. Get cozy with your pup if you can, and if you'd rather bow out of Halloween festivities, turn the porch light off to avoid visitors.
Crate Your Fur Baby
If your fur baby is crate-trained, position the crate somewhere at the opposite end of the house; far from the front door. By doing this, they aren't rattled by sudden noises and knocking. 
Have An Early Dinnertime
If your dog gets stressed on Halloween night on an empty stomach, eating under that stress can result in a mess on your floor and worse: your dog having to put up with a night of upset tummy aches. Give them their dinner earlier than usual on Halloween night so that they can digest their food before crossing the next bridge for the night.
Invest In A Puzzle Toy
Puzzle toys can work as a distraction from the rush and bustle of Halloween night. Dog puzzle toys typically involve a treat at the end of achieving the puzzle. Investing in a puzzle toy for your dog provides them another mentally stimulating activity to keep away from the focus of strangers at the door.
Get Them Used To Costumes
That isn't to say get them dressed up. You don't have to dress up your dog for Halloween, but show them the difference between you without a mask and you with mask. Show them your costumes. Give them treats and love during the process.
By doing this, you minimize the stress that could come with seeing an abundance of strange masks in one evening. It helps associate the experience as a good one.
When it comes to cats? Well, we can't vouch for how they'll handle things on Halloween.
This is just a sampling of tips and informational posts we offer at Joyride Harness. You can find more content including tips and tricks and how-tos for caring for your dog on our blog in this section.
Share this post