Holiday Gift Guide 2021 For Dog Lovers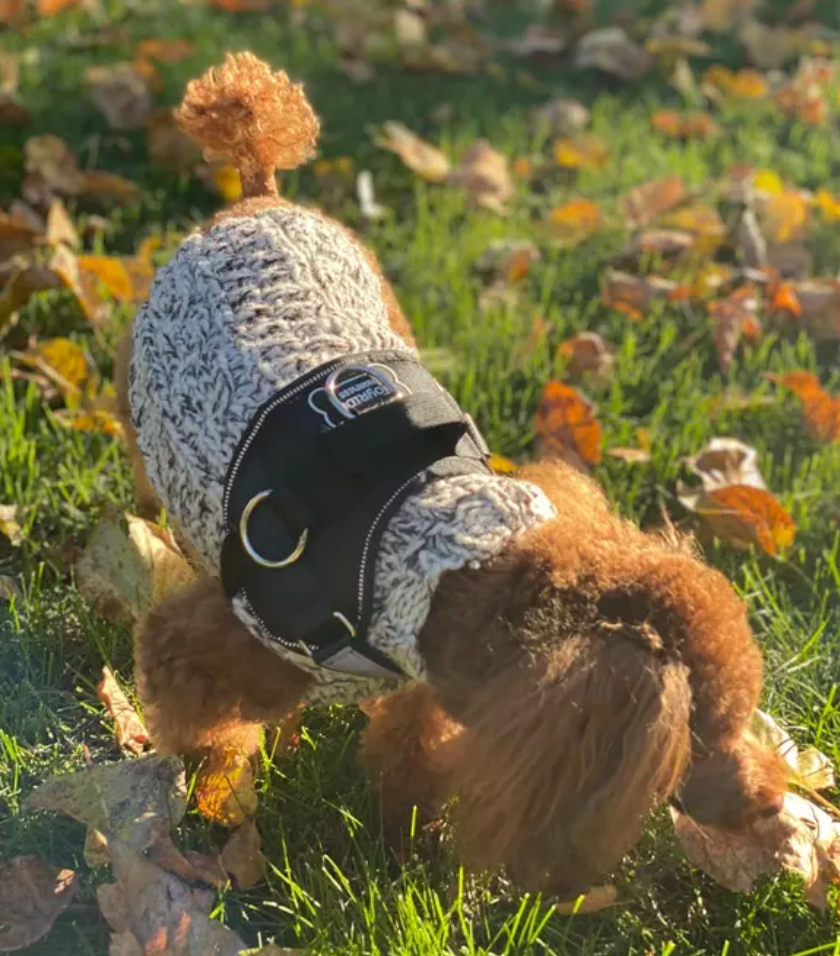 It's that time of year!
Stores and warehouses are starting to pick up momentum as holiday shopping begins. After the pandemic slowed things down for many businesses last year, shoppers aren't taking chances and are getting straight to it now that the fall leaves and Pumpkin Spice Lattes are in season!
We're excited to share with you our Holiday Gift Guide 2021 For Dog Lovers.
Who is this gift guide for? Everyone is a dog lover.
You're on the right gift guide if you are gift shopping for:
A friend or family member who recently adopted a dog

A friend or family member who loves the heck out of their dog

Your godchild with four legs because they're more important to you

Your own dog who is family 

You, because treat yourself
What should you Add to Cart? 
Here are Joyride Harness customer favorites for the holiday season.
The Red Plaid Joyride Harness
Winter vibes will still be in the swing of things come the holiday season, and the winter will continue to remind us of the holidays until we see the first sign of spring. The Red Plaid Joyride Harness is a winter fashion statement for your fur baby.
It's also available in Green! 
Click Here For the Green Plaid Joyride Harness
Double up and you've got a Christmas walking wardrobe for your pup.
"SO easy to put on my wiggly Frenchie!"
Sara A. - ⭐⭐⭐⭐⭐/5
Christmas Plaid Joyride Harness
Are you shopping for someone who absolutely loves Christmas? Scroll your mouse over to the Christmas Plaid Joyride Harness. Instead of getting the Red Plaid and Green Plaid for your Christmas color combo, this Christmas design wraps it up all-in-one for you. 
The Holiday Sweater Joyride Harness
This Joyride Harness design is perfect for wintery months, not just for the holiday season. This harness is perfect to slip over your dog's sweater before walks. The design imitates winter sweaters and is perfect for ski trips. 
The Blue Plaid Joyride Harness
If Mr. Snow had a dog, this would be the harness design of choice. The Blue Plaid Joyride Harness is perfect for wintery months as it beautifully contrasts snowy sceneries. Go on walks and keep your fur baby secured and visible.
The Plaid Joyride Harness Collection
You've seen the holiday plaids, but meet the plaid staples from Joyride Harness. Fall Plaid and White Plaid are top contenders at Joyride Harness for their versatility in fashion throughout the seasons. There are no Christmas colors here but the plaid designs of both offer style and sophistication in summer, fall, winter, and spring.
Bundle & Save: When you order the 2-in-1 Leash & Seatbelt Combo
and
a harness, you can safe 15% off your purchase.
Get started at this link.
Before you start shopping…
What are the benefits to Joyride Harnesses?
Durable quality that is machine-wash safe

No pressure around the dog's neck, minimizing the risks of tracheal collapse

Secure buckle

Better control of pullers (no-pull dog harness)

Works great with 2-in-1 Leash & Seatbelt Combo for car rides

Three rings for different leash and seatbelt attachment points

Can still be worn with a dog collar

Lightweight but with plenty of padding

Breathable mesh for long walks

Reflective straps and stitching for night visibility
Getting the most efficient walking experience with Joyride Harness is all in the fit! Use the Fit Finder Tool (Free to Use) at this link to make sure you order the right size for your friend/family dog or your own fur baby.
"Joly the Poo (miniature poodle) loves wearing his Joyride Harnesses. He has two XS harnesses, one we keep a little loose to fit over fall sweaters. He also has a small sweater that can accomodate large winter coats. The harnesses are easy to put on, take off, and adjust. We'll never use another harness!"
Amanda B. - ⭐⭐⭐⭐⭐/5
This is just a sampling of tips and informational posts we offer at Joyride Harness. You can find more content including tips and tricks and how-tos for caring for your dog on our blog in this section.
Share this post