Harness Files | Interview with Tara & Aubrie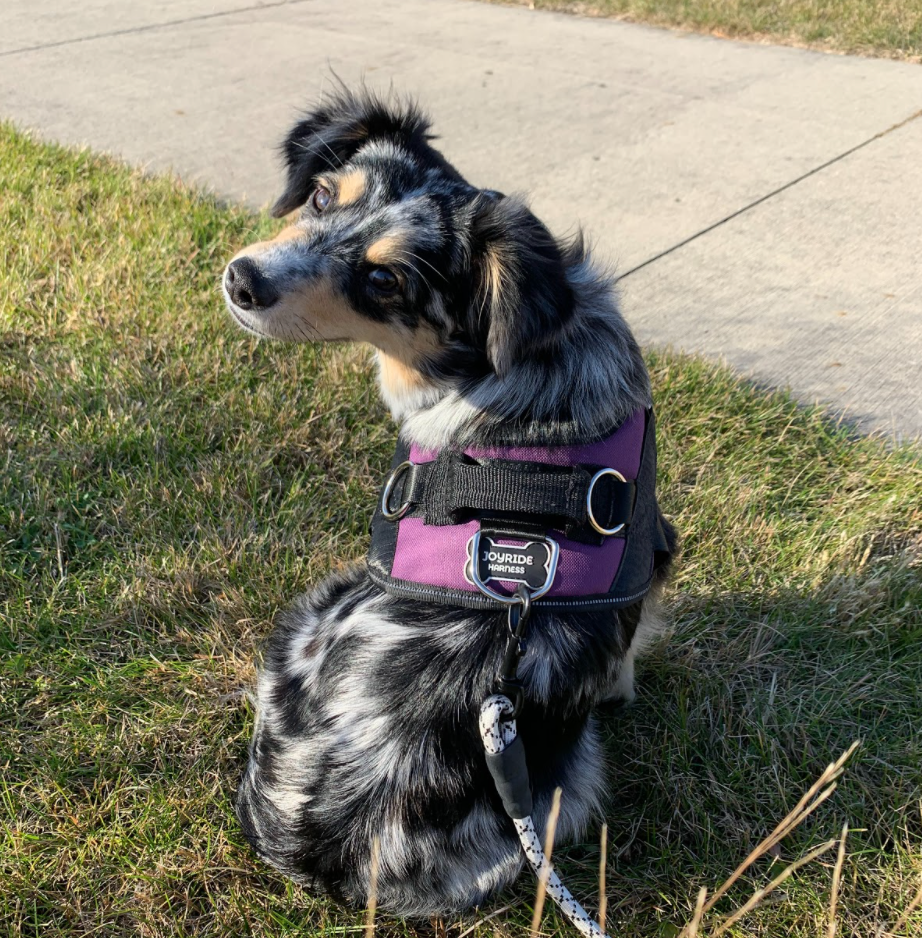 We have a winner, ladies and gentleman! 
Back in 2019, we introduced a new series to our blog called the Harness Files! This is where we reach out to customers who've made noticeable impressions to our team online and we ask them about their experience with the Joyride Harness (formerly known as Pug Life Harness) and their fur baby. 
This interview is a special case as we've connected with one of the winners of our weekly Joyride Harness giveaways, Tara M.!
From the giveaway win, Janice received the following:
What an exciting haul! Even more exciting? Introducing you to this pup!
Meet Aubrie
JRH: How did Aubrie become a part of your family?
Tara: We found Aubrie on Facebook, and she came from a farm family that had one puppy left (and it was her!)
JRH: How would you describe the joy that Aubrie brings to your life?
Tara: Aubrie is a part of our family. She is so affectionate, goofy, playful, intelligent, and loyal. We are also sure the house belongs to her, and we are just living in it.
JRH: What was your walking experience like with Aubrie before the Joyride Harness?
Tara: Before we got the harness, preparing to take a walk could sometimes turn into a wrestling match when it came to getting her old harness on. We had a special "T-Rex" maneuver that took 2 people to pull off - one holding her front paws up and the other pushing her arms through the harness.
JRH: Did you see any noticeable changes with the harness?
Tara: Now that we have the Joyride Harness, preparing for a walk takes all of 10 seconds. It is a simple slip-on, clip-on process. Since the harness is adjustable we can size it to be safe, and as she grows. I have no doubt we will get a lot of use out of it. The same goes for after walk time; we can slip it off while she runs over to the water bowl.
JRH: If Aubrie could plan her perfect day doing her favorite things, what would that day look like?
Tara:
Go to Ankeny Bark Avenue to play with friends
Go for a hike around the lake
Eat ice cubes
Go to doggo park
Stick face out of the car window
Sleep on the couch
Chew a pig ear, cow hoof, and water buffalo horn
Play with my stuffed ducky and my honking pig
Do training with mom (because I get lots of treats)
Lick Dad's face
JRH: If you were to cast someone to voice Aubrie in a live-action dog movie, who would it be?
Tara: Mickey Mouse's voice
We thank Tara for letting us get to know Aubrie a little more! You can follow Aubrie's adventures on Instagram at @aubrietheaussie. 
For the harness, Aubrie is wearing, you can view the Size Medium Purple Joyride Harness here now. 
If you're interested in having your fur baby spotlighted in our Harness Files blog series, post on Instagram using the tags @joyrideharness and #JoyrideHarness for a chance to be featured and our Joyride Harness team will connect with you! 
*Joyride Harness runs weekly giveaways for prize bundles valuing at least $120 each week! Want in on the next giveaway? Don't miss it and make sure you're following our Facebook page for updates on when they launch:
CLICK HERE
Share this post