Harness Files | Interview with Michelle & Togi Dargens the Corgi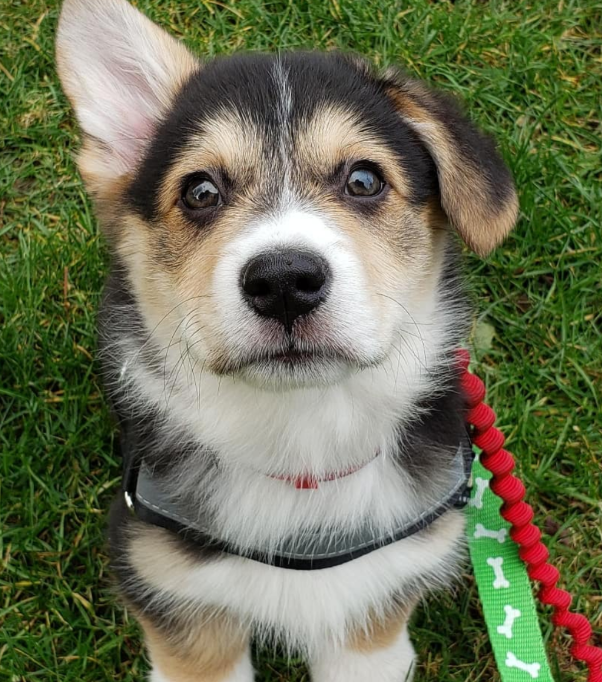 It's so rare for us to see photos of our harnesses being worn by puppies. This isn't because we don't have a range of sizes available, but rather because these puppies are growing and growing and growing. Imagine our excitement when we saw an adorable puppy corgi rocking the Joyride Harness like the cute little potato he is!
We reached out to his human Michelle Dargens for an interview to see how things are going with the Joyride Harness and learn more about Torgi the Corgi!
PLH: How did Togi the Corgi become a part of your life?
Michelle: My husband, our 14 year old daughter, and I decided to get Togi after my mom passed away this past March. I have wanted a Pembroke Welsh Corgi years so I figured it was finally time to get one! In the short amount of time we have had him he has brought us so much joy and happiness.
PLH: How did Togi get their name?
Michelle: My older sister, my daughter, and I love a town in Wyoming called Saratoga. It's a really special, small town that feels like home when we all meet up there. My daughter thought it would be the perfect name for our puppy and she was right! 
PLH: What is it about the Joyride Harness that you like and what are your first impressions?
Michelle: I did a lot of research on harnesses. When we picked Togi up he had a small harness that slipped over his front legs that he didn't really like. He has super stubby legs so it is hard to find one that he can't just step over and out of. When we first ordered the Joyride Harness [now known as Joyride Harness] he was between an XS and S. We went with the Small because we knew he would continue to grow. It was a bit big when he first got it so when we would go for walks we would have a leash on the back ring of the harness and another leash on his collar in case he slipped out. We only had to do that a couple of times! The harness fits great now and he is so easy to walk! Plus, a Corgi always looks so proper in plaid! 
PLH: What are some activities and things you and Togi enjoy doing together?
Michelle: We take Togi on loads of walks, play fetch, and he truly enjoys herding my daughter around in the backyard! When he is a bit older we are going to have to do Agility Training as well. Togi also enjoys loads of cuddles and belly rubs. 
PLH: For Fun! If you were to cast someone to do the voice of Togi in a live action movie, who would it be?
Michelle: He is Welsh so I'm going with Anthony Hopkins! 
It was an absolute pleasure getting to know more about Michelle and Togi! There are so many photos of the little fur baby on her Instagram if you want to check it out and follow at @the_dargens. Thank you, Michelle and Togi!
Want a chance to be interviewed as a customer? We keep a close eye on Instagram so be sure to tag @joyrideharness and #joyrideharness when you share your fur baby photos!
Share this post