Harness Files | Interview with Kelly & Nutmeg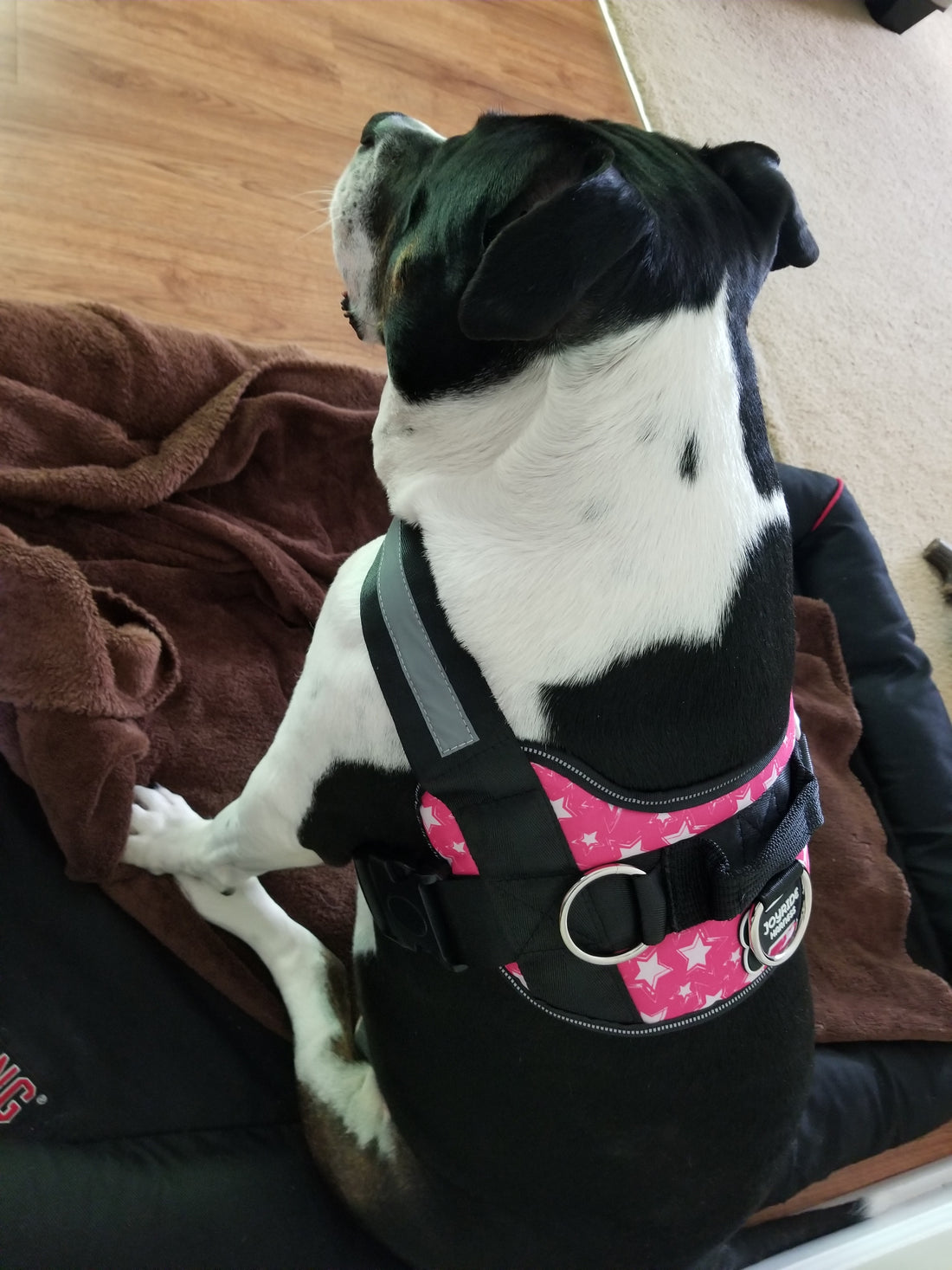 Did you know that our Paw It Forward program makes harness donations to shelters and the dogs in need of better walking options? One recipient of the Joyride Harness through our Paw It Forward initiative is Kelly and her lovable fur baby named Nutmeg. 
She received her new harness for Nutmeg in May 2020, and we connected with her for an exclusive interview to learn more about how things are going and of course...to learn more about Nutmeg!
Meet Nutmeg
JRH: How did Nutmeg join your family?
Kelly: Nutmeg joined our family February 4, 2017. We had recently just moved into our first house with a huge backyard that was almost completely fenced in. Growing up, living in a very rural farm area with lots of acreage, my pets had the freedom to come and go freely without any restrictions. Thus, my requirements before getting a dog was to get one once we had a large backyard that was fenced in so she or he could experience the same joy & freedom my dogs had growing up. As a result, shortly after moving in, we got the third wall of the fence built, & the hunt for a rescue pup was on!  
First, I knew I wanted to adopt a dog, not purchase a purebred, because that's how we acquired almost all of my pets growing up. Second, working as a Veterinary Technician, I knew I wanted a bully breed, more specifically, a pitbull, because they're one of the most loveable blockheads & misunderstood breeds, in my opinion.      
I found Nutmeg & eight of her brothers & sisters (also named after spices) on Petfinder after a wonderful rescue pulled them & the mom from the shelter that she was tied up & left on the front stoop of, the day before she gave birth to the litter in the shelter.  Out of the nine pups, Nutmeg, one sister, & one brother were left when I inquired about the litter. The owner of the rescue drove to our house with the three remaining pups so we could meet them all, watch them interact with each other, and see what their personalities were like. I immediately gravitated to Nutmeg because she was the runt of the litter, and she was very independent. She went off all by herself to explore the backyard without her sister or brother. Plus, she was the most quiet. 
JRH: How would you describe the joy that Nutmeg brings into your life?
Kelly: Nutmeg brings so much joy into our lives on a daily basis, just by being herself. She gets so excited to see me when I come downstairs to greet her in the morning or when my husband comes home from the gym. She always has a wiggle butt, a wiggle tail, & a toy in her mouth. 
JRH: How would you describe your walking experience before the harness? 
Kelly: Before using Joyride Harness, walking Nutmeg was very difficult. We were using a standard buckle collar for her before Joyride Harness. Nutmeg is a very strong & muscular girl that likes to pull when we walk her, so using a standard collar isn't ideal. I always worried that the collar was going to snap, or she's going to injure herself by pulling so hard against the collar. 
JRH: What about now? How are your walks with the harness going?
Kelly: Joyride Harness has made walking Nutmeg a breeze. It's such a simple system to put on her, & now she is protected by the  cushiony harness system around her body, & no more collar around her neck. The handle on the harness is also a great additional feature that we can use to help control her if needed or redirect her quickly if in close proximity to other dogs. 
JRH: What does Nutmeg's ideal day look like?
Kelly: If Nutmeg could spend the day doing all of her favorite things, those would include: playing with her neighborhood dog friends Coco & Marley, swimming in her kiddie pool, eating unlimited freeze dried liver treats, defluffing & ripping out the squeaker in all of her toys, napping on the couch with her mom or dad, sunbathing, and going on car rides & adventures with her dad.


We thank Kelly and Nutmeg for letting us spotlight them in this Harness Files interview! You can find more interviews on this page and get to know the amazing doggos we see daily. Want more? Visit instagram.com/joyrideharness.
Share this post