Harness Files | Interview with JoAnn Jones, Paisley & Peaches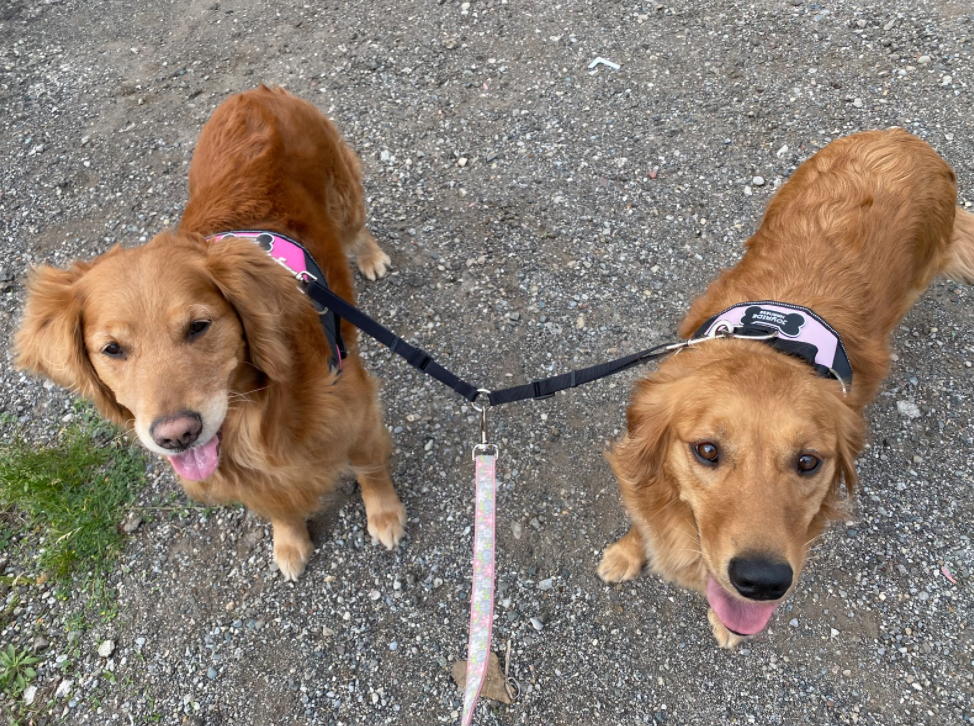 Back in 2019, we introduced a new series to our blog called the Harness Files! This is where we reach out to customers who've made noticeable impressions to our team online and we ask them about their experience with the Joyride Harness (formerly known as Pug Life Harness) and their fur baby. This interview is a special case as we've connected with one of the winners of our weekly Joyride Harness giveaways, JoAnn Jones!
Meet Paisley & Peaches
JRH: How did Paisley and Peaches join your family?
JoAnn: "I brought Paisley home at 8 weeks. I had lost my first golden 8 months prior and had waited 3 months to bring Paisley home. She has been a constant in my life through a lot of changes, love, marriage, a baby, and a lot of loss. She is a sassy, stubborn, smart, ball loving, sweet 6 year old girl, who looks out for her family with all she has. Peaches came into our lives after and during a time of great loss. I had just lost my "old lady", a 11 year old I had rescued from being bred at a puppy mill. I found her, along with her sister at a local rescue and instantly put in an app for her. She came from a life unfit for a golden and had little to no human interaction. Her and her sister where very closely bonded-which why they didn't want to adopt them out together. Had they have kept them together, they never would have bonded with anyone else. It took Peaches a bit to warm up but once she did, she loved her new life! She is a couch potato, toy loving, total blonde, attention demander, and at about 3 she is best friends with our 2 year old son." 
JRH: How would you describe the joy they bring in your life?
JoAnn: "Our girls bring so much joy to our lives! They are always there to make us laugh, play, or just snuggle. They both absolutely adore our 2 year old son and he loves them just as much. Not only are they great companions at home but they also get to go to work with me which is amazing. I work in a kennel/daycare, and because they both have great personalities, I use them to intro new dogs, which is amazing."
JRH: How would you describe walks before Joyride Harness?
JoAnn: "Paisley knew the ropes of walking from a young age and I never used a harness with her. However, Peaches being afraid of the world, was a bit of a struggle. She learned to walk nice with Paisley, but she could slip her collar in an instant if she felt the need. I used a martingale in her for a long time. I did eventually buy another harness but it was bulky and could be difficult to get in a wiggly dog excited for a walk!"
JRH: How has the Joyride Harness helped?
JoAnn: "Joyride harnesses are awesome!!! They are super easy to use, not bulky or heavy, and they work great. I walk my girls with a couples so they are close, it give Peaches more confidence while out and about, and the harnesses work great with it. 
JRH: If Paisley and Peaches could spend an entire day doing their favorite things, what would that day look like?
JoAnn: "If my girls could spend a day doing anything it would be playing ball and swimming! If they could do that all day everyday, plus spend time with their people, they would be living the dream!"
JRH: Which actors would you cast to voice Paisley and Peaches in a live-action dog movie?
JoAnn: "If I were to cast actors as my dogs Peaches would be easy, she would have to Lisa Kudrow-but just like Phoebe from friends! Peaches isn't the brightest but she tries hard and loves even harder. Paisley is a little harder. If I had to cast someone I would choose Anna Kendrick. I think Paisley would match the sarcastic sense of humor of Anna well."
A huge thank you to JoAnn for connecting with us for an interview! Congratulations on being a Joyride Harness winner* and we loved learning about Paisley and Peaches. 
*Joyride Harness runs weekly giveaways. Want in on the next one? Make sure you're following our Facebook page for updates: CLICK HERE
Share this post