Harness Files | Interview with Frank & Zen the Pig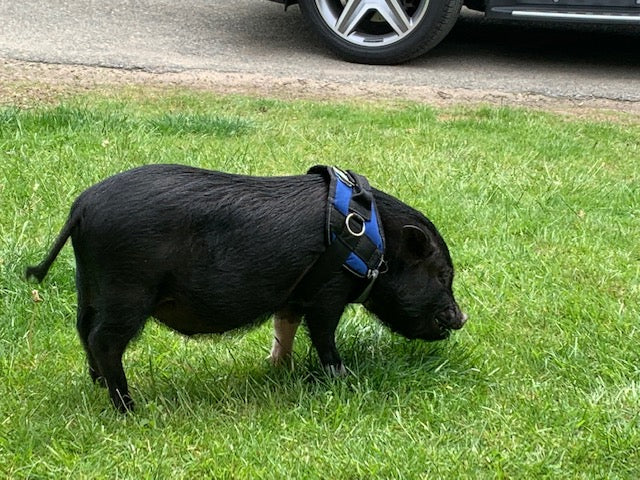 You're in for a treat here. In the past, we've interviewed many different Joyride Harness customers who purchased a harness but not for their dog. Some of these customers don't have a dog. Instead, these customers have used the Joyride Harnesses for their cats, rabbits, cheetahs (you read that right), and even pigs. 
We are thrilled to bring you another exclusive interview with a pig parent; Frank the pig parent of Zen the Pig.
Meet Zen the Pig
Joyride Harness: How did Zen get their name? 
Frank: My son Slate and daughter Monet came up with a few names -like Salem and Rocky. We ultimately decided on Zen because my Dad does Yoga and Zen is perfect because he was very calm and mellow when we got him. 
Joyride Harness: How did Zen join the family? 
Frank: My son and I went to a local fair called Topsfield and they have an annual Pig Race. My son and daughter did 2 years of research on Pot Belly Pigs. When we arrived at the Fairgrounds -my son immediately wanted to go to the Pug Race and talk to the owners. We met the owners of the Pig Race and they were so impressed with my son's questions they decided to sell us a Pig. 
Joyride Harness: How did you hear about Joyride Harness and what features were you looking for for Zen? 
Frank: I had met a woman who makes clothes for dogs and asked her to make something for Zen when he was young. She came by the house and met Zen and asked if I have taken him out for walks. It was still winter and St the time I hadn't. She recommended the Joyride harness as one of the best she had ever used. We ordered Zen one and are extremely happy with the harness as well as Zen. 
Joyride Harness: How would you describe the joy that Zen brings to your life? 
Frank: Zen has always been with us during good times and the bad - like this Pandemic. He is the light in our lives, he is a great companion, he is such a joy to be around. He always bring a smile to our face as well as so many people that meet him when we take him out for walks. We can not wait to create many more memories with him.
Joyride Harness: If you could cast any celebrity to do the voice of Zen in a live-action movie (like Babe), who would you cast?  
Frank: Adam Sandler or Danny Devitto because they're very funny comedians and could capture Zen's emotions very well. 
It was a pleasure getting to learn more about Zen the Pig! A huge thank you to Frank, his son Slate, and of course the impressive and lovable Zen the Pig for the exclusive interview. You can follow them on Instagram at this link. 
*Joyride Harness runs weekly giveaways. Want in on the next one? Make sure you're following our Facebook page for updates: CLICK HERE
Share this post