Harness Files | Interview with Candy and Ruby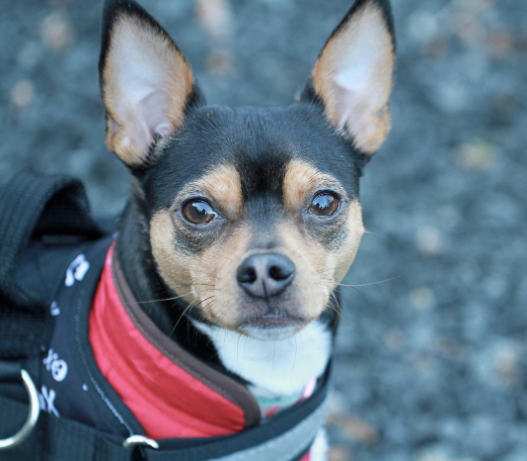 You're about to meet a treasured pup!
Instagram is a great social media platform to create a sense of community. In our time there as Pug Life Harness, we've grown fond of so many of the dogs we see and this interview holds a special place because of that! Known as 'rubyraeeveryday' on Instagram, Ruby is an adorable little chihuahua who captivated the hearts of the Pug Life Harness team. She and her dog momma named Candy are long-time, loyal Pug Life Harness customers. 
We reached out for an interview to learn more about Ruby and their experience with the Pug Life Harness!
Meet Ruby
Harness Size: Small
Harness Patterns: Skulls, Purple, and Pink Stars
PLH: How did Ruby become a part of your life?
Candy: After our chihuahua passed away, neither of us were ready for another puppy for almost 2 years. By Spring of 2016 I was ready for another puppy but my husband wasn't. We started looking on Petfinder in the summer and decided that we would wait until our vacation in Sept of 2016 so we could bond with and train a puppy. We hadn't found a puppy that both of us could agree on so on the first day of our vacation, I said "I'm just going to look again today." There was her little face and we rushed to the Oregon Humane Society to meet her. We fell in love and came home with her that day despite being warned by multiple volunteers that she was "feisty," "naughty" and "a handful." (PS...Always listen to the volunteers!)
PLH: How did Ruby get her name?
Candy: Our last Chihuahua was named Pearl. I wanted to go with a jewel theme and since Ruby's litter was the "Friends" litter and she was originally named Rachel, I went with a jewel the started with R.
PLH: What is it about the Pug Life Harness that you like and how has it helped with your walks with Ruby?
Candy: It fits her perfectly and is easy to adjust if it is cold and she needs a coat or sweater on. It is so simple to put on and off. It also doubles as her seatbelt harness. I like the handle and how easy it is to pick her up or hold her. It also decreases the pull on my arm if she sees a squirrel or bunny and takes off running. It does not hinder her stride in any way. We have an area that is fenced on our property with field fence. If Ruby is not wearing your harness she can squeeze through the field fence if she sees something she wants to chase. Your harness allows her to run free because the handle catches and prevents her from squeezing through!
PLH: What are some quirks and things about Ruby that you love?
Candy: She has so many quirks. She hates to be picked up and held or even sit on your lap. She will come and lean on you and want to be pet...totally on her terms. If she thinks you haven't pet long enough, she will reach for your hand and paw you to keep on petting. She has a very strong prey drive and is an awesome hiker. She easily can walk 7.5 miles without even slowing. She is fast and incredibly athletic. I love that she keeps me motivated to get out and walk. Her vet says she is the most fit chihuahua mix that she has ever seen in her career. She hates the camera, I have to bribe her with treats to look at me. She will do anything for food! She was CRAZY when we first got her. I called her Devilina for the first 3 months. 
PLH: For fun! If you were to cast someone to do the voice of Ruby in a live action dog movie, who would it be and why?
Candy: Hilary Swank because she is beautiful, focused and independent.
Ruby is such a delight to follow on Instagram! If you haven't made yourself acquainted with the little fireball, you can follow her at @rubyraeeveryday. Thank you so much to Candy and Ruby for being part of the Pug Life Harness family!
Share this post