Harness Files | Interview With Brittany Musso & Indy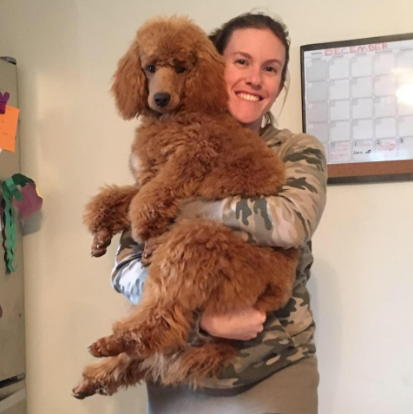 Are you ready for an adventure with Indy?
What is the Harness Files? This is a new interview series at Joyride Harness - soon to be known as Joyride Harness -  that spotlights customer stories in their experiences with the harness and their dog(s).
This is a great way to get a better understanding of how the harness can help improve the quality of your walks with your dog. You'll be introduced to a variety of voices with candid reviews and responses about the harness from customers.
In the second Harness File interview, we connect with Brittany Musso whose Instagram stories of her dog Indy with the harness captured our attention and we wanted to learn more about her experience!
Meet Indy
Harness Size: Medium
Harness Pattern: Blue and Camo
PLH: How did you find out about Joyride Harness?
Brittany: I was in search for his [Indy's] next harness to fit his growing body and knew I wanted one that would help with some leash pulling as he gets very excited to meet new dog friends on our walk and forgets that I'm attached to the other end of his leash. Through me following Tucker Budzyn on Facebook they actually showed off the perfect harness fit for us.
PLH: What was it about Joyride Harness that intrigued you to check out for Indy?
Brittany: I was intrigued by the fact that the Joyride Harness it didn't hook in front of his chest and still aided in helping train him not to pull on lead. 
PLH: How did Indy become a part of your life and family and how did he get his name?
Brittany: Indy became part of our family in the summer of 2019 after the unexpected loss of my first dog. His full name is actually Montcalm's Chief Of The Wild which fits perfectly with all his energy but I just call him Indy.
PLH: How would you describe the quality of your walks with Hero now that you have the Joyride Harness? 
Brittany: Our walks have changed immensely through the side ring, our Joyride Leash with the double handles and of course some owner training. We've gone from me wanting to get some roller blades and going along for the ride to matching my dogs pace with mine. I can't say enough good things about this harness. Indy has a chihuahua sister with collapsing trachea so I'm a long time harness owner. I've tried so many different kinds and this is by far my favorite and the last harness I will every buy... until they come out with more colors :)
We thank Brittany and Indy for taking the time to share with us their experience with the Joyride Harness! We're thrilled to have Brittany, Indy, and his chihuahua sister as part of the Joyride Harness family. We're a growing network bonding over our love of dogs!
For a chance to be featured with your dog in an interview, post on Instagram using the tags @joyrideharness and #joyrideharness! 
Share this post