Harness Files | Interview with Angela, Polaris & Rowdy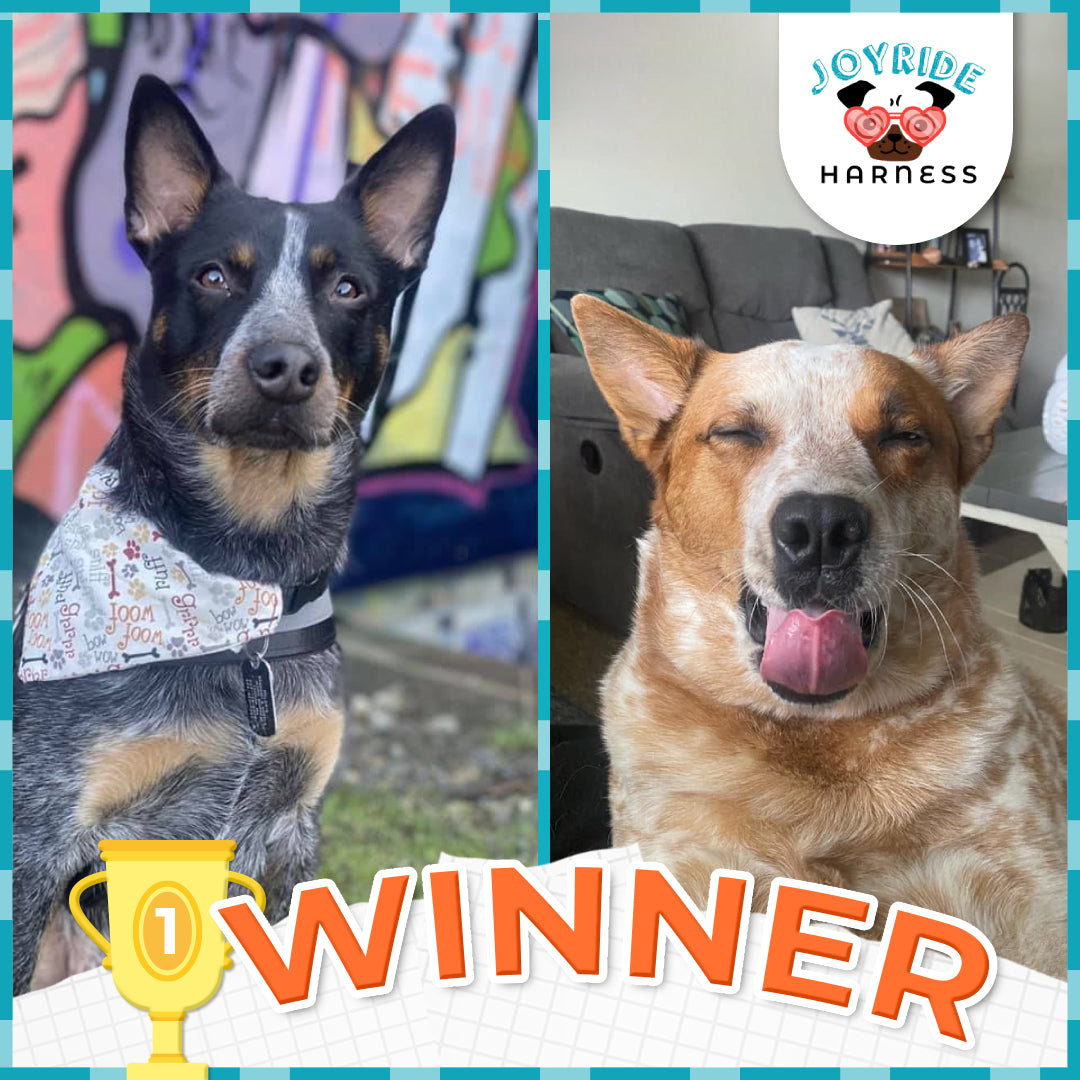 We have a winner, ladies and gentleman! 
Back in 2019, we introduced a new series to our blog called the Harness Files! This is where we reach out to customers who've made noticeable impressions to our team online and we ask them about their experience with the Joyride Harness and their fur baby. 
This interview is a special case as we've connected with one of the winners of our weekly Joyride Harness giveaways, Angela Peterson!
From the giveaway win, Angela received the following:
What an exciting haul! Even more exciting? Introducing you to these pups! Yes, there's two of them!
Meet Polaris & Rowdy
JRH: How did they join your family?
Angela: Polaris is our Blue Heeler. He will be 5 years old in May. Polaris was a surprise gift to my fiancé for our 2 year anniversary present. He is our first baby and the protector of the family. He became a big brother almost three years ago. Rowdy is our Red Heeler. She will be 3 in April. She is a huge cuddle bug and socialite. She loves everyone and demands belly rubs. They enjoy being lazy and hiking with me. They love their Jolly balls and the herding balls in the back yard. They go crazy over them. They love the rivers and just being dogs. 
JRH: How would you describe your walking experience with Joyride Harness?
Angela: Walking with these harnesses has been great. I love the fact they have 3 separate hoops to hook to. They walk on a split leash and being able to utilize the "side" hooks keeps them from tying up or changing places while walking/hiking. 
JRH: If your fur babies could spend an entire day doing their favorite things, what would that day look like?
Angela: If I let them spend the entire day doing what they loved... Rowdy would eat her heart out and chase the herding ball all day. Polaris would be at the river diving for rocks.
JRH: If you were to cast an actor to do the voice of your dog(s) in a live-action dog movie, who would it be?
Angela: If I cast a celebrity for their movie voices Sam Elliot would be cast for Polaris and Julia Roberts for Rowdy. 
A huge thank you to Angela, Polaris, and Rowdy for joining us for a Harness Files interview! Enjoy all the walkies your heart desires.
If you're interested in having your fur baby spotlighted in our Harness Files blog series, post on Instagram using the tags @joyrideharness and #JoyrideHarness for a chance to be featured and our Joyride Harness team will connect with you! 
*Joyride Harness runs weekly giveaways for prize bundles valuing at least $120 each week! Want in on the next giveaway? Don't miss it and make sure you're following our Facebook page for updates on when they launch: CLICK HERE
Share this post