Harness Files | How the Joyride Harness Helps This Dog with Paralysis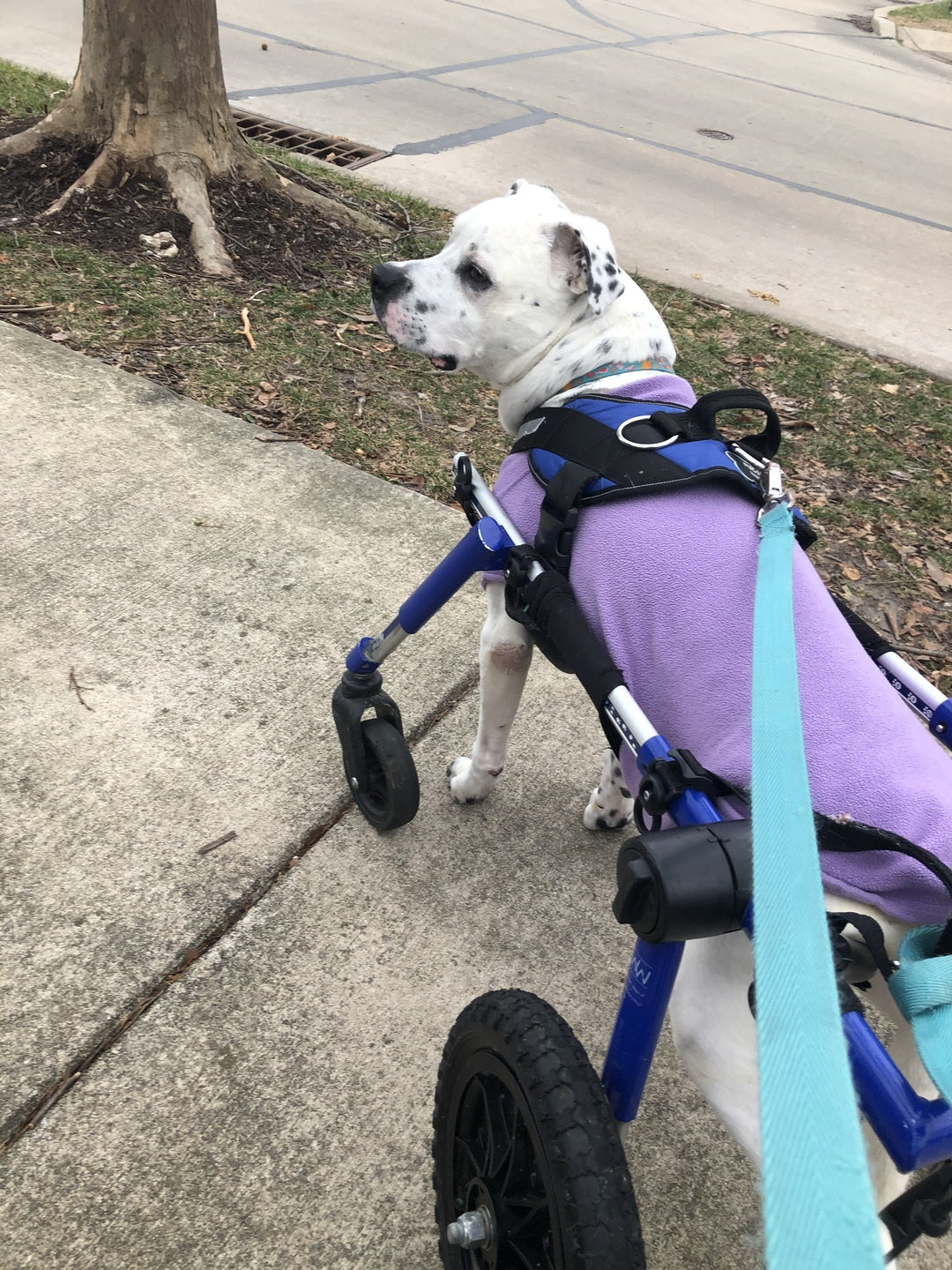 Back in 2019, we introduced a new series to our blog called the Harness Files! This is where we reach out to customers who've made noticeable impressions to our team online and we ask them about their experience with the Joyride Harness (formerly known as Pug Life Harness) and their fur baby.
One such impression was recently left on us when our team was going over incoming reviews submitted by customers directly on our site. We stumbled upon a photo of a dog walking with the assistance of wheels. Seeing that we, at Joyride Harness, are all about improving the quality of lifestyles for dogs through the activity of walking as well as the bonding experience between dog and human, we reached out to the fur baby's owner for an interview. We're thrilled to spotlight this handsome doggo in this week's Harness Files interview and shed some light on the life of a dog (like many others) who are paralyzed. 
Meet Chance 
JRH: How did Chance get his name and how did Chance become a part of your life?  
Alison: We found Chance on Special Needs K-9 website. He lived in Georgia and had been shot multiple times and possibly also hit by a car. A wonderful veterinarian decided to save his life instead of euthanize him.  He is paralyzed from his mid shoulders on the back. We live in Missouri so had to meet his foster mom halfway, in Tennessee, to bring him home! We named him Chance because of his second Chance in life. 
JRH: What is it about the Joyride Harness that you like and how has it helped with your walks? 
Alison: Joyride harness has saved us! It's excellent fit and sturdy construction allows us to pick him up to put him in his wheelchair, guide him on walks, get in the bathtub, helps us get him up and down stairs, and is so much less expensive than the harnesses specifically made for dogs with mobility issues.
JRH: Do you have any tips for walking dogs that require specialized care such as your adorable fur baby? 
Alison: Make sure you have your Joyride Harness on and the wheelchair is a good fit. Your pup will do the rest.
JRH: Which harness and size do you have for Chance? 
Alison: We use the large size for our 54 lb boy!
JRH: What are some quirks and things about your dog that you love? 
Alison: Chance loves to play! He had to learn how, but now he can shake a stuffed lambie like no other! He gets so excited when we put his harness on because he knows it's time for a walk!!
JRH: This one's for fun! If you were to cast someone to do the voice of your dog in a live action dog movie, who would it be and why? 
Alison: Probably Josh Gad [best known as] Olaf in Frozen. Chance has that same froggy bark thing going on and can be such a sweetie!!
We thank Alison and Chance so much for the exclusive interview! If you'd like to learn more about dogs requiring mobility assistance like Chance, Handicapped Pets Foundation is dedicated to aiding these fur babies. You can find more information here. 
If you'd like to spotlight your dog through an interview on our site, feel free to connect with us via the contact form on our page. We also select from Instagram posts if you'd like to share your photo online tagging
@joyrideharness
and #JoyrideHarness!
Share this post