Harness Files | An Interview with Savannah T. and Birkin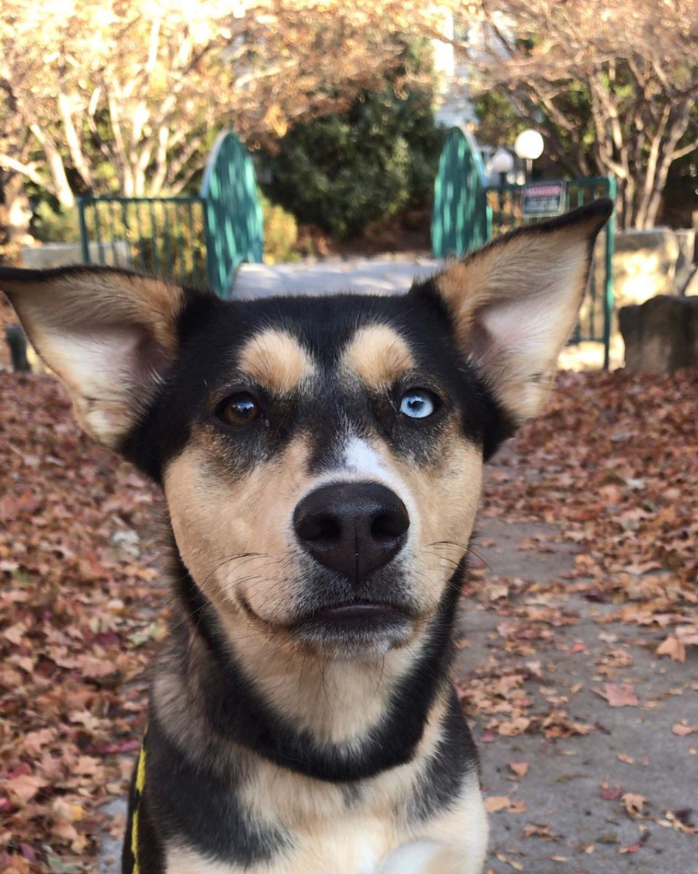 Back in 2019, we introduced a new series to our blog called the Harness Files! This is where we reach out to customers who've made noticeable impressions to our team online and we ask them about their experience with the Joyride Harness (formerly known as Pug Life Harness) and their fur baby.
Our latest interview is with the dog mom of a beautiful fur baby with two different colored eyes who captured our attention and hearts IMMEDIATELY! 
Meet Birkin


JRH: How did Birkin become a part of my life?
Savannah: She was definitely an impulse buy. I saw her picture pop up on the no kill animal shelter McPaws' facebook page, and I HAD to have her! The one blue eye and one brown eye really drew me in, and I have always wanted a dog with husky in them.
JRH: How did Birkin get her name?
Savannah: There was a purse I saw Jeffree Star carrying around, and it was GORGEOUS. Later I found out it was a custom-made Birkin bag by Hermes. When I was on my way to go get her, I was playing around with names starting with Greek goddesses since I am a huge fan of mythology. Then, I randomly thought about the name Birkin. My mom called me to talk about names, and she also said Birkin would be a cool without me telling her any name options, so I took that as a sign to name her Birkin. I also really like strong names that are unique, and I didn't know of anyone who owned or currently owns a dog named Birkin. It fits her very well!
JRH: What is it about the Joyride Harness that I like and how has it helped me on walks with Birkin?
Savannah: My biggest pet peeve about harnesses is the fact that most of them wrap around the neck or the front of it goes up to the neck. To me the point of a harness is to have better control of your dog while also not choking them while on walks or runs since I know collars can do that, and the Joyride Harness goes around the chest and not the neck which is what drove me to buy one aside from the fact I saw Tucker Budzyn on Instagram using one. Birkin walks really well on a leash already, but sometimes a squirrel darts by her, and she can't stop her instincts from going after it, so the harness helps me have better control of her whole body rather than just her upper half while also not being a choking hazard. 
JRH: Which harness and size do you have for Birkin?
Savannah: I have the limited edition teal harness in a size large. Birkin is 42lbs, and it fits her PERFECTLY! It's a very easy harness to use because you just slip it on over their head and clip it around their body. There is no messing around trying to get your dog's feet into the holes like other harnesses. 
JRH: What are some quirks and things about Birkin that you love?
Savannah: Birkin is part Alaskan Husky, so every time I get home from work or college, she picks up a toy and talks to me, and it's the cutest thing ever! I love that she likes all people, dogs, cats, horses, and basically any animal you can think of, and she loves going ANYWHERE whether it's the dog park or the vet. The only things she doesn't seem to like are getting her nails trimmed and trash bags, hahahaha. She is so intelligent and will do whatever you ask which makes sense since all of the breeds she's mixed with are working dogs. I love the fact she will fetch for long periods of time, and when it's time to go to bed, she will cuddle and give me kisses to her hearts content. She truly is the best dog I've ever had. 
JRH: If you were to cast someone to do the voice of Birkin in a live-action dog movie, who would it be and why?
Savannah: That's a hard question! If I absolutely had to choose, it would have to be someone who LOVE everyone and everything and is comfortable in any environment. I think Amy Adams would be a perfect candidate because she played a character in Enchanted who had a high-pitched, cheery voice that was, for the most part, always happy, full of love, and saw the bright side in any situation. 
A huge thank you to Savannah (and Birkin) for the interview!! On Instagram? To follow along Birkin's adventures
CLICK HERE
. Are you a customer and want to be interviewed for our blog? Drop a comment and we'll reach out or continue to post away on Instagram using the hashtag #joyrideharness and tag
@joyrideharness
! We're watching.
Share this post