Harness Files | An Interview with Jessica and Chloe the Golden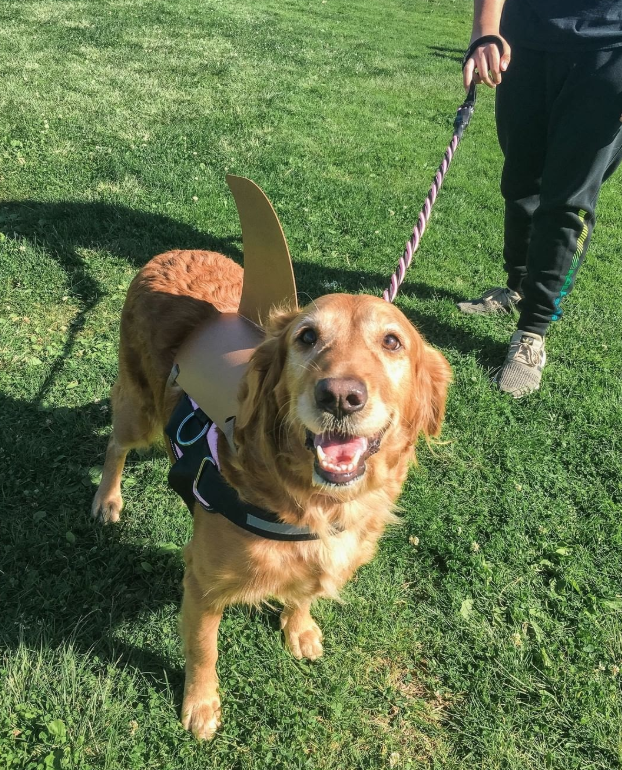 Back in 2019, we introduced a new series to our blog called the Harness Files! This is where we reach out to customers who've made noticeable impressions to our team online and we ask them about their experience with the Joyride Harness (formerly known as Pug Life Harness) and their fur baby.
Walking the streets of San Diego, California, Chloe the Golden and her human Jessica are doing it the Joyride Harness way! We fell in love with Chloe's expressive face and the connection she and Jessica have. We reached out to learn more about Chloe and how the Joyride Harness is working out for them!
JRH: How did Chloe become a part of your life? 
JESSICA: I've known Chloe for almost all of her life, actually. She previously belonged to a close friend and neighbor who moved to a different city for college. Because he lived with his grandparents, my boyfriend and I would take her for walks almost every day since my friend's grandparents were not able to. We could tell that after some time, she became very clingy to us, and would whine and cry when we left. She wasn't meant to be an outside dog. After she managed to escape one day, we decided it would be best to take her in! Chloe is in a loving home and is an amazing inside dog. She follows my boyfriend around (even to the bathroom sometimes) and never leaves his side. Taking her in was probably the best choice we've made as a couple.
JRH: How did Chloe get their name?
JESSICA: She got it from our close friend, her previous owner! I ironically have a younger cousin named Chloe, so sometimes it can get weird at family parties when I talk about how much she loves belly rubs.
JRH: What is it about the Pug Life Harness that you like and how has it helped with your walks with Chloe?
JESSICA: Pug Life/Joy Life Harness has been an amazing addition to our daily walks. Chloe is an energetic dog, who loves to greet other animals at the park. Because of her excitement and size, it's always been difficult for me to hold her leash. I'm on the smaller side, so it felt more like she was walking me rather than me walking her. With Pug Life Harness, I'm able to tame her pulling and join in on the bonding experience of holding her leash. The side rings make it more effective on our short, casual walks, and the middle ring holds her steady when she sees a new friend. It's really calmed her (and us) down knowing that she is less likely to pull, and in the rare occasion that she does, she's not in any pain or strain.
TDLR: She's a big dog. I'm a small person. This harness is magic. I can actually walk my dog.
JRH: Which harnesses (and size) harness do you have for Chloe?
JESSICA: We have the Pink Standard Colors Harness in XL. (The pink suits her "fur-tone" very well).
JRH: What are some quirks and things about Chloe that you love?
JESSICA: Because she loves being around people, she's always glued to someone at all times. Just having your foot near (or on) her is enough for her. She's be asleep while you watch tv or do your work and is perfectly content while she's next to you. You never really feel alone when she's around. It kind of makes you appreciate life more in a non-cheesy way because she's so enthusiastic by you just being around, you're kind of life, "wow, I'm important-ish." She's definitely a mood booster that's for sure.
JRH: If you were to cast someone to do the voice of Chloe in a live action dog movie, who would it be and why?
JESSICA: My boyfriend might fight me on this but I truly believe she is Brenda Song during her London Tiption phase- only that character voice. She has an innocent view of the world and is definitely spoiled. She's a bit naive, hence the heiress of my favorite childhood tv show. Other dogs could be mad at her but she thinks everyone wants to be her friend. Also, she doesn't understand the concept of glass sliding doors and I swear there was an episode where London bumped into one.  
A huge thank you to Jessica (and Chloe) for the interview!! On Instagram? To follow along George's adventures CLICK HERE. Are you a customer and want to be interviewed for our blog? Drop a comment and we'll reach out or continue to post away on Instagram using the hashtag #joyrideharness and tag @joyrideharness! We're watching. 
Share this post