FEATURED FRIEND: Riley & Elisabeth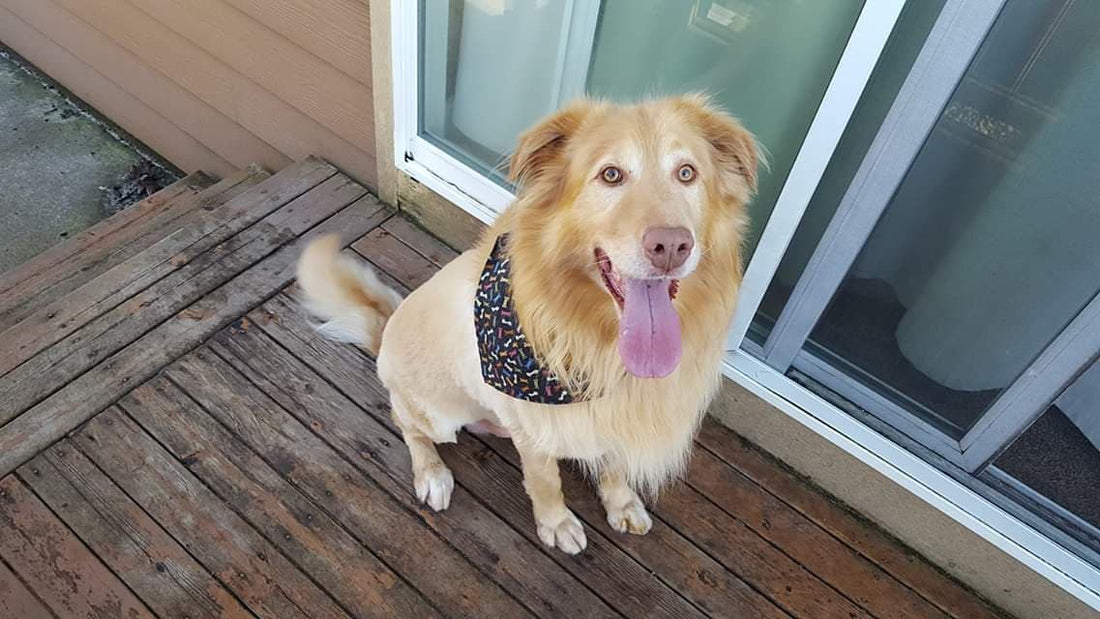 This month's featured friend comes with happy and sad times. We reached out to Elisabeth whose furbaby recently passed away due to cancer, so we honor Riley the Goldie by reflecting on his time on earth as a good boy.
Elisabeth has had many furbabies join their family. Riley being their third dog, quickly became an integral part of their family. Back in 2010, Riley needed to be rehomed from a military family who was unable to care for him as a puppy. Elisabeth and her family quickly welcomed this new doggo into their lives for what would be 9 incredible years of love and happiness.
Riley never quite left the puppy stage and was always ready to play. Elisabeth explained that every moment was an opportunity for playtime in Riley's eyes. It didn't matter if it was dinnertime, while doing yard work, or taking a walk; it was always playtime for Riley.
"He had this beautiful grin he'd get when he saw us in his peripherals," Elisabeth shared. "And [he] would teeter on his hind legs to try and see us more if we disappeared from sight."
Riley was always invested in the happenings of his humans, never leaving them out of sight. He'd follow Elisabeth's parents into every room just to be near them. Riley would also express his excitement in exploring the great outdoors at the sound of the leash being pulled out.
His personality would shine even when faced with situations he was not so fond of. Riley used to stay in the bathroom as a puppy when the family was out of the house, so he ended up not enjoying small rooms. That led to a lot of cute resistance when it came time for going to the crate.
"He would drop all his body weight on us to avoid going into his crate, and run past us into our upstairs loft," Elisabeth continued.
Above everything, Riley loved his human family unconditionally. Even after being diagnosed with cancer unexpectedly this year and even through the decline in strength, he continued to show his family how much he loved them. Riley let them know every single day until he passed away last week.
Wherever you're reading this from, we take a moment of silence for Riley as he was one of the goodest of good doggos and certainly a joy in Elisabeth's life. Thank you for everything, Riley!
Share this post