Dogs Take Over Office Space | Take Your Pet To Work Week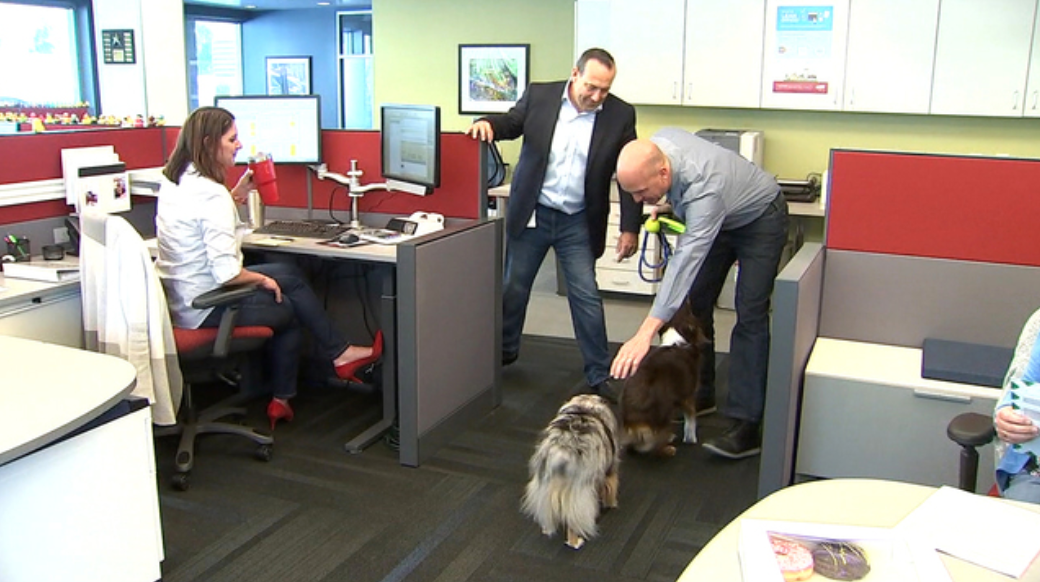 (Images via Fox 13)
We hope this place is taking applications, because dog friendly work spaces are our jam! And we hope you get to experience something similar one day.
Last year, we published information on our blog on how dogs are correlated with our happiness. Whenever we may be stressed, dog empathy kicks into action and our bad days get a little brighter.
It would make sense that for an office space, introducing animals may alleviate some of the stress that is accumulated over time. So, this week--in honor of Take Your Pet To Work Week--we're giving a high paw to Achieva Credit Union's headquarters in Dunedin, Florida!
The lucky employees of this establishment get to bring their dogs to work as they please. According to the company's chief information officer in an interview with Fox 13, "He [her dog] loves going through here. If we walk through the building he knows how to navigate every single aisle and every single cubicle, you will definitely know who is friends are. He absolutely knows where every cookie is."
There's a strong emphasis and attention to culture and the environment created in the workspace. While dogs are welcome to come as they please, and non-doggo owners get to enjoy the company of their co-workers' companions, dogs that come to work must be well-behaved. If they are, they get to enjoy amenities such as the dog park that's on location.
Achieva is not strictly a canine friendly headquarters. They go above and beyond! They welcome a variety of pets including birds, bearded dragons, and cats. Productivity levels must be soaring with the amount of stress these critter companions remove from the office employees.
Does your office allow pets? We'd love to hear about it! Drop a comment and tell us all about it in honor of Take Your Pet To Work Week!
Share this post