Dog Harnesses & Car Ride Safety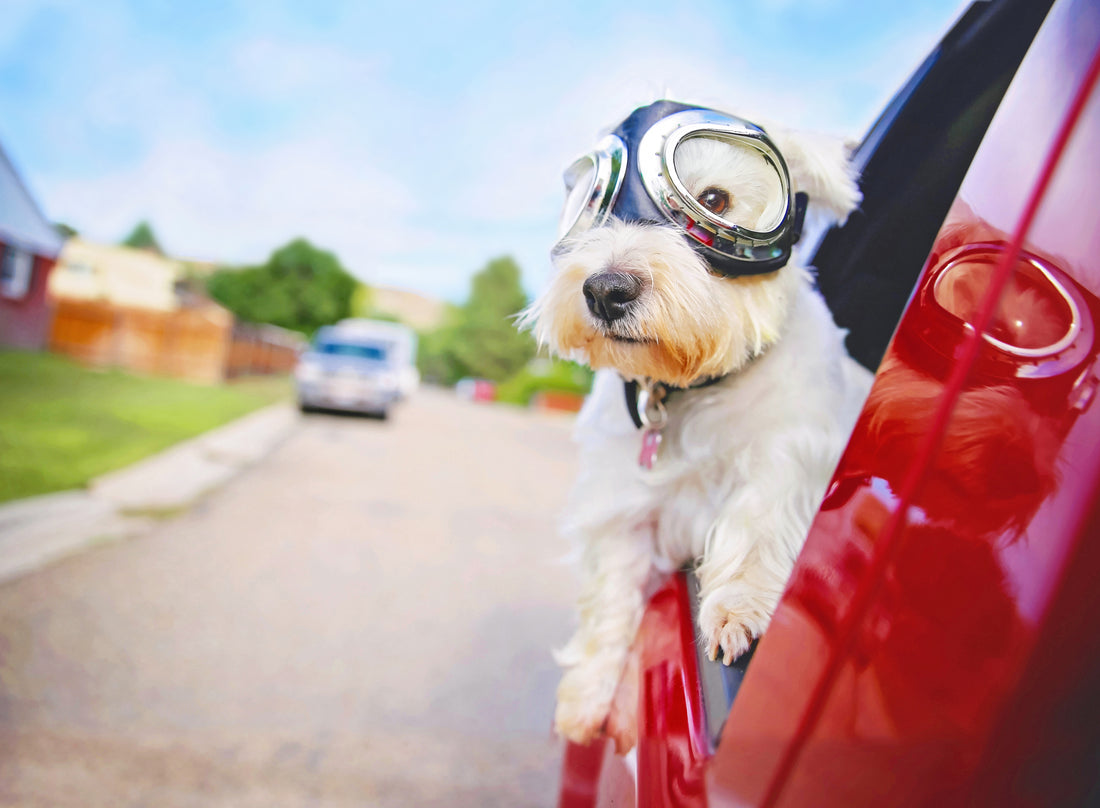 The great thing about having a dog is how easy it is to go places with them. You're able to experience new adventures on road trips, take them to the vet, and more. Usually this is by means of a car ride, and while dogs are easier to travel with in cars than other animals, there are still precautions that should be made for safe transport.
But what if my dog likes to stick their head out the window?
That won't be an issue, but let's consider the case scenario of a car accident. Need we say more? We dare not wish to say more on that, but thankfully we're available to offer items that can assist you in your travels. Before we get to that, let's start with some protips.
1 | If you can, keep your fur babies as backseat passengers.
We all have our co-pilots and we see (and experience) days where our dog pals seem best suited for the front seat, but the key is they need to be kept away from the driver's console. This eliminates potential distractions and mishaps from occurring. 
2 | Understand your dog's behavior and excitement.
If your dog has the tendency of trying to exit the vehicle, head-out-the-window type fun may need to be kept to a minimum if not happen at all. 
Moving on...
According to OutsideOnline.com, there are three main things to keep in mind when it comes to the safety of your dog in car transportation: preventing distractions, managing the dog's deceleration rate upon impact, and keeping the dog restrained post-crash.
Deceleration rate refers to impact safety which we see with airbags and such for humans - things to lessen the blow, but when it comes to dog restrain, that's where Pug Life Harness can come in handy.
For the Big Dogs
The combination of harness and seatbelt safety is what will help dogs of a larger size. It's advised against to clip safety restraints or seat belts to collars as there's a risk of choking. With a harness in play, there's no risk of damage to the neck or trachea which is the most alarming, long-term effect that collars can have with fur babies. 
We recommend utilizing the Safety Seat Belt for Dogs - NEW! for dogs that fit harness sizes medium and up. You can determine the size of your dog using our charts which can be found on this page, or in the images below. Sizing is best determined using a combination of both charts, but if your dog doesn't have uniquely shaped bodies (i.e. Boston Terriers), then the weight chart will suffice. 
For the Small Dogs
We don't offer car safety seats for dogs at this time, but for small fur babies, we recommend a combination of a harness, safety seat belt, and safety seat. Securing small dogs to safety seats by means with the safety seat belt is the most efficient way to insure your dog will be safe during car rides.
Here's a roundup of customer submitted reviews of dogs rocking their Pug Life Harness with the safety seat belt. Whatever method you choose, make sure your dog is as secured as you are!
Edward A. - ⭐⭐⭐⭐⭐/5
Size/Color: M - Skulls
"My pug loves car rides, and I love taking him for a spin...now that I know he has a safety belt to keep him out of harm's way! It attaches easily to Pug Life harness, and works perfectly every time we jump in the car;  I feel confident knowing that he will be secure in the back seat while my attention is on the road. Great product."
Grace O. - ⭐⭐⭐⭐⭐/5
Size/Color: M - Blue
"We mostly use the harness in the car. Tyke loves riding in the car. We have a seat belt attachment. This is the best harness we've ever had!!"
Elaine W. - ⭐⭐⭐⭐⭐/5
Size/Color: M - Rose Red
"The harness is perfect to keep my Corgi from bouncing all over the car and it is easy for me to put the harness on and click the seatbelt strap in place."
VIEW MORE CUSTOMER SUBMITTED REVIEWS ON THIS PAGE.
Share this post