Dog Harness Saves Elsa the Terrier Mix From Dog Attack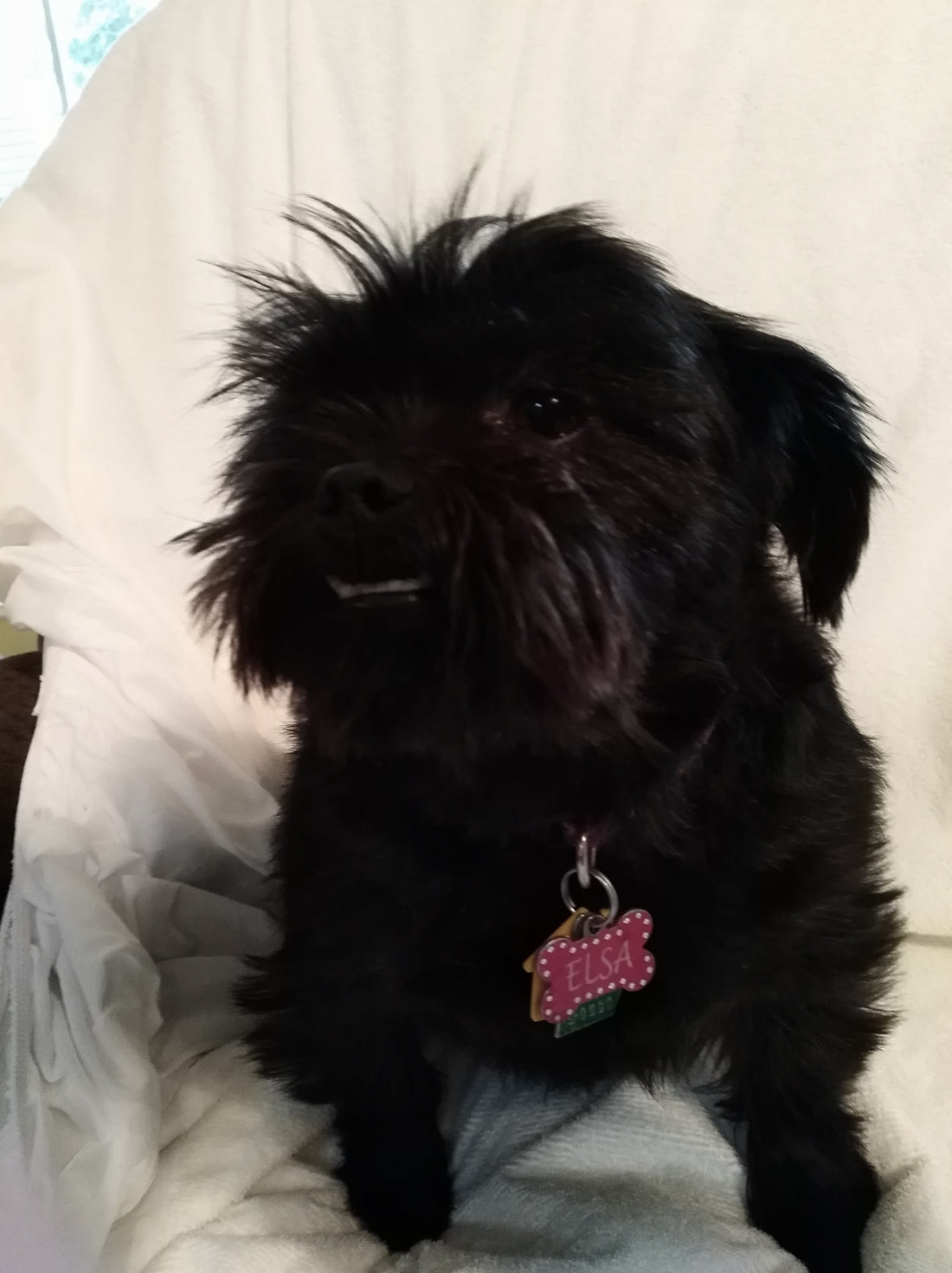 A Note to the Reader: This post includes an account of a dog attack with some graphic images. Viewer discretion is advised. Pug Life Harness does not promote its products as a guard for all potential attacks or harmful situations.
---
Back in May, we shared with you the stories of two dogs who unfortunately fell victim to dog attacks. Their owners, who are Pug Life Harness customers, explained to us how they believe the harness aided in protection and prevented further injury.
We stumbled upon another review that struck us from another customer named Victoria who is the proud dog mom of a 3-year-old Terrier mix by the name of Elsa. She, too, shared a similar account and we reached out for more information. With her permission, we now share this story with you.
Victoria and her family first met Elsa back in November 2018 at a foster home in Michigan, but truly her story began in Georgia when Elsa was evacuated from the state with 70 other dogs due to the hurricane impact that year. Elsa was disowned and ended up in a shelter. 
"We know by her condition she was probably a puppy mill mama, she had broken teeth from biting on the wire cage she was kept in, she was underweight and full of fleas," Victoria shared in her interview.
"I felt that she had been thrown away already and I was not going to let that happen again."
It seemed to be fate that Victoria and Elsa would meet. Two years prior, Victoria lost her Cockapoo to cancer and made the steps towards giving a home to a fur baby in need by putting her name in at an adoption center. Victoria then received photos of Elsa and decided they should meet.
"She was so small and cute, and she was very cautious but I did not want to move too fast.  First thing they scheduled her for was spaying, then immunizations, and she tested positive for heartworm.  At that point they wanted to know if we still would accept her, and we said yes. I felt that she had been thrown away already and I was not going to let that happen again. The New Hope Rescue at first wanted her to complete all treatments before she came to us but then decided we could have her if we promised to keep all appointments for her treatments - so she was permitted to come to live with us in November 2018."
Living in a household of seven people with three generations of the family, it was observed quickly Elsa prefers females over males. Elsa almost immediately attached herself to Victoria and the two have been inseparable ever since.
Victoria received her Pug Life Harness order for Elsa before going on a trip to visit family in Kentucky. They were in a garden getting flower seeds when Victoria observed a large dog chained to an overhead line:
I had asked them if the dog was secure and they assured me he was. Elsa was in her harness and on leash with me in the garden next to the dog owner, when this large dog broke it's chain and came directly for her. He was on top of her before we knew what happened. I was fighting to try to push or grab hold of the larger dog but there was so much noise and confusion and strength I got bit in the hand.  All of a sudden Elsa came rolling away from the dog and ran for the house, while I yelled for my husband to pick her up, by now the screaming and yelling and barking had drawn the attention of the family on the porch. Elsa's harness was laying on the top of the flower bushes with the leash attached. The large dog was subdued and put in a shed to calm down. She went directly to my husband and let him hold her - she was not whimpering or showing signs of trauma - which amazed all of the other family. I was pretty shook up and held her and kept her with me for the rest of the visit. Later that evening we found a puncture wound on her back leg and a large scrape on the back of her neck. I know that the harness protected her from severe harm. The harness buckle is covered with teeth marks, the front strap is punctured as well, the buckle was bitten in pieces and it took the brunt of the attack,  one scrape above the harness and one puncture wound on her leg was all that she suffered- the harness is not usable at this time. It was so well constructed and padded that it provided protection from that vicious attack. She did not appear to be terribly traumatized by the event, which is amazing. 
Victoria and her family took Elsa to the vet after the unfortunate event and Elsa required seven staples to her leg to close the puncture wound and was prescribed antibiotics for 10 days. Since then, she has healed and is now back to her regular self! 
"She is a brave little girl!!!"
As of April 30th, Elsa is declared heartworm free and she continues to bond with her new family and is living her best life with a house over her head that provides love, food, toys, and she's even made the shift from crate to joining Victoria at naptime. 
We thank Victoria for sharing the story of Elsa, how they met, and how one harness made all the difference in a moment that could've gone a completely direction. For more Featured Friend stories, you can visit this link and submit the story of how you and your dog met by using this form. 
Share this post