Best Dog Harness To Find Under The Christmas Tree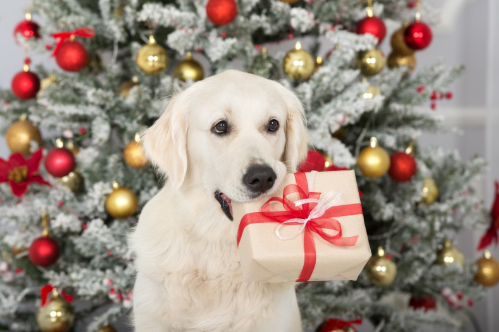 Tis the season for shopping finds! Whether you're looking to work on the pulling during your walks, need reflective assistance for those night walks ahead, or want an easy on/off solution for harnesses, Joyride Harness might be the answer.
With this week presenting a special offer in time for Black Friday, Cyber Monday, and Small Business Saturday, this is the perfect time to start considering your options for the best dog harness to gift a friend or family member's dog or your own fur baby.
We've rounded up some impressionable reviews that caught our eye! These reviews of the Joyride Harness were submitted to our website by our customers and you can view the full reviews page at this link: CLICK HERE
Melissa G. - ⭐⭐⭐⭐⭐/5
Size/Color: Extra Large (XL) - Fall Plaid
"This is actually Mystery's second Joyride Harness! The first harness was a LIFESAVER for her and me. This winter she had TTL surgeries on her hind legs, and she wore the Joyride Harness all day and night so that I could use it to lift her and assist her throughout the house! After 10 weeks of wearing her old black harness (although it is still in perfect working condition!) I felt she deserved a pretty patterned upgrade! I have 2 other dogs who use the Joyride Harnesses for walks and obedience classes. Love them!"
Donna L. - ⭐⭐⭐⭐⭐/5
Size/Color: Large (L) - Fall Plaid
"Finn is a rescue from Thailand.  He is with us for a year now and is 6 years old.  We bought our first Joyride harness just after we brought him home as I hate collars.  When I take it down off the doggy hook, he starts jumping up and down and crying in joy to go out for his walk.  He puts his head right through then knows to stand for a bit while I snap the strap closed. He never pulls, loves his walks and the handle on top comes in handy when we train to WAIT at curbs before crossing streets.  I now own 4, 1 regular, One for Halloween, One for Fall, Thanksgiving and a Christmas/winter one too. Other dog owners have stopped me to inquire about the harness. And I tell them how much I love them."
Maureen F. - ⭐⭐⭐⭐⭐/5
Size/Color: Medium (M) - Black
"This harness is absolutely ideal.  It doesn't pull on the dog's neck or her chest.  It is easily adjustable to go over a winter coat.  And the three hook placements give ideal control or let the dog roam a little out in front.  The dog loves it, too. She always avoided getting her harness on but now she's perfectly happy to get harnessed."
Diane R. - ⭐⭐⭐⭐⭐/5
Size/Color: Medium (M) - Black

"We absolutely love this harness! Our dog Ruby has a lot of energy and had a hard time staying still while we put on her old harness. She loved to pull and many times wiggled free. The Pug Harness was magic. It went on so fast and easy and the side rings helped her to learn to stop pulling. Such a wonderful product and she looks so cute in her winter style!"
These are just a few of our customers' submitted reviews. You can view all submitted reviews by checking out this page. You'll find a healthy combination of honest reviews! We also have more blog posts that round up reviews based on different dog types for your convenience.
Additionally, if you have sizing questions you can always reach our team through the contact form on our website if the sizing charts provided on this page do not suffice! You'll find two charts available for sizing reference based on weight and girth measurements.
Want more? Feel free to follow us on Instagram at @joyrideharness and take a look at more furbaby photos! New to Joyride Harness and need some help picking the right size for your doggo? We have a detailed informational blog post that you can check out: Click Here To View
Share this post