Best Dog Harness For Samoyed | Joyride Harness Reviews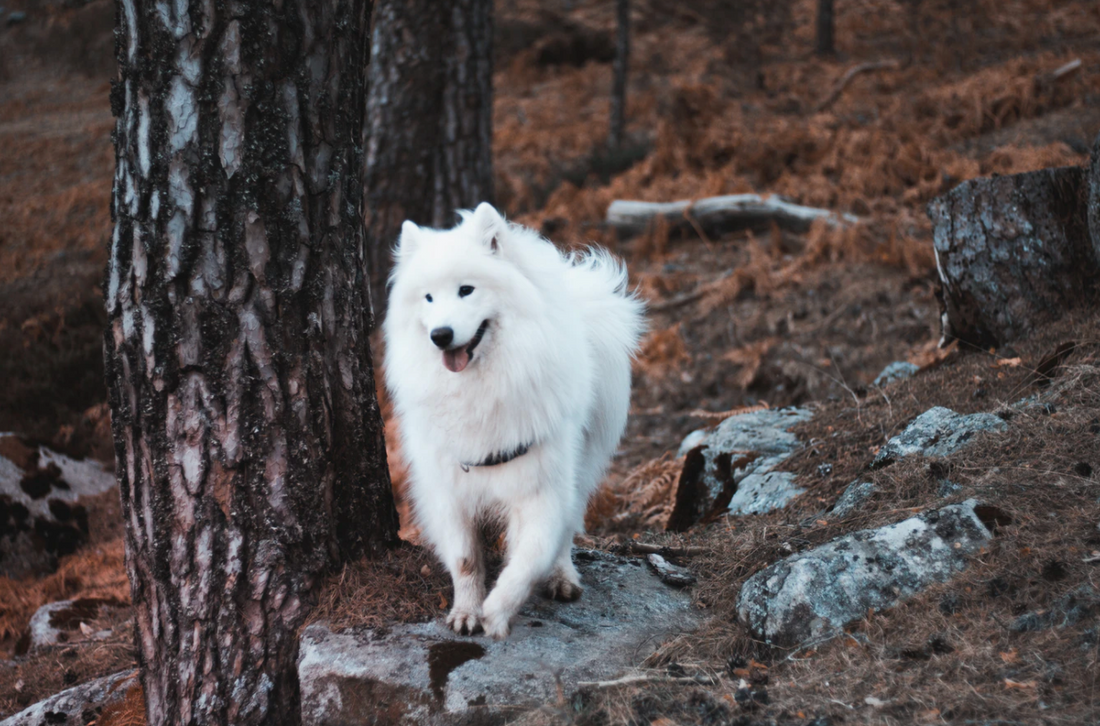 You can't help but fall in love with Samoyeds! Big and fluffy, Samoyeds are the animated living snowballs we all so love and enjoy. Samoyed, a large herding dog breed, are descended from the Nenets Herding Laika with thick and white double-layer coats.
Samoyeds tend to steal the social scene with their playful, stubborn, and lively temperaments. You might've seen numerous Samoyeds on Instagram with huge followings due to how amazing their personalities are (shout out to CoconutRiceBear, who is one of our favorite Samoyeds). 
Don't let their cute appearance fool you. While Samoyeds are a fun breed, they are independent thinkers that have a high prey drive. Because their hunting instinct is so strong, most Samoyed owners don't let their dogs off leash in unsecured areas. Instead, they opt for a secure Samoyed harness. 
Choosing the Right Samoyed Harness 
Choosing the right Samoyed harness may be difficult due to their thick, double-layer coats. When choosing the best harness for your Samoyed, look for one that is adjustable to accommodate their full coat and blown coat. Samoyeds, like many other double-coat breeds, will have a thicker coat in the fall and winter and a lighter coat in the spring and summer. When your Samoyed sheds their winter coat, they can look like an entirely different pup! 
As mentioned earlier, Samoyeds instinctively have a high prey drive. Some owners may find that this leads to heavy pulling every time their Samoyed sees a rabbit or squirrel. To help with training, many Samoyed owners look for a no-pull harness. When used properly, a no-pull Samoyed harness will help your dog realize that there is no benefit to pulling. 
The Joyride harness is one of the best harnesses for your Samoyeds because it is available in a wide range of sizes, is super adjustable to fit all the fluff, and is specially designed to discourage pulling. You can view our size charts to find the right size harness for your Samoyed. 
Joyride Harness for Samoyeds: Reviews 
To show you why Joyride Harness may be the perfect Samoyed Harness for you, we've rounded up customer-submitted reviews from Samoyed parents like you. Keep reading to learn why Samoyed people love Joyride Harness! 
Katherine H. - ⭐⭐⭐⭐⭐/5
"Love the new harness. I've been advised to use a pinch collar on my Samoyed but it gets stuck in her fur. She gets so excited seeing the leash knowing we are going out but I can't get her to calm down to put it on. Then taking it off I have to carefully detangle her fur. With this new harness I can quickly slip it on and off in seconds with no damage to her beautiful fur. And I love the option of three hooks. Now I am able to safely hook her into the car when we travel and no she won't get out when the door opens."
Katherine's Samoyed is wearing a purple Joyride Harness. 
Holly U. - ⭐⭐⭐⭐⭐/5
"Bought the harness for our 8 month old Samoyed.  She hadn't been doing well walking with a regular collar and leash, so I thought I'd try a harness. First time she wore it, she walked perfectly around the neighborhood.  Her behavior was a little less perfect after that, but now she is doing really well.  Would recommend your harnesses to everyone.  Thanks for a great product." 
Holly's Samoyed is wearing a red Joyride Harness. 
Shawna C. - ⭐⭐⭐⭐⭐/5
"I bought the harness for my #samoyed since his collar was causing matted fur around his neck. It is great for walks, fits great and he isn't pulling hard or choking himself. Love it!"  
Shawn's Samoyed is wearing a black Joyride Harness. 
Shop Joyride Harness for Samoyeds
Samoyeds are wonderful dogs, and anyone would be lucky to have one in their life. They just need some consistent training from a young age, and the right harness can help with that. 
If you think your Samoyed could benefit from a Joyride Harness, you can shop our website or reach out to us with any questions you may have. Not ready to take the plunge? You can read more product reviews from customers with all kinds of dogs. 
If your Samoyed is rocking a Joyride Harness, be sure to tag us on Instagram @JoyrideHarness! We love sharing customer photos and all kinds of pup-related fun. 
Share this post