Best Dog Harness For Amputee Dogs & Their Caregivers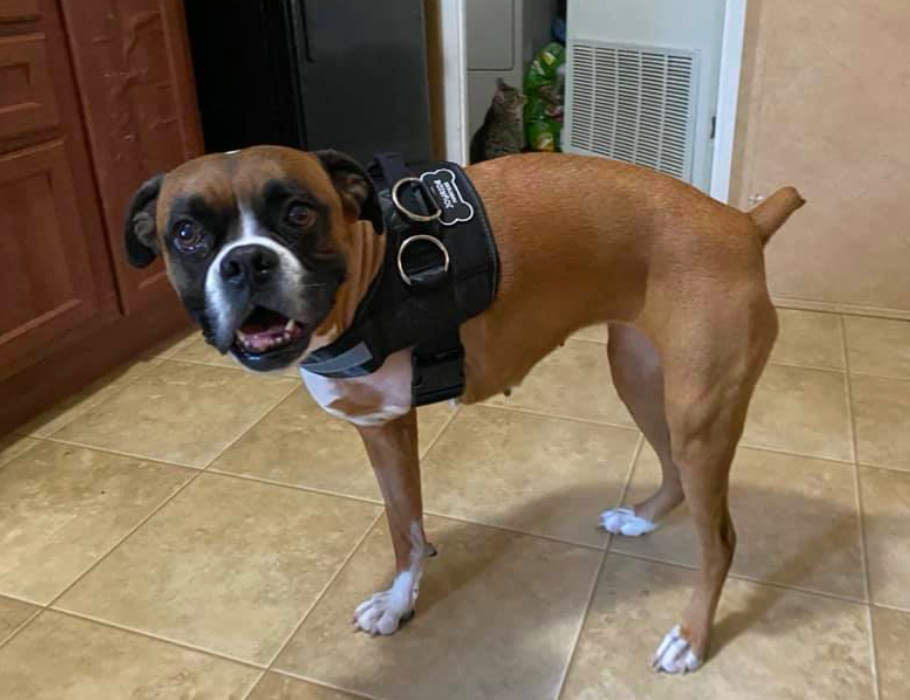 Finding a harness that checks off all the boxes is hard. Style is the last box you're trying to check off because the others–comfort, security, and usability–are more important. 
This is especially true when shopping for harnesses and walking gear for dogs that have undergone amputations or other circumstances that may affect mobility.
There are several reasons why dog owners of amputee dogs go for Joyride Harness:
The harness has a grip handle on the harness that helps give support while walking or pulling your dog out of unsafe situations.

The harness design doesn't require legs to go through certain areas. The minimal design makes it go over the head and secure around their torso. 
What are the other benefits of this harness?
The harness is made from durable, quality materials

Making it machine-wash safe!

There's no pressure around the dog's neck, minimizing the risks of tracheal collapse

Secure buckle

Better control of pullers (no-pull dog harness)

Works great with 2-in-1 Leash & Seatbelt Combo for car rides

Three rings for different leash and seatbelt attachment points

Can still be worn with a dog collar

Lightweight but with plenty of padding

Breathable mesh for long walks

Reflective straps and stitching for night visibility
What are other dog owners saying about Joyride Harness and the user experience for amputee dogs? Take a look at these customer-submitted reviews.
⭐️⭐️⭐️⭐️⭐️ They work excellent on a tripawd
"Scooter is a perfect member of our family. Found at 5 weeks with a disfigured limb and basically someone threw him away.  He had 2 surgeries to do the amputee and now with your Joyride, taking him for a walk will be so much easier! We have bought MANY and it isn't easy to fix a tripawd with one. The vests tend to slide toward the amputee side.  Not yours though!!!  We are also going to get him the 2-in-1 leash as that will help keep him up straighter since it will hook on both sides of him.  Scooter loves people and other dogs no matter the size. He has two sisters, also rescues. THANK YOU THANK YOU THANK YOU!! for making Scooters life easier when he goes on a walk.  We LOVE your product! I have to say that you guys need to advertise that they work excellent on a tripawd also. The ease of putting this on Scooter has made it simpler for him and us.  Thank you again." - Pamela V.
⭐️⭐️⭐️⭐️⭐️ Meets The Needs
"This is "Cooper". He is a 10-1/2 month old Tibetan Terrier and was born with three legs (right front leg is missing). He does have a shoulder and an partial appendage.  It has been hard to find a harness that fits him and allows us to support  him a bit on walks since he has to "hop" and gets pretty tired. The Joyride meets this need. It does help and seems to be quite comfortable for him." - Kathleen B.
⭐️⭐️⭐️⭐️⭐️ Give It Five Stars
"Amazing product.  Our three legged lab mix calmed down as soon as we put it on her! Give It five stars!!!" - Cheryl A.
⭐️⭐️⭐️⭐️⭐️ Fits Perfectly
"It fits my Rat Terrier perfectly.  It's so easy to put on her, she only has 3 legs so putting anything on her is a chore.  This harness is great." - Michelle M.
This dog harness is perfect for all sorts of dogs: rescue dogs, agility dogs, guide dogs, watchdogs, dogs that might run after a squirrel, and you need a handle to hold them back. The design of the dog harness relies on a proper fit or barely snug fit to ensure the dog's comfort and restrict them from making a great escape.
For more doggie photos and pup-related fun, follow us on Instagram at @joyrideharness. And for a more detailed blog post about finding the best size dog harness for your pup, check out this blog post!
Share this post