Best Dog Harness for a Husky for 2022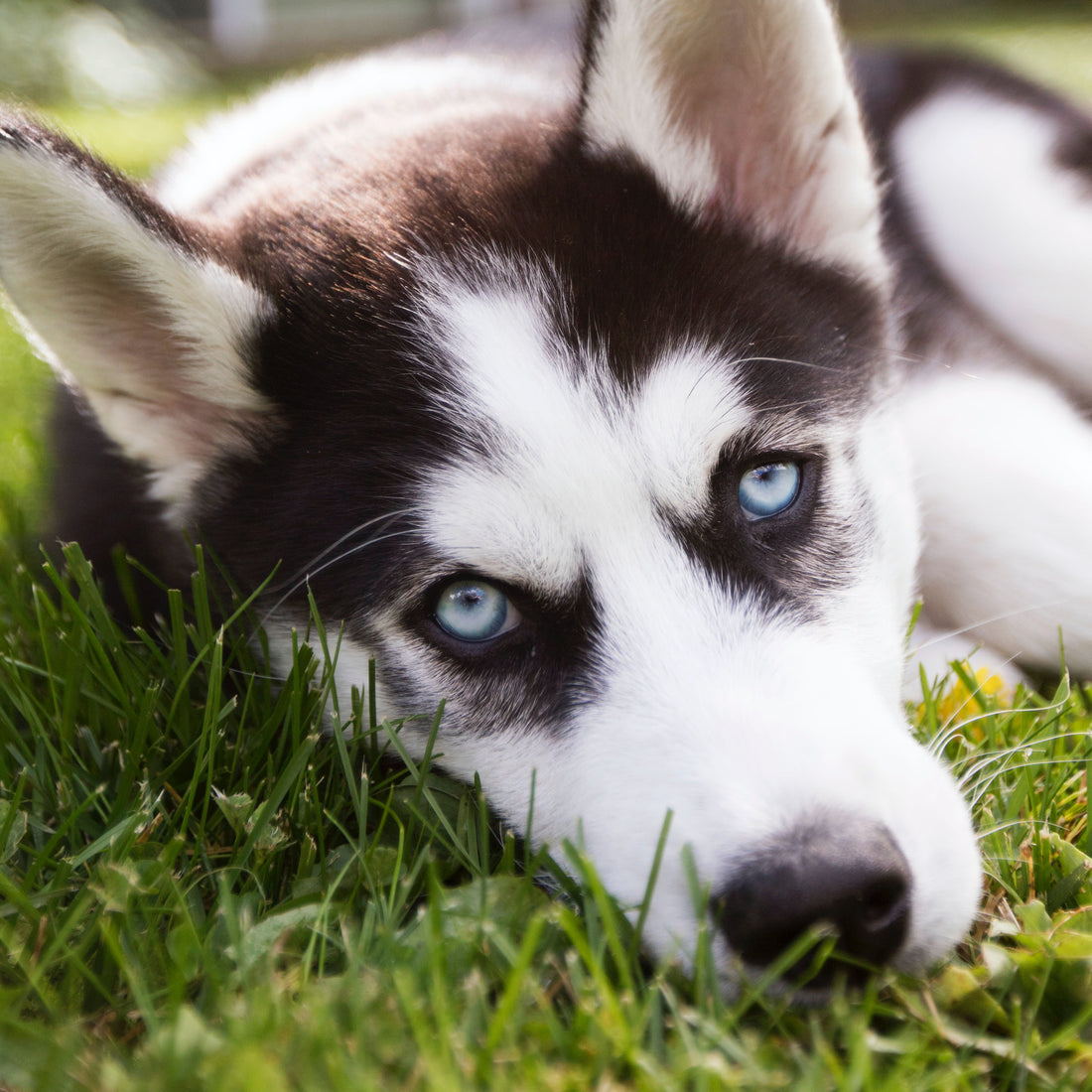 We know them. We love them. If you've ever had them in your family, you've heard them. The Siberian Husky is an iconic and lovable breed known for their wolfie appearances, charming and energetic personalities, and, yes, the "talking."
Generally good with families, children, and other dogs, huskies have steadily grown in popularity among pet parents. In America, they are currently the 12th most popular dog breed to own. With their striking face patterns and loyal and goofy charisma, it's easy to see why.
Of course, as with many other breeds, they started out working for a living.
The History of Huskies
One of the biggest things we may think of when imagining this pup is pulling a loaded sled across the frozen tundra. And that's not wrong!
Originally, Huskies started out as the companions and sled dogs to the Chukchi people, an indiginous group that comes from just east of Siberia. As one might guess, the climate there is cold and unforgiving, and around 3,000 years ago the Chikchi people wanted to expand their hunting grounds.
Pulling their own sleds that kind of distance was out of the question, so they began to develop a dog that could not only withstand the harsh weather conditions but also literally pull its own weight plus some.
The result was the Chukchi dog, the modern husky's great, great grandparents.
These dogs began to get everyone's attention in the early 1900's when they started winning sled races. But their fame was sealed when an epidemic of diphtheria broke out in Nome, Alaska in 1925. A musher named Leonhard Seppala raced a life-saving serum 658 miles in only 5 days along with his lead dog, Balto.


Do Dog Harnesses Encourage Pulling?
Saying huskies have a lot of energy… could be seen as an extreme understatement. And it makes sense since they, like all working dogs, are always looking for something to do.
While this energy can be a lot of fun, it can also be a lot to deal with. They may want to chew, jump, run, pull, and chase, which can become stressful if not handled properly.
Taking your husky pup on long walks, jogs, and even runs is a great way to help burn off some of that energy! And, in fact, is recommended to keep them healthy.
Do dog harnesses help curb pulling, however? Or do they make the problem worse?
While there has been a lot of debate over the subject, the truth is that while there are some walking tools that don't actually help end pulling, there are no collars or harnesses that make it worse.
As with any behavior in your fur baby, the only thing that will make a certain activity better or worse is training - or the lack of. More specifically consequences, both intended and unintended.
Consequences with your pup are anything that take place within 2 seconds of their behavior. So if your fur baby is on a walk and begins to pull and they are corrected right away, that is a consequence. Likewise if they get to go where they want, that is also a consequence.
There are certain pieces of gear that help by providing built-in tools such as a front or side ring that a leash can attach to, which give an immediate consequence when your pup tries to pull. In other words, they try to pull and they spin to face you, meaning they didn't get to go where they wanted. They learn pulling doesn't get them what they want so it's not worth doing.
The Best Dog Harness for Huskies
Having the right dog harness is so important so that both you and your fur baby can have the best experience possible. After all, the easier and less stressful it is the more often you'll do it.
Joyride Harnesses are a must have for energetic dogs just like huskies!
They are secure with strong adjustable straps that are durably made to fit your pup perfectly while still allowing a full range of motion.
They are safe as they allow you to maintain control over your fur baby without putting dangerous pressure on their sensitive throat and neck area. Additionally they have a reflective strip so you can more safely walk your pup at night.
They stop pulling with three attachment rings, including a unique side ring that causes your pup to spin and face you if they race ahead.
They put you in control with an EZ grip handle that allows more direct control of your fur baby's body and movement.
They are easy and go on and off in 2 seconds just by sliding the dog harness on until it's snug and closing the buckle. Fast on and off means you and your pup can spend less time struggling with prep and get right to the good stuff: your walks!
While you could just take our word for it, here are what some other husky owners had to say about Joyride Harness.
Jocelyn L. ⭐⭐⭐⭐⭐/5
Love love love this harness!!
"I have a Siberian Husky that is 5 years old. She has always slipped out of other harnesses. This Joyride Harness is amazing and she can't slip out!! My daughter and I can walk her without worrying and the handle is helpful to keep her close if we have to. Thank you so much!! Having fun with our fur baby!💖"
Charlene W. ⭐⭐⭐⭐⭐/5
Such Quality!
"I bought one for my son's Husky who is full grown now to make walking more pleasant, I also bought one for me and my 3 1/2 month old Husky pup,what a difference it makes for me to walk her, I still have to try the training ring, but this harness has made my walks so much better with her, being a puppy and curious pulling happens, the top grab handle helps me get her attached to the nice large rings, very well designed quality harness, THANK YOU!"

LeLynn C. ⭐⭐⭐⭐⭐/5
Fantastic purchase
"We've been using this product for about two weeks now. The seatbelt attachment keeps our energetic 7 month old Husky safely in his own seat - not on the center console or climbing into the backseat to sniff through groceries!! We love to roll the windows down with peace of mind knowing that he isn't going anywhere. Also, the overall added safety of having our pup buckled in *just in case* is so nice. We would recommend this for any dog!"

Melissa F. ⭐⭐⭐⭐⭐/5
Excellent Harness
"I have a growing Siberian Husky, Shepard puppy. I have tried several different kinds of harnesses, all of which he hated. I purchased this harness hoping he would like it. And yes! He does! It is very sturdy, yet comfortable for him. I use it for walks and also in the car with a seatbelt. It works very well, so easy to put on him, no more trying to get his feet into a step in harness while he's refusing! Love it 😎"

Terry T. ⭐⭐⭐⭐⭐/5
Heaven sent harness
"We rescued a young female Husky who came with a HORRIBLE harness! We were thinking of buying a new harness when your ad popped up on my Pinterest feed so we checked it out. Shipping was fast during the pandemic and sizing it to her was super easy! It took a few tries for Daisy to get used to the Joyride harness but mom and dad loved it on the 1st try! 
Now I plan to get Joyride Harnesses for my 2 male Huskies next! We really like it, it's super easy on and off and the extra rings come in handy for long walks in the park to hook things to.
We love our new little Daisy and our new Joyride Harness!
Sincerely, 
Terry, Kathy and Daisy"
Huskies have earned their place as a loyal, lovable, and hardworking pup, and they definitely deserve the best walkies. And the best walkies deserve the best dog harnesses around!
While you can search by breed, it is always recommended to weigh and measure your dog to find their exact size. To take a look at our sizing chart, go here! 
If you have any questions about our harnesses, how to put them on, or anything else, you can reach our team through the contact form on our website. To take a look at more reviews and everything our customers have to say check out this page! For a more detailed blog post about finding the best size harness for your pup, check out this blog post!
We would love to see you and your husky fur baby! You can tag or DM us on Instagram at @joyrideharness and be sure to give a follow for more doggie photos and pup-related fun.
Share this post