Abbey, Dog From 'I Am Legend' Is Alive & Well Safe From Zombies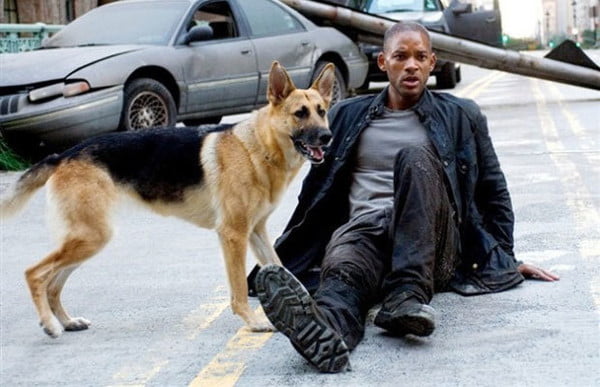 Zombies are a HIT in pop culture right now. We have The Walking Dead, Fear The Walking Dead, Zombieland, Z Nation, iZombie, and more. These shows and movies lean towards serious issues or comedy. Back in 2007, before these shows and movies were produced, we were given I Am Legend directed by Francis Lawrence.
The film reached a box office total of 585.3 million dollars on a film budget of 159 million dollars (USD). That being said, where can we send our invoice for the tears and trauma of enduring the scenes with Sam the dog?
If you're unfamiliar with the movie, Will Smith's character has a German Shepherd named Sam. Excuse us and the spoiler that follows.
Will Smith's character had a German Shepherd.
Sam defends his owner in the film from a pack of zombie doggos. It was not pleasant. Just take our word for it.
If we were to pick the most stressful situation in films and television, it's when the dog dies. WHY? We understand it's supposed to evoke an emotional response from audiences, but hopefully this is a trend that will cease.
But we have good news. We're going to treat this like a Dr. Phil episode where we try to eliminate the scary by showing the reality side of things. If you know which episode we're talking about, 10 cool points for you for the reference.
(Image Credit: Steve Berens)
Abbey, who was cast as the dog companion to Will Smith, is alive and well living her best life possible even 10 years after the film release. What a relief!
This story happened upon our feed and we were nearly triggered by the memory of that horrifying scene in I Am Legend, but our wounds were healed by the photos of Abbey in real life.
According to LADBible who covered this story, Abbey's trainer Steve Berens informed them that 13 year old Abbey is enjoying retirement with his daughter and grandkids. Sounds good to us!
(Image Credit: Steve Berens)
Even though we admire her character Sam's defense of Will Smith, we're more happy that Abbey had a happy ending in real life. If you're sensitive to movies that contain content such as this,
this website
(DoesTheDogDie.com) will be your savior.
Share this post